Organometallics in environment and toxicology
Organometallics in environment and toxicology
Astrid Sigel, Helmut Sigel and Roland Sigel (eds)
Cambridge, UK: RSC Publishing 2010 | 606pp | ?150.00 (HB)
ISBN 9781847551771
Reviewed by Bernhard Michalke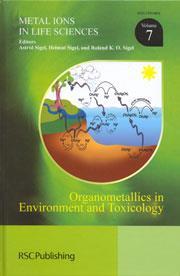 This book is the seventh volume of the series Metal ions in life sciences , devoted to the expanding research area around organometal-compounds in the environment and on some of their toxicological aspects.
It is a comprehensive supplement for scientists who start going into the interdisciplinary field of biological inorganic chemistry, and it is also a timely summary of current knowledge for those who are experienced in this area. Thus scientists working in organometallic chemistry, inorganic biochemistry, environmental toxicology, coordination chemistry, molecular and structural biology, up to physiology and toxicology can extract valuable information.
The first chapter provides a general overview on distribution, form, transport and specifically on cycles of organometallics, with some focus on distinct elements. This is followed with a chapter focusing on analytical topics such as useful sample preparation and analysis as well as quality control and future developments. The subsequent chapters describe formation or transformation and partly toxicology of organometal(loid) species in the environment, specifically of organotins, ethylated lead compounds, alkylated stibines or derivates of bismuth, organo-selenium and -tellurium species or organo-arsenicals and -mercurials. The As and Hg species are considered in a chapter each, focusing on uptake, human metabolism and health, leading to the last chapter on methylated metalloid species in humans.
Overall I found the book to be a collection of interesting topics, although it seems that experts were first selected and they in turn authored their subject of expertise. This fact seems to be the reason that each chapter has its own outline and structure. Nevertheless, this book is very readable and it is a good supplement for all those who are interested in an interdisciplinary view on biological inorganic chemistry.