Communicating science. Professional, popular, literary
Communicating science. Professional, popular, literary
Nicholas Russell
Cambridge, UK: Cambridge University Press 2009 | 348pp | ?18.99 (SB)
ISBN 9780521131728
Reviewed by John Parker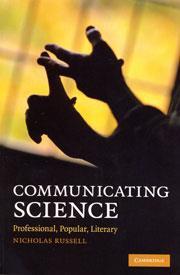 This is not a 'how to do it' book, but rather an exploration of the rationale behind science communication - why science needs to be communicated, what science should be communicated and to whom. Such questions relate to science's place in society, and the growing movements of public understanding of science (Pus) and public engagement with science and technology (Pest) .
This well-written and well-organised book, illustrated throughout with real examples, is based on the author's postgraduate science communication course at Imperial College London. Hence, although there are a few chapters on professional patterns of communication among scientists, including electronic publishing and peer review, the bulk of this book deals with science communication to the public. With the power of the media today to mould public opinion, the chapter entitled What every scientist should know about journalists should be compulsory reading for scientists. Science on television, online publishing, blogging and social networking are all discussed.
Finally this book is rounded off with a section on science in literature, for example Gothic literature and science fiction, and drama, for example Michael Frayn's Copenhagen and Carl Djerassi's Oxygen .
The manual of scientific style. A guide for authors, editors and researchers
Harold Rabinowitz and Suzanne Vogel
Burlington, US: Elsevier 2009 | 984pp | ?27.99 (HB)
ISBN 9780123739803
Reviewed by Tony Onyett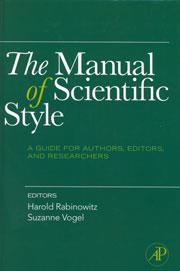 This volume overlaps with many previous volumes on science style and format, such asScientific style and format: the CSE manual for authors, editors and publishers (7th edition, 2006) and The ACS style guide: effective communication of scientific information by Coghill and Garson (3rd edition, 2006). Many writers of science use such general writing style guides as Guardian style (ed David Marsh, 2nd edition, 2007) or the Chicago manual of style (15th edition, 2003).
This particular guide begins with an excellent introduction to the importance of the communication of science within its social, political, educational and cultural context. Effective 'external' communication of scientific ideas to the public and its representatives needs to be considered as well as 'internal' communication to other scientists.
After an outline of general points on style and usage, citations and references etc, this volume splits into separate sections discussing style and usage in eight disciplines (mathematics, physics, astronomy, chemistry, organic chemistry, earth science and environmental science, life science, and medical science). This arrangement, giving details of the units, style and conventions in the writing of information in each of these areas of science is a good one. In chemistry, as expected, most of the information stems from Iupac. The book ends with a series of appendices giving tables and conventions in each of the above disciplines.
This book should be a valuable desk reference work for all those seeking clarity, precision and effectiveness in writing - from technical papers and reports to popular science articles.
Don't be such a scientist: talking substance in an age of style
Randy Olson
Washington, DC, US:Island Press 2009 | 216pp | ?12.99 (SB)
ISBN 9781597265638
Reviewed by Tony Stubbings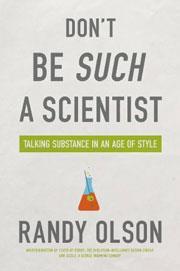 Olson changed from being a professor of marine biology to a Hollywood film maker and in this book he makes the case that the primary concern of scientists should be to communicate their results and ideas to a wide audience, even at the expense of total accuracy. With films like Flock of dodos and Sizzle, neither of which were critically acclaimed, he has tried to bridge the cultural divide that has too often left science on the outside looking in.
His ideas will be no doubt controversial amongst those dedicated to scientific rigour, but he has a point that in an age of information overload, priority must be made by the science community to grab the public's attention. Olson's chapter headings encapsulate his approach: don't be so cerebral; don't be so literal minded; don't be such a poor storyteller; don't be so unlikeable; be the voice of science!
I can't imagine that in the near future we will see Chemical Communications articles in the form of racy short stories illustrated with computer-generated graphics, but scientists do need to improve their communications skills in radio and TV interviews, podcasts and YouTube videos etc.