In 2015, all 193 United Nations member states adopted the 2030 Agenda for Sustainable Development. At its core are the 17 interlinked sustainability development goals, which the UN says are designed to be a 'blueprint to achieve a better and more sustainable future for all '.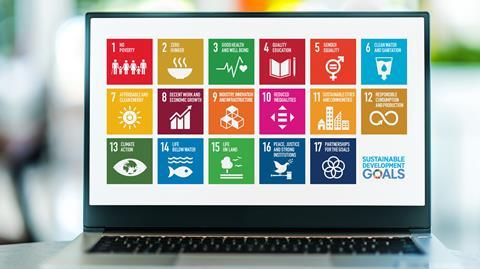 These goals, spread across the environmental, economic and social sectors, aim to improve lives and create 'a future we want'. The goals require action, innovation and collaboration across different research fields, business sectors and countries.
Innovation has always been a core pillar for the chemical industry. As such, it's no surprise that this sector is at the forefront of meeting this challenge, by providing the tools and facilitating the inventions needed to build a better tomorrow.
Chemistry World and Notch Communications' twelfth digital supplement delves deeper into some of the most impressive developments taking place within the chemical and scientific industry. These stories highlight the ways that science is turning the tide on global warming, inequality, famine and life-threatening disease.
In this supplement, Christophe Le Ret and Natalia Agüeros showcase how Umicore leverages the sustainable development goals (SDGs) in its precious metals chemistry (PMC) business to inspire the development of sustainable catalyst and ligand technologies. Dermott O'Callaghan from Stream Bio outlines how conjugated polymer nanoparticles (CPNs) are inspiring novel approaches to healthcare worldwide. We also hear from Syngenta's Daniel Vennard, as he shares his insight into sustainability in farming, and its importance for achieving the SDGs. Finally, and from our very own Notch colleagues, we learn how the SDG framework can be used by businesses to promote equality and reduce discriminatory bias.
Meeting the SDGs is not going to be easy, but with the brightest minds in science behind us, we are up for the challenge. If you have a story to tell, please get in touch.
Welcome to Up to the Challenge
1

Currently reading

Welcome to Up to the Challenge

2

3

4

5