This webinar is available to view now - please click 'view recording' to access the video.
This webinar will give an overview of the factors SMEs need to consider when transporting chemicals and dangerous goods including best practises, regulations and choosing a supplier.
The webinar will cover:
Identifying the legal requirements for the transport of chemicals and dangerous goods
The different dangerous goods hazard classes
The requirements for different sized packages, e.g. research samples through to medium sized loads
By the end of this webinar, you will:
Understand best practices, and discover where the gaps are in your business
Be prepared for incidents involving dangerous goods
Be aware of factors to consider when choosing a supplier for transporting your chemicals
If you can't attend but are interested in the webinar, register anyway and we'll send you a link to the recording.
Date and time
26 May 2016 - 12 - 1pm (UK time)

Speaker

Stephen Walker, senior consultant of the National Chemical Emergency Centre's Dangerous Goods Safety Advisory
Stephen has a strong chemical regulatory background, in particular the production of compliant safety data sheets and labels for use in Europe, the USA and other GHS-adopting countries. He is a certified Dangerous Goods Safety Advisor (DGSA) and acts as the appointed DGSA for clients, advising them on how to comply with their obligations regarding the transport of dangerous goods and preparing their annual reports. He is also the Product Manager for NCEC's DGSA service. Stephen is also a past member of NCEC's emergency response team, and has several years of experience in providing emergency advice over the telephone to those dealing with chemical incidents.

Caroline Raine, business area manager of the National Chemical Emergency Centre
Caroline is a chemical legislation expert, with experience of interpreting and implementing EU legislation relating to hazardous chemical substances. The knowledge Caroline has of legislation is wide ranging, covering both supply and transport legislation. This experience has been developed whilst working directly in the Chemical Industry and through consultancy projects. Caroline is a qualified Dangerous Goods Safety Advisor (DGSA), for the transport of hazardous goods by road and rail and holds a post graduate certificate in REACH management.
For over 40 years the National Chemical Emergency Centre (NCEC) has been supporting organisations through multilingual 24/7 emergency response and crisis notification services. This makes us one of the most experienced teams in the world in understanding the requirements of the chemical industry.
Moderator
Benjamin Valsler, Digital editor, Chemistry World magazine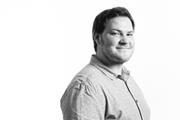 Ben is the digital editor of Chemistry World magazine, producing video and podcasts to accompany the magazine and website.
Prior to joining the Royal Society of Chemistry, he was the producer of the award-winning Naked Scientists, making local and national radio programmes for the BBC, the Australian Broadcasting Corporation and Primedia in South Africa. He also made podcasts for the Science and Technology Facilities Council, the Wellcome Trust and the Engineering and Physical Sciences Research Council, as well as working closely with Rolls Royce to promote materials science.
Outside of the Royal Society of Chemistry, Ben delivers workshops on science communication, gives talks on the science in comics and is a keen photographer.
This webinar is brought to you by EnterprisePlus
At the Royal Society of Chemistry, we believe the chemical science industry has the power to create solutions to some of society's biggest challenges – from climate change to beating disease. That's why we want to invest in and support businesses, of all sizes.
EnterprisePlus is a dedicated service for micro, small and medium-sized companies. We provide tools to help you promote your business, recruit the right people and find the connections, opportunities and resources you need to grow.