A thirst for new challenges led chemist Marek Klunduk into a scientific career with the petfood division of Mars.
A thirst for new challenges led chemist Marek Klunduk into a scientific career with the petfood division of Mars.
Like many young academics, Marek Klunduk was faced with a career defining decision when he was nearing the end of his PhD - to follow in the footsteps of his PhD supervisor, or to leave academia and take the plunge into uncharted territory. In his case, the lure of industry proved too strong. 'What really motivates me is solving problems, and I found the business challenges that a career in industry offers very appealing,' Klunduk explains.
When people ask Klunduk if he regrets doing a PhD, the answer is a resounding no. 'I would not have been as successful in my career if I hadn't done a PhD,' he admits. Doing a PhD gave him a taste of practical problem solving. 'It really set me up for tackling the problems I now face on a daily basis - it helped me develop a project management mentality.'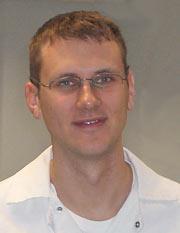 Along the way he also learned to deal with ambiguity and setbacks. 'Dealing with the problems I encountered during my PhD really helped me with worst case scenario planning during my subsequent career roles,' he laughs. As a bonus, Klunduk learned to interact with people at all levels; his duties ranged from presenting reports to senior managers at Imperial Chemical Industries, the industrial sponsors of his PhD, to sorting out practical issues with the lab technicians.
When Klunduk landed a job as a development chemist at Johnson Matthey, the skills he acquired during his PhD stood him in good stead. 'It wasn't a huge change from academia,' he recalls, 'but I enjoyed the business aspect of the work, including the immediacy of deadlines driving my work.' He flourished at Johnson Matthey, where his job involved devising innovative ways to streamline industrial chemical processes. But after three years, Klunduk became acutely aware that he was working purely on chemistry, and it was time to move on to a new challenge. 'It would be a bit too strong to say that I was stuck in a rut, but I felt that I should move out of my comfort zone and find a more challenging role that still made use of my skills,' he says.
Move to Mars
Around this time, he spotted a job ad that really stood out; it was a great match for his background and interests, but in a completely different area. 'During my PhD, I didn't imagine that I'd eventually be working with petfood,' he says. Yet that's exactly what he found himself doing when he joined Masterfoods, a division of Mars, as an operational R&D technologist in 2003.
The career transition was a bit of a culture shock, says Klunduk, because working in fast moving consumer goods requires a different mentality; the focus is very much on understanding what the consumer wants. 'A lot of time is devoted to market research, listening to consumers' needs; we really need to keep them at the heart of our innovation,' he explains. 'With well-established, familiar brands you need to ensure that any changes you make to the manufacturing process don't change the appeal of the product.'
After 18 months at Masterfoods, Klunduk was offered a six-month project in Poland to develop a product innovation strategy for the Central European market, and he jumped at the chance to spend some time in his parents' home country. 'I enjoyed working in such a different atmosphere and using a different language,' he says. 'In this project, I took two steps back from my previous roles. I was working on the start of the innovation process - looking at what products were out there, what our competitors were doing, analysing consumer insights, and thinking about the new products that we could launch.'
Exciting challenge
Klunduk is now back in the UK, working as a product innovation senior scientist for Masterfoods. He explains that his loyalty to the company is due to the fact that it encourages people to move around within the organisation to experience different roles. 'The great thing about the company is the freedom they give you to pursue any projects that you're interested in; I've never felt pigeonholed into a particular role here,' Klunduk says. 'I'm working on a very exciting, technologically challenging project at the moment, so for the foreseeable future I plan to focus on that and hope to be around when the product that we're developing hits the shelves.' But he doesn't rule out another shift in roles. 'At some point I'd really like to move into line management. I've always had excellent line managers, and I'd like to be able to encourage people by setting challenging but realistic targets,' he says.
Curriculum vitae
Age
30
Work experience
2005-present
Product Innovation Senior, Scientist, Masterfoods, Birstall, UK
2004-2005
Dry Product Innovation, Technologist, Masterfoods, Sochaczew, Poland
2003-2004
Operational R&D Technologist, Masterfoods, Birstall, UK
2000-2003
Senior Development Chemist, Johnson Matthey

Education
1996 BA Hons/MA Natural Sciences, University of Cambridge
1999 PhD, University of Cambridge
2003 Professional Certificate in Management, Open University Business School

Hobbies
Travelling, cycling, swimming, football, popular science, current affairs