Adam Cohen moved from his bedroom electronics laboratory to become assistant professor at Harvard University within ten years. Yfke Hager finds out about his meteoric academic rise
Adam Cohen moved from his bedroom electronics laboratory to become assistant professor at Harvard University within ten years. Yfke Hager finds out about his meteoric academic rise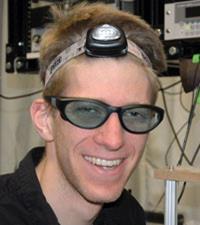 When he was 17, Adam Cohen built a scanning tunneling microscope in his bedroom. Cohen, now an assistant professor at Harvard University, US was recently named one of the top 35 technological innovators aged under 35 by Technology Review.
Growing up in New York, Cohen developed a passion for electronics by hoarding discarded electrical items. 'Walking the streets of New York, you find a lot of electronics in the garbage - TVs, microwaves, computers,' Cohen explains. 'I would haul them home, dismantle them, and then try to fix them or figure out how they worked.' One of his first inventions was a method of moving a computer cursor using eye movements - by mounting an infrared light in a pair of safety glasses, with infrared sensors around it to detect the light reflected by his moving eye. His parents had some qualms when Cohen's bedroom morphed into an electronics workshop, especially when he started working with high voltage equipment. 'As long as I didn't kill myself they were happy,' he laughs.
After developing a nanoscale patterning technique using his STM, he entered the Westinghouse Science Talent Search; at the time, the biggest science contest for American high school students. And to his complete surprise, he won. Cohen also received an award from the National Gallery for America's Young Inventors, and has since patented the technique.
Following this auspicious start to his scientific career, he went on to study chemistry and physics at Harvard University. One highlight of this time was his experimental work with George Whitesides on the conduction of electrons through self-assembled monolayers. This period 'solidified my intention to stay in academia,' he says. Cohen applied for a Marshall scholarship to study for a PhD in the UK, but didn't know which university to apply to. 'I knocked on each professor's door and asked which university they thought I should go to, and they all said "Cambridge". That made the decision pretty easy,' he says.
So, in 2001, Cohen started a PhD in theoretical physics at the University of Cambridge, studying van der Waals forces in non-equilibrium systems with Michael Pepper. 'We discovered a whole zoo of new effects that were not expected from equilibrium theory,' he says. During this period, Cohen discovered a relationship between non-linear optical response and van der Waals forces, and collaborated with L. Mahadevan and Shaul Mukamel on research into quantum systems and biomechanics theory.
Cohen's scholarship ended after two years, at which time he applied to several graduate schools in the US. 'I wanted more formal training; I didn't feel ready to start a postdoc,' he explains. 'Also, I had focused on theoretical research at Cambridge, and I wanted to get back to experimental work.' Despite eventually being awarded a PhD from Cambridge, Cohen embarked on a second PhD at Stanford University. 'I finished writing up my Cambridge thesis in August 2003, and in September I started grad school again.'
At Stanford, Cohen was based in the chemistry department. 'I didn't care about the name of the discipline,' he says. 'The important thing was the person I wanted to work with.' W.E. Moerner was the most encouraging of the potential supervisors that he visited. 'Working for him turned out to be a fabulous choice,' he says.
He was in his element at Stanford. 'I spent the next three years building a machine that would let you grab and move around a single molecule in solution,' he says. The Anti-Brownian Electrokinetic (ABEL) trap locks onto a molecule and uses an electric field to keep it in a fixed location. 'There was a trick to it, of course,' Cohen says. 'It follows the Brownian motion of molecules using fluorescence tracking.' The device has many potential biological applications. 'I spent some time looking at DNA,' Cohen says. 'More recently, I've been looking at chaperonins, to understand how they help other proteins in solution fold into their final state.'
Having completed his second PhD, Cohen stayed at Stanford for a year of postdoctoral research. In 2007 he returned to his alma mater, taking up the position of assistant professor at Harvard University. 'It's great to be back,' he says. 'Harvard has the best combination of students and resources.' He's now setting up his own lab to develop new tools to study biological molecules. He encourages his research group members to 'learn as much as they can about as many fields as possible and not to be afraid of crazy-sounding experiments.' It's not easy running a lab, he admits. 'I'm dealing with complicated things that I never thought I'd have to deal with.' Despite this, he can't imagine doing anything else, and feels that the most exciting part of his career is yet to come: 'I'm having the time of my life right now.'
Curriculum vitae
Age 28
Work experience
2007-
Assistant professor of chemistry and chemical biology and of physics, Harvard University, Massachusetts, US
2006-
Postdoctoral researcher, Stanford University, California, US
Education
2006
PhD, Stanford University, US
2003
PhD, University of Cambridge, UK
2001
BA, Harvard University, US
Hobbies
Running, collecting wild mushrooms, hiking