As a public awareness scientist, Samantha Tang is keen to encourage others to spread the wonders of science. Yfke Hager finds out more
As a public awareness scientist, Samantha Tang is keen to encourage others to spread the wonders of science. Yfke Hager finds out more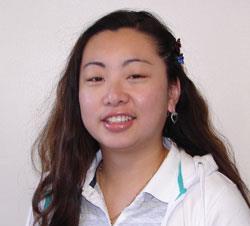 Not many people can claim that their job is unique. But Samantha Tang can; she holds the first public awareness scientist post in the UK. Her career started out conventionally enough. Like many other scientists, she decided to do a PhD after completing a dual honours degree. But rather than taking the traditional academic route, Tang's experiences during her PhD steered her down an unconventional career path.
During her PhD, Tang met a charismatic scientist who opened her eyes to new career possibilities. Graeme Jones, a chemist at Keele University with a penchant for science communication, encouraged Tang to do public outreach work at shopping centres and the BA Festival of Science, where she made models of molecules to convey the thrills of chemistry to the public. At the Tomorrow's World roadshow in 2002, she was part of the team that helped Jones to build the world's largest model of DNA. She enjoyed these experiences immensely. 'You could say that I was bitten by the outreach bug,' she laughs. Before meeting Jones, Tang believed that the only career options open to her were teaching or a research career. 'But he showed me that there was this whole new avenue to explore.' The timing was just right. 'It was the beginning of the public engagement revolution in the UK,' Tang says. Her PhD was drawing to an end when she spotted an ad for the newly created position of public awareness scientist at the University of Nottingham.
Hands-on science
During her interview for the post, Tang was asked to explain what a catalyst is. 'At first I thought they were joking,' she recalls; her interviewers were two professors and the director of business administration at the School of Chemistry. But then she realised that they wanted to see how she would react. Her response must have satisfied them. Tang was delighted when they offered her the job. 'I think I got the job as a result of my hands-on science communication experiences during my PhD,' she says.
The post, which is funded by the Engineering and Physical Sciences Research Council (EPSRC), was created by three chemists in the Clean Technology Group at the University of Nottingham. Their vision was to appoint an enthusiastic postdoctoral researcher to communicate to the public how science is done, rather than just explain stark scientific facts. Based in an active research group, Tang keeps up with the latest developments in the field of green chemistry and researches ideas for projects to communicate these advances to schoolchildren and the public.
Kitted out
Many researchers at the University of Nottingham are interested in public outreach work, Tang says, but with so many demands on their time they don't often get to do it. Her aim is to make it easier for scientists to engage with the public. 'I make the kit and arrange a visit to a local school, so the academic just has to pick up the kit, go to the school and do their thing, then return the kit to me and get back to their lecturing,' Tang says. The trick is to get them hooked early; part of Tang's remit is to encourage undergraduates and postgraduates to do public outreach work. Her efforts are bearing fruit; she enthusiastically describes a project that lets pupils share in the excitement and setbacks of real research projects. 'In our research twinning scheme, a PhD student visits a local secondary school once a month for eight months,' Tang explains. 'Each month, they demonstrate a new facet of their research, so the children build up a picture of why and how science is done.' When the student is due to go to a conference, they run a poster competition in the class, before displaying the winning poster alongside their own research poster at the conference. In April this year the year eight pupils of Nottingham Bluecoat School won the poster prize at the Iupac photochemistry conference in Kyoto. 'The children were over the moon, of course,' Tang laughs. Will other universities follow suit? Tang admits that other universities are starting to create similar 'public awareness' posts. 'But these tend to be admin positions, rather than employing someone to come up with new projects to communicate science,' Tang says. 'What makes my post unique is that I get to develop new science activities.' But in one respect her job resembles others in academia; her contract expires next year, and her employers are in the process of securing funding to extend it. In the meantime, all she can do is hope that the funding application will be successful, and will help her to launch a lifelong career in public engagement.
Curriculum vitae
Age 27
Work experience
2004-Present
Public awareness scientist, School of Chemistry, University of Nottingham
2003-2004
Administrative/admissions assistant, Academic Affairs, Keele University
2003-2004
Library assistant, Keele Information Services, Keele University
Education
2000 BSc, dual honours (chemistry and biology), Keele University
2004 PhD (chemistry), Keele University

Hobbies Cooking, learning to use Adobe Photoshop