Graham Ruecroft co-founded a firm that recently earned him his second RSC innovation award.
Graham Ruecroft co-founded a firm that recently earned him his second RSC innovation award.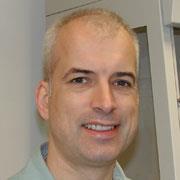 Throughout a career spanning over 20 years, Graham Ruecroft has been driven to develop his knowledge of chemistry. As a teenager, his interest in higher education was sparked whilst working as a trainee research technician assisting PhD students at Durham University, UK. 'Being surrounded by interesting and motivated people inspired me to go as far as I could,' he says.
During his first chemistry degree at Teesside Polytechnic, UK, he developed an interest in medicinal chemistry. Pursuing this, he landed a job at the Wellcome Foundation. Manufacturing drug molecules fuelled a desire to know more about organic chemistry. He enrolled in a part-time Masters degree in advanced synthetic organic chemistry, travelling to London two nights a week for classes whilst holding down a full-time job. Unfazed by this intense workload he decided, 'why stop there? Why not do a PhD?'
Juggling work
Ruecroft applied for a PhD with Jim Iley of the Open University and, in 1986, once again found himself juggling a job and study. Concurrently with his PhD research, he worked as a research assistant at the OU, teaching undergraduates and demonstrating at summer schools. Using both biomimetic and isolated cytochrome P450 enzymes during his PhD to understand how anti-cancer drugs are modified by the body, he became fascinated by drug metabolism. During a secondment to the Institute of Cancer Research in Surrey, UK, he met Ray McCague, who was to play an important role in his career.
After his PhD, Ruecroft applied for a job at the Ferring Research Institute in Southampton, UK. A year-long appointment as a medicinal chemist followed. During the final months of his contract, he saw a job advert from one of the UK's first biotech companies, Enzymatix, founded by the biotech entrepreneur Chris Evans. 'Something about the job seemed an ideal fit,' Ruecroft says. His CV landed on McCague's desk, who interviewed Ruecroft and confirmed that the job was the right move. 'An incredibly interesting chapter in my career started,' Ruecroft recalls. 'It was an inspirational environment.' It was also his first experience of the rollercoaster ride of entrepreneurial business, 'but there were more ups than downs,' he laughs.
Award winner
Enzymatix became Chiroscience, which successfully floated on the London Stock Exchange in 1994. It was a dynamic time in Ruecroft's career. 'We went from small biotech company to being listed on the stock exchange. It was a fascinating three years,' he says. During this period, he led the team that won the 2001 RSC Teamwork in Innovation award, for the multi-tonne manufacturing process for a precursor for new carbocyclic anti-viral compounds. He describes the award as a career highlight and a culmination of 10 years of R&D.
But when Chirotech (the chiral technology arm of Chiroscience) was acquired by Dow Chemical, he decided that it was time to move on to new entrepreneurial pastures. Rick Dyer, a former colleague from Chiroscience, offered him the post of team leader at Ultrafine, a chemistry service provider in Manchester, UK. Shortly after his move, he received a call from another prior colleague, David Hipkiss, who was working at C3 Technology, part of Accentus. 'He said he had a fantastic technology, using ultrasound to mediate crystallisation. He thought we might get this out as a business in its own right,' Ruecroft recalls. Hipkiss created a position for Ruecroft, and together with operations manager Andy Bush they considered a management buy-out. It was never to be; Accentus was sold in 2005. 'But we convinced the senior management who acquired the business that we were worthy of backing,' he says. Jeremy Coller of Coller Capital agreed to spin out C3 Technology, which became Prosonix.
As co-director and chief technical officer, Ruecroft aims to develop Prosonix into much more than a process technology company. 'Our mission is to become known as a particle engineering and drug delivery company,' he says. The firm has already developed several technologies using power ultrasound to control crystallisation, enabling precise production of high-purity chemicals. One of these technologies recently made award history; Prosonix won the 2006 RSC Teamwork in Innovation award for its collaboration with Rob Price - a leading expert in drug inhalation at Bath University - in the development of SAX micro- and nano-crystallisation technology. This makes Ruecroft the first person to receive the award twice. 'Since this time the award is for our own company, it definitely has the edge,' he says.
Curriculum vitae
Age 46
Work experience
2006-Present
Chief Technical Officer, Prosonix, Oxford, UK
2003-2006
Head of process R&D, C3 Technology, Accentus plc, Didcot, UK
2003
Team leader, process R&D, Ultrafine, Manchester, UK
1990-2003
Chirotech Technology Ltd, Cambridge, UK
1989-1990
Ferring Research Institute, Southampton, UK
1986-1989
The Open University, Milton Keynes, UK
1983-1986
The Wellcome Foundation, Berkhamsted, UK
Education
1989
PhD, Open University, UK
1986
MSc, North London Polytechnic, UK
1983
GRSC Part II, Teeside Polytechnic, UK
Hobbies
Music, motorcycling, running