Heather Sutherland-Paul started as an analytical chemist but has carved herself a career in sales. She tells Karen Harries-Rees how she managed the switch
Heather Sutherland-Paul started as an analytical chemist but has carved herself a career in sales. She tells Karen Harries-Rees how she managed the switch
Heather Sutherland-Paul knew she didn't like day-to-day life in a lab but enjoyed dealing with customers. This motivated her to find a route out of the lab and into sales.
Sutherland-Paul joined Rhone Poulenc at 16 on a two-year YTS training course. At the end of the course she was taken on full time and the company paid for her to do an ONC, HNC and applied chemistry degree. This took Sutherland-Paul seven years to complete. 'They put a lot of money into making sure I was well trained. That's a lot of why I am who I am,' she says.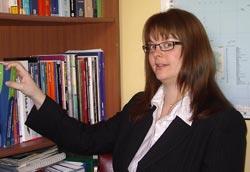 During her time at Rhone Poulenc, she progressed to being a senior analytical chemist in charge of the chromatography laboratory. 'I was responsible for everything from method development, training staff, dealing with suppliers, to anything odd, any non-routine analysis and customer complaints,' she says.
But Sutherland-Paul hated the day-to-day lab work. 'The bits of my job that I enjoyed were solving problems, dealing with customers and negotiating with suppliers. That made me decide I wanted to go out of the labs and get into sales.'
Making the move
Sutherland-Paul says it was hard and it took her 12 months to get her first job because not many companies wanted to take on someone with no sales experience. Finally she got a job with Phase Separations as a technical sales specialist. This made the most of her technical knowledge while introducing her to sales.
Shortly before Phase Separations became part of Waters, Sutherland-Paul left to take on her first external sales job, selling gas generators for Whatman. This took her out on the road four days a week and the company gave her full sales training. 'That's where I got my sales grounding,' she says.
Moving around in the early years of a sales career is important to get experience, says Sutherland-Paul. So, after just over a year at Whatman, she moved on again to SGE. This was another external sales job but this time selling consumables such as GC columns and syringes.
After 10 months, she was promoted to a business development role. 'I was involved in looking at new products and how they should be launched, which was quite interesting.' This prompted her to start looking at product manager roles and led her to take her current job as product manager at Greyhound Chromatography and Allied Chemicals.
The company is small. When Sutherland-Paul joined there were just the three family owners. Since then, the company has expanded and now has about eight employees. It's not big enough to employ external sales reps, so Sutherland-Paul is effectively sales manager as well as product manager.
She is typically out of the office two days a week visiting customers. When she's in the office, she does everything from answering the phone to packing goods.
Sutherland-Paul has enjoyed this job but admits that being at a small company does mean there are limitations. While she has been able to gain a lot of experience and have a go at everything, she is not able to devote her time to visiting customers and dealing with suppliers.
Refocus on sales
With the experience she's gained, Sutherland-Paul would like to move back into a large manufacturing company to work in sales management. She has identified exactly what she has enjoyed and what she hasn't from her past jobs and has a very clear plan of what would suit her best.
While she enjoys product management, most jobs in this area are office-based, she says. This would mean sacrificing one of things she enjoys most - visiting customers. 'I would never want to move away from being out in front of customers.'
But a straight sales job doesn't appeal either. 'Five years ago I needed more experience than just being on the road selling,' says Sutherland-Paul. Her job at Greyhound has given her that. Any future sales job would need to be product driven. She is keen on more of a consultancy role, 'so when you're selling you're not doing the big hard sell, you're going in there helping people with applications and trouble shooting'.
She is also considering doing a PhD or an MBA. She recently became a CChem but hasn't been impressed by its status. 'It's great if the person you are dealing with is in the RSC, they know what it means, but for about 90 per cent of what I do, nobody really knows what it means. Perhaps I should go further and do more training, such as a PhD, because I don't feel that CChem status has made any difference to me,' she says. She would need to study part time, so her decision will rest on what opportunities arise.
Curriculum vitae
Age
32
Education
Part time
ONC in science; HNC in chemistry; applied chemistry degree
2004
Chartered chemist
Chartered scientist
Work experience
2003-present
Product manager, Greyhound Chromatography and Allied Chemicals
1999-2000
Technical sales rep then business development manager, SGE Europe
1998-1999
Instrumental sales specialist, Whatman Analytical Gas Systems
1997-1998
Northern UK technical adviser, Phase Separations
1989-1997
Senior analytical chemist, Rhone Poulenc
Hobbies
Brass bands, diving, kick boxing