Vancouver-based Xenon Pharmaceuticals is turning heads. Charles Cohen tells Helen Carmichael about the company's research, and its close ties with British Columbia's universities
Vancouver-based Xenon Pharmaceuticals is turning heads. Charles Cohen tells Helen Carmichael about the company's research, and its close ties with British Columbia's universities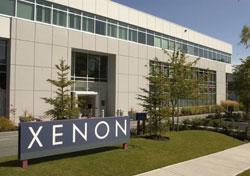 Biotech-based drug discovery and development company Xenon Pharmaceuticals continues to build on its successes while others in the industry struggle to weather the harsh economic environment. The company was spun out of the University of British Columbia (UBC), Vancouver, Canada, and the Canadian Genetic Disease Network in 1999 by UBC-based founders Michael Hayden and Simon Pimstone with the help of angel financing. Xenon went on to garner venture backing in 2000 and has since become a leading light in the BC biotech hub.
Charles Cohen joined Xenon in 2008, from Vertex Pharmaceuticals in San Diego, US, where he led biology teams targeting neuropathic pain and neuroinflammation. Prior to Vertex, he worked at Merck for 18 years. With a background in biophysics, the past decade has seen Cohen focus mainly on neuroscience, but his drug discovery expertise also encompasses cardiovascular disease, ion channels and electrophysiology.
'Xenon works on therapeutic targets validated based on clinical genetics,' Cohen explains. The company started life focused on target identification. After identifying several interesting targets Xenon began doing new drug discovery to find therapeutic agents, in collaboration with major pharmaceutical companies.
Active partners
One of Xenon's candidate small molecule drugs inhibits SCD1 (stearoyl-coenzyme A desaturase 1), and the company is pursuing this in partnership with Novartis Pharma AG to target obesity, and possibly other metabolic diseases such as diabetes. Xenon also partners with US-based Merck & Co. in cardiovascular disease. The company's 'innovative and potent' pain medication candidate XEN402 is currently in Phase II clinical development, in limited partnership with Japan-based Takeda. Xenon also recently partnered with funding body Genome BC in a C$7.5 million (?4.4 million) project to investigate a small-molecule drug that could potentially treat patients that have excess iron in their blood (hereditary hemochromatosis). Genome BC is providing C$2.5 million to Xenon, which is setting aside C$5 million for the project and leading the research. Another recent move has seen Xenon provide a large library of drug-like compounds to the commercial arm of the BC Centre for Drug Research and Development (CDRD) for screening on targets validated by clinical genetics studies. The goal is to determine if any of the compounds are promising leads with development and commercial potential.
Science strength
Cohen says that the company's focus is on 'first-in-class, novel mechanisms'. Of Xenon's 75 employees, around two-thirds are research scientists, with further collaborators from partner companies also involved. Drug delivery experts typically join as doctoral scientists or as research associates with backgrounds in pharmacology, toxicology or biotechnology. 'Virtually all the research scientists have PhDs in either chemistry or a biological science, like pharmacology,' says Cohen.
Cohen has high praise for UBC's science programmes, which along with Simon Fraser University, Vancouver, bring a steady supply of interns for long-term placement at Xenon. 'They have a much better programme for undergraduates than anything I've ever encountered in the US,' he says. 'It's terrific experience.' (British Columbia is the seventh largest biotechnology centre in North America by number of companies, and the fastest growing in Canada).
University undergraduates typically spend eight months with Xenon to gain an understanding of current discovery and biotechnology trends. Cohen says they glean a better understanding of what types of skills they need. Interns work in a wide range of posts, including medicinal chemistry, formulation, genetics and cell and molecular biology. They come from a multitude of degree programmes including chemistry, molecular biology, biochemistry, genetics, pharmacology and biophysics.
Xenon's success strategy in tough times seems to hinge both on its partnerships and its diverse product pipeline. 'The company has been remarkably successful at establishing partnerships,' says Cohen. 'That has kept Xenon in a rather strong financial position.' The next stage will be to move more of these lead compounds from the lab into the clinic.
Helen Carmichael is a freelance science writer based in Vancouver, Canada