Careers in conservation aren't just for art historians, discovers Hayley Birch
As an artist paints, sculpts or immerses dead animals in formaldehyde, they may well be hoping that their work persists in posterity. But it's unlikely that they spare much thought for the practicalities: how will their work be affected by the light in the gallery or museum where it is displayed? Or how stable is the paint they have used? It's not their job. 500 years later though, it becomes the job of the conservator.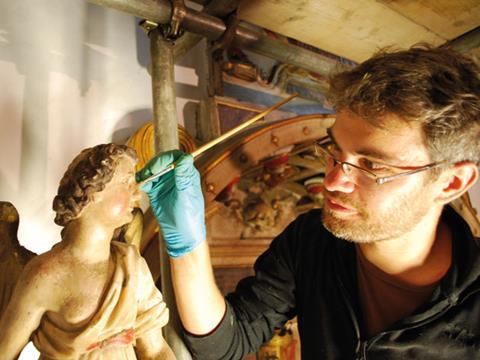 Conservators must care for precious works of art as time takes its toll on them, long after the artist has moved (or passed) on. The traditional route into art conservation may be an arts degree, but slowing down the inevitable decay depends on knowing a little – or a lot – about the chemical changes a piece of art undergoes, so the practice has become increasingly scientific. There's now a real call for analytical and research skills in the conservation business. It's about figuring out what materials an artist may have used, understanding the conditions that are causing them to deteriorate and finding a way to delay that process for as long as possible.
James White came to conservation by the conventional path, setting up his own company in 2005 in London, UK, after studying conservation and restoration at the University of Lincoln, UK. But he's constantly drawing on the chemistry he learned in school in doing his job – for example, in deciding what kind of solvent to use to remove 100-year-old varnish from wooden beams or understanding how the salts in stone can cause damage to wall paintings. He has worked on buildings, monuments and paintings from the 11th century right up to the modern day, and was most recently in Glasgow helping to conserve a 19th century church decorated by the designer Daniel Cottier.
No place for a scientist?
It's hands-on work at the proverbial coalface of conservation and it's also dictated by funding. But the occasional job scrubbing at old stones is balanced out by what White calls 'the uncovering jobs', the kind of projects that make it all worthwhile. 'It's true that the things you remember are: what was the accommodation like, was it cold in the church and how was the food,' he admits. 'But sometimes you really do get things that stick in your mind. Say you're uncovering a medieval painting that's covered in lime wash, you get these faces coming out at you that may not have been seen before the Reformations, hundreds of years ago. The medieval paintings are really full of character and they may seem almost naïve now, but I think they're brilliant.'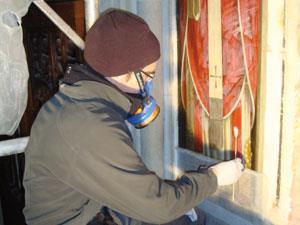 Others in independent practices have made a name for themselves offering analytical and monitoring services that underpin the work of those carrying out the restoration or conservation. One of White's associates is Tobit Curteis, who runs a conservation practice in Cambridge, UK. He specialises in environmental monitoring to help conservators understand the underlying reasons for deterioration and how to tackle them. An art historian by training, Curteis went on to study for a postgraduate degree with the Courtauld Institute of Art in London in conjenction with the Getty Conservation Institute in the US. The Courtauld Institute continues to offer a limited number of places on its wall painting conservation course each year, to a wide variety of entrants – from chemists and physicists to architects and art historians – providing them with training in all aspects of the discipline. For Curteis, this meant bringing his chemistry up to speed, while the scientists had to get to grips with the historical background.
As a practising conservator, it can pay to be something of a jack of all trades. Curteis' expertise may lie in environmental monitoring, but he has plenty of other bases to cover. Right now, for example, he is investigating what's causing deterioration of some wall carvings in a chalk cave under the small town of Royston, UK. The project brings together elements of materials chemistry, microbiology and the environmental conditions in the cave, not to mention vibrations coming from traffic on the road above. 'I'm an expert in some of these things, but certainly not all of them,' he says. 'The key to this particular project has been trying to assess what information we need, who can give it to us and then how we synthesise that information into a practical tool to stop the cave falling to pieces.'
Not fade away
Outside of conservation practices, there are ample opportunities to support conservation work through research and analytical science. Paul Whitmore, a chemistry professor at Carnegie Mellon University, US, has made a career of helping conservators tend to sickly paintings. Director of the Art Conservation Research Center since 1988, he started out as a postdoctoral chemist at the California Institute of Technology in Los Angeles. After a spell analysing the effects of air pollution on works of art, he changed tack, accepting a job at the Fogg Art Museum alongside the conservation team. It was in this first museum job that he realised he didn't just want to answer what he calls 'curatorial questions' about artworks – such as whether a painting is forged or what the paints are made of – he wanted to start answering his own questions. Like Curteis, he wanted to probe the underlying causes of deterioration and look for solutions.
The turning point came during a project working on paintings by the Russian–American abstract artist Mark Rothko. Created in the 1960s, they rapidly faded due to light exposure and had to be transferred to dark storage. Whitmore was called upon to investigate the problem and advise on how the artworks could be safely displayed. 'All through this process, I'm mourning the fate that those paintings suffered,' recalls Whitmore. 'And wondering what we could have done differently if we had been asking questions about proper care and doing the research necessary.' It turned out the artist had used some homemade, ink-based paints that were extremely light sensitive. After this discovery, Whitmore made it his mission to find a way to easily test the light sensitivity of artworks. The micro-fading tester he developed has now been used to test the light sensitivity of almost anything you might find in a museum collection – from textiles to photographs to butterfly wings.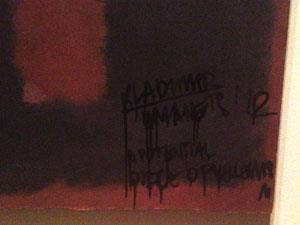 Another Rothko work may soon be receiving the attention of conservators for quite different reasons. Following the recent defacing of Rothko's Black on Maroon in the Tate Modern gallery, the man responsible claimed his 'tag' would increase the mural's value. Some might disagree, and it's occasionally the conservator's job to decide what is or isn't a worthwhile addition. 'Once I was covering over some etched graffiti that had gone into stone and had to make a judgement about what was interesting graffiti and what was just someone who had written "Joe loves…" or whatever,' says White. 'And then someone said we shouldn't cover over any of it. People have their own opinions.'
As for Whitmore, his thirst for answers to bigger and more complex questions has led him to his current research position, where he continues to work on new tools and treatments to help conservators. Now, instead of focusing on specific works of art, he's trying to structure his projects so that he can solve common problems in conservation and help others in the field to care for their collections. Whitmore insists that the scientific challenges involved in conservation science are formidable and should be enough to entice any curious chemist – art lover or not. 'I'd say half of my staff at any given time cares a lot about conservation and the others are scientific problem solvers – they enjoy the scientific challenges of answering some of these questions and, yes, it's nice if it has some social benefit at the end but that's not what lights their fires.'
By the book
In London, away from what Whitmore calls the 'thrill and romance' of the American art museum, conservation research is going on in the peace and quiet of a very British library – The British Library. Head of conservation research, Barry Knight, knows what it takes to be a successful conservation researcher. Starting out as a chemist – gaining a PhD in physical chemistry – he pursued his interest in history and archaeology into conservation science. His research on paper deterioration now supports the library's conservation research team in helping to protect the historic books and documents in the collection.
According to Knight, one of the key attributes for someone starting out in conservation is 'sympathy for objects' – learning to understand and appreciate the things that you're working with. He also emphasises the importance of cooperating with those who use the objects. 'The trouble with heritage science and conservation science has been that academics have come along and applied their favourite analytical techniques to a book or a work of art or a museum object, without actually asking whether the results they're obtaining are of any use to anybody,' Knight says. 'You have to work with your curators, readers or whoever to make sure that what you're doing is actually useful and relevant to them.'
This sentiment is echoed by White: 'I always try to give people time to explain what we're doing and help them understand.' Conservation is not just about practical or scientific skills – it's also about being able to communicate well with clients and manage the expectations of those who may have raised the money to have expensive conservation work carried out. And there is a burden of responsibility – the conservator may only have a fleeting presence, but whole communities will have to live with their decisions for years to come.
Of course, there's one other person a conservator has to respect: the artist – especially when they're still around. 'If there's a living artist, you have to ask them "Can we do this?",' says White. 'Because they might come along and say "Well, if it degrades, it's part of the art and that's what I intended".'