A series of fellowships in the UK and Germany have given Birgit Liss scientific independence in her research on the brain's dopamine system, writes Ned Stafford
A series of fellowships in the UK and Germany have given Birgit Liss scientific independence in her research on the brain's dopamine system, writes Ned Stafford
Birgit Liss has no memory of not being interested in her chosen career.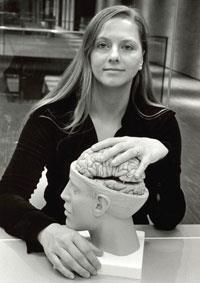 'I was always interested in science,' says Liss, who was born and raised near Flensburg in northern Germany. 'When I was just in elementary school, I told my mother that I would like to become a scientist - although I did not really know what that would mean.'
Now she knows. Liss heads the molecular neurophysiology research group at the University of Ulm in southern Germany, and won the 2007 Alfried Krupp prize for young university teachers. The prize, worth
1 million (?790,000), will help her team investigate neurodegenerative diseases, such as Parkinson's.
'The feeling was unbelievable,' she says of winning the prize. 'It is such a great honour.'
Her team of six is one of two research groups at the institute of general physiology, part of the medical faculty at the University of Ulm. Her research focuses on the dopamine system in the brain, which is involved in movement control and is crucial in emotional and cognitive brain functions and related disorders, such as drug addiction and schizophrenia. Her team's main research goal, she says, is to define the molecular mechanisms that control the distinct functional roles of individual dopamine neurons in health and disease states.
'I think it is fascinating to understand more and more of the complex function of our brain; how, for example, a tiny mutation of a single gene can cause a complex neurological disorder,' she says. 'There is still so much that we do not yet understand.'
Asked where her powerful drive to excel comes from, Liss says: 'For me, scientific research is not only my profession, but sort of a hobby, something I want to do almost all the time.'
She enrolled in 1990 at the University of Hamburg in a new joint biochemistry/molecular biology program, choosing gene technology as her focus alongside neurobiology. In 1999, she earned her doctorate at the Center for Molecular Neurobiology in Hamburg.
Nonetheless, she still describes herself as a biochemist. 'I have studied biochemistry and, thus, I am indeed a biochemist,' she says.
Dreaming spires
For postdoctoral work, she moved to the University of Oxford, UK, on a European Blaschko visiting research fellowship at Linacre College. 'It was a dream come true being able to continue my studies at Oxford University,' she says.
The Blaschko was the first of several fellowships she received during her four years of research at Oxford and afterwards back home in Germany. 'I have always been encouraged by my supervisors and by the universities to apply for fellowships,' she said. 'And I prefer to be funded by fellowships as they allow for more scientific independence.'
Her first three years at Oxford were spent at the University Laboratory of Physiology and MRC Anatomical Neuropharmacology Unit, while her last year was spent as a Royal Society Dorothy Hodgkin Research Fellow.
'I would not trade this experience for anything in the world,' says Liss. 'Having spent four years abroad was very important for my scientific as well as for my personal development.'
While she was in the UK, Germany began a new 'junior professor' programme to give talented younger researchers more independence than in the historically autocratic university system. Liss applied for and received one of the first tenure track junior professorships at Philipps University Marburg, becoming in 2003 the youngest professor in the state of Hesse.
'After four years abroad, I simply began to miss my home country,' she says, but adds: 'I would not have gone back to Germany if that had meant a step backwards for my research.'
Last year, she moved to the University of Ulm, which she describes as a 'young, modern university with a very exciting research landscape'.
Liss regularly talks to students and invites them to spend a day in her lab. 'I think it is important to explain to the public what scientists do and to encourage young people to aim for careers in science,' she says.
CURRICULUM VITAE
Age 37
Work experience
2007-present Professor, General physiology, University of Ulm, Germany
2003-2007 Junior professor, Molecular neurophysiology, University of Marburg, Germany
2001-2002 Royal Society Dorothy Hodgkin Research Fellow, University of Oxford, UK
1999-2001 Postdoc, University laboratory of physiology (now part of the Department of physiology, anatomy and genetics), University of Oxford, UK
Education
1999 PhD, University of Hamburg, Germany
1995 Diploma (equivalent to MSc), University of Hamburg, Germany