Gas technologist John Irven never forgets his first scientific influences, writes Yfke Hager
Gas technologist John Irven never forgets his first scientific influences, writes Yfke Hager
From the days of his first chemistry set, John Irven was hooked on chemistry. In his current role as director of technology for Air Products Packaged Gases Group, where he is responsible for research and development of innovative products and processes in industrial gases technology, he still experiences the thrill of discovery that first attracted him to science.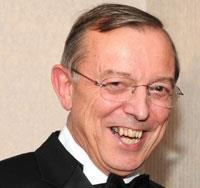 'I had a wonderful grandfather who always came up with scientific ideas that we tested together,' Irven recalls. 'I remember making a hot air balloon out of a paper bag. He really fired my initial scientific interests.' Eric Bonsall, head of chemistry and science at Northampton Town & County Grammar School, was also an influential mentor. 'He encouraged me to apply to Cambridge,' says Irven. During his gap year before university, Irven worked as a research assistant at the Allen Clark Research Centre, where he became skilled at chemical vapour deposition (CVD) techniques for thin film deposition.
Following a degree in chemistry at the University of Cambridge, he joined Standard Telecommunication Laboratories, where he was fortunate enough to experience the birth of optical fibre communication systems. In 1966, STL researchers Charles Kao and George Hockham published a seminal paper considering the possibility of using glass fibres to carry information. 'The development of fibre optics posed some interesting materials science challenges,' says Irven. To reduce attenuation caused by contaminants in the glass, he set out to create high purity glass.
Remaining based at STL, Irven embarked on a PhD, during which he successfully developed modified CVD techniques for the deposition of ultra-high purity doped silica glass for optical fibres. It was an exciting time, he recalls, in which he experienced the best of both worlds. 'The best part was working with the multidisciplinary teams at STL,' he says. 'I think that experience sparked my interest in industry-academic liaison.' The technology formed the foundation of the first commercial fibre-optic communication systems, including the development of TAT-8, the first transatlantic undersea fibre-optic link.
In 1986, Irven steered his career in a new direction by joining Air Products. 'I was ready for a change - I had experienced fibre-optic technology from its birth to full commercialisation and development into a multi-billion dollar industry,' he says. The past decade of his career has been devoted to innovation in packaged gas technology. His first challenge was to identify innovative business models for compressed gas cylinders. 'We took a product that was virtually unchanged for over a century, and asked what we could do to improve the customer experience,' he says.
Irven cites medical gas cylinders as an example. A decade ago, patients with respiratory disease spent their lives tethered to an oxygen tank in a hospital. 'We realised that if we could develop a portable device, we would not only reduce societal costs by reducing hospital visits, but also improve patients' quality of life.' The team at Air Products created lighter packaging using innovative composite carbon fibre resin-reinforced material, and simplified the flow regulator. 'We incorporated all these features into a lightweight easy to use package, which allows a patient to do the gardening or go shopping,' Irven explains.
He never tires of overcoming hurdles to get a new product to market. The key to innovation, he says, is crossfunctional teamwork. 'Optimally exploiting innovative ideas requires a multidisciplinary approach.' The successful collaborative nature of Irven's team has led to numerous awards, including two prestigious Queen's Awards for Enterprise. Testament to his passion for innovation, Irven received the 2007 RSC Creativity in Industry lifetime achievement award, as well as the Air Products Chairman's Award 2008, a top honour awarded to one of Air Products' 22,000 employees each year.
These days, Irven has a finger in many pies. As visiting professor at Queen Mary University of London, he supervises students and lectures on chemistry in industry. 'I like to enthuse students and convince them of the real-life applications of chemistry.' He was recently elected chairman of the Welding Institute's Research Board and is now exploring the next generation supply chain for welding gases. 'Innovation doesn't just apply to chemistry,' he notes. 'You can also apply innovation to processes and supply chains. There's no shortage of things we are interested in looking at.'
CURRICULUM VITAE
Age 59
Work experience
1986- present Director of technology, Air Products PLC, Basingstoke, UK
1970-1986 Chief research engineer/manager optical fibre group, Standard Telecommunication Laboratories, Harlow UK
Education
1979-1985 PhD, University of Greenwich, London, UK
1967-1970 BA Natural sciences (chemistry), University of Cambridge UK
Hobbies
Genealogy, swimming, DIY