AstraZeneca's graduate research and development programme has led its participants to a variety of careers
Back in 2013 AstraZeneca opened its doors to the first intake of its graduate training scheme. In 2016 we revisited some of those graduates to see what they did next. Now a further three years down the line, we caught up with them again to discover how their careers, and the graduate scheme they took part in, have progressed.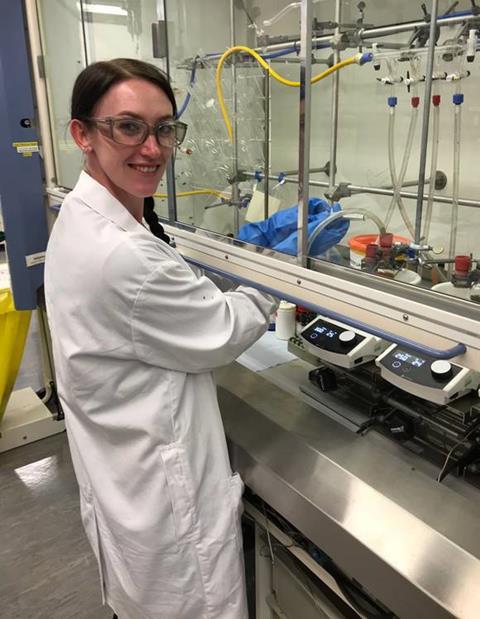 Clare was one of the original seven UK recruits to join the graduate programme in Innovative Medicines and Early Development, at AstraZeneca's Alderley Park site in Cheshire, UK (the site has since closed). The scheme intended to remedy a shortage of early career talent in the company by bringing new graduates into its research and development (R&D) teams, and has since been renamed the R&D programme.
Clare began the graduate programme knowing she wanted to be a medical chemist and, after completing the scheme, successfully found a role in the company's oncology R&D department. Today she is still at AstraZeneca, now working at the company's Cambridge site in the UK. She has been promoted to senior research scientist and is enjoying her time at the company as much as ever. 'I'm progressing up through the medicinal chemistry career path. It definitely was the right career choice for me,' she says.
The R&D graduate scheme is a two-year programme which offers recruits three eight-month placements across AstraZeneca's biopharmaceuticals and oncology research and development teams. It also includes structured personal development, through accompanying soft skills training. Four years after leaving the scheme Clare still sees the benefits from having taken part: 'Having broader knowledge outside the chemistry discipline has been useful working with multidisciplinary teams,' she says.
From being a new graduate, Clare now finds herself interviewing prospective new hires at assessment centers and offering advice to the new intake as they are recruited every year. 'As part of the introduction week I do a talk about what I learnt,' she says. 'I've also worked with graduates that are currently on the scheme which is really nice, although it makes me feel old!'
Her tips to new graduates are to think about your career and what you want to do afterwards. 'Tailor your scheme towards a career goal. Or if there are specific areas you're interested in but don't know much about, take advantage of that while you have the opportunity to go outside of your home discipline,' she says.
PhD and beyond
Kathryn was another of the programme's first recruits. The last time we spoke to her she was undertaking a PhD at the University of Cambridge, part funded by AstraZeneca. She has now submitted her thesis and recently returned to the company.
Data science has been growing in the last few years and the fact that I'd studied in that field really fitted in with the future of what AstraZeneca were recruiting for

Kathryn, senior scientist at AstraZeneca
'I did my PhD in the chemistry informatics data science area,' says Kathryn. 'As I got used to the way of working collaboratively between industry and academia, I found it worked really well for me.'
Kathryn divided her time between university and the AstraZeneca site, and enjoyed having a foot in both worlds. At university she benefitted from an academic network, a student lifestyle, group meetings and colleagues of a similar age. However, she also had the opportunity to bring the scientific techniques she had learnt back to industry.
As Kathryn came to the end of her PhD her existing contacts kept her up to date with new opportunities at the company. 'Data science has been growing in the last few years and the fact that I'd studied in that field really fitted in with the future of what AstraZeneca were recruiting for.'
Her new role is as a senior scientist in computational chemistry with a focus on machine learning. It's a position that requires her to work independently and set up collaborations throughout the company – a skill she feels her PhD has helped her develop.
'I actually asked when I left the graduate scheme if there was an opportunity available in data science. But because it is an independent role, where you need to find your own opportunities and make your own impact, it's slightly different to other science roles and they wanted a PhD.'
Although it is still early days, she feels that the skills she developed in her PhD have put her in good stead. 'The collaborative and independent working, and the ability to find the right people and deliver on the publication, probably helped towards me getting the role right now. Showing that independence is what they were looking for,' she says.
On the move
For Lindsay, our third graduate, the AstraZeneca graduate programme was the start of a varied career in industry. On completing the scheme Lindsay took up a role in medicinal chemistry at Redx Pharma, a biomedical start-up in Cheshire. 'It was a really good place to work,' she says. 'There was a good variety of work and because it was quite a young department I felt like I could contribute quite a lot and progressed a lot while I was there.'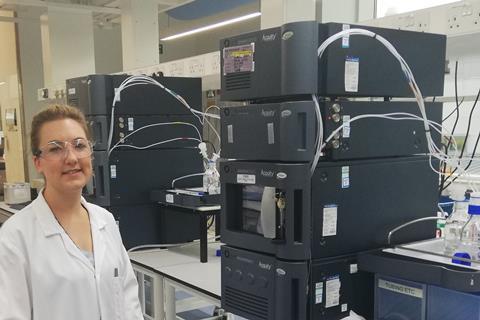 After a year and a half the company restructured and Lindsay took the opportunity to try out a new career path. 'I'd seen a few rounds of redundancies, so I decided to move into medical writing which to me seemed to be a more stable career.' Lindsay was also drawn to the flexible nature of the job, and enjoyed being able to cover lots of therapy areas. However she missed the practical element of being in the lab, so when she saw an opportunity to apply for analytical chemist role, she took it.
Towards the end of 2017 Lindsay started a new position contracting as an analytical chemist in the North West. Her new role gave her the perfect split of both office and lab time, as well as allowing her to be project-focused. 'Analytical chemistry is a good choice because you get really involved working with different departments.' She often focuses on regulatory activities, interacting with departments such as process chemistry and quality, toxicology and drug formulation. 'There's a whole range of people you interact with and I really like that element,' she says.
Originally covering maternity leave, Lindsay has since switched to a different contracting role through the company Eurofins, although she remains in the same area of work as before. 'I've spent quite a long time now doing a variety of different roles, which I think isn't a usual path for a scientist,' she says. However she is happy in her current position and sees a future for herself in pharma. 'I enjoy the fact that you feel like you're doing something worthwhile and working on medicines that are going to patients.'
A world of opportunities
Clare, Kathryn and Lindsay provide good examples of the myriad of career paths the graduate scheme can lead to. This variety is something that Hannah, one of AstraZeneca's newest graduates, who started at the Cambridge office in September 2017, was not aware of before applying.
Hannah discovered the scheme after reading about it in Chemistry World. However, she was almost put off from applying by her preconceptions of what a career in pharma would involve. 'I thought as a chemist in R&D you'd have to do organic synthesis,' she says. 'It wasn't until my interview that I realised this wasn't the case.'
Hannah is based at the Cambridge site, where she had a choice between 33 different placements. She is currently on her second rotation at AstraZeneca – a biology role with the genetic toxicology group, even though she has a chemistry background. 'I'm learning lots of new skills,' she says.
I don't know of many other opportunities where I would still have a chance with no industrial experience

Tom, current participant of AstraZeneca's R&D graduate programme
AstraZeneca also offers its R&D graduate programme at its Swedish and US sites. Tom, a graduate from Newcastle University, applied to work at AstraZeneca's Gothenburg site and is one of 16 R&D graduates based there. 'I've always loved travelling and experiencing new places, and wanted to spend some time living and working in another country. At the time it was my dream job – it was the perfect situation,' he says. Unlike some of the other graduates on the scheme Tom had no industrial experience before applying, but found it didn't hold him back.
'AstraZeneca look for the potential in people. There are graduates at all levels so don't be put off applying,' he says. 'I don't know of many other opportunities where I would still have a chance with no industrial experience.'
Although at the start there was a steep learning curve, Tom has now found his feet. 'I've got through that learning stage and feel a lot more capable,' he says. 'I'm a few weeks into my second rotation and can now make a real difference in my project. It's giving me time to explore what I'm interested in.'
It's a sentiment that AstraZeneca are behind. 'It enables the individual to come out of their degree or their masters and say "OK I'm not the finished article. I don't know yet what I'm really most passionate about and excited about. I don't even know what's out there",' says Adam Isle, global talent acquisition lead for early talent at AstraZeneca.
Paths to success
It's a good time for graduates, as the opportunities offered by AstraZeneca are far more numerous than before. 'We've just returned to growth as a business and there are lots of people globally talking about early talent programmes and bringing in early talent professionals,' Isle adds.
It's also about contributing to the wider scientific skills base in the UK and producing the scientific leaders of the future

Adam Isle, global talent acquisition lead for early talent at AstraZeneca
Besides the R&D programme there is also a pharmaceutical technology and development programme and a data science and AI programme, which launched in December 2018. AstraZeneca also continues to offer apprenticeships, placements to those currently studying at university, part-funding for PhDs, and postdoc positions at their various sites.
According to Michael Tonge, AstraZeneca's global graduate programme manager, their graduates tend to follow three different paths. Around half go on to complete a PhD, with the rest split between those who find a role within AstraZeneca, and those who move on to a role in an external organisation. A few graduates have gone on to different areas such as data science, taking an MBA or moving into medicine.
For AstraZeneca each of these paths is valuable. 'It's not just about bringing talent into AstraZeneca,' says Isle. 'It's also about contributing to the wider scientific skills base in the UK and producing the scientific leaders of the future, whether they still work for AstraZeneca, start their own company or go back to lead a lab in a prominent chemistry department in a university. All of those things are a win for us.'
Of the graduates that took part in Clare and Kathryn's year some remain at AstraZeneca while others have moved on. However, their bond endures. 'It was a really enjoyable time,' says Clare. 'The friends that I've made – we're all still really close now.'
Kathryn agrees. 'We all still meet up and get together. We've got that support network that's continued.'