The Right to Research foundation is helping Indian researchers to work their way into a job, as Rajesh Parishwad finds out
Sunil Choudhary returned to India last year armed with a PhD from the University of Freiburg, Germany. With his organic synthesis skills and a clutch of papers in top journals, Choudhary was sure Indian industry and research organisations would welcome him with open arms. He was in for a rude shock. 'Unfortunately, there are not many jobs for highly-qualified people. More importantly, one needs references to secure a job in research labs,' he complains.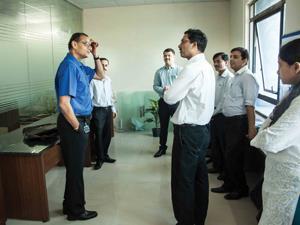 His story is not unique. A huge number of researchers, driven by a lack of opportunities in the US and Europe, are returning to India after PhDs and postdocs abroad and are struggling to find suitable jobs.
The problem is compounded by India's push to develop talent through government investment in centres of excellence, research institutes and universities. India produced around 5900 science, technology and engineering PhDs in 2004 and is targeting around 20,000 PhDs in 2020.
But employment opportunities for both home-grown and returning researchers in Indian industry are relatively few, as investment in R&D programmes is comparatively low. Pharma companies, including Piramal Healthcare and AstraZeneca, have also recently shut down their drug discovery units, leaving hundreds of scientists jobless.
However, in Choudhary's case, the search eventually came to an end when he discovered the Right to Research (R2R) foundation in Pune. R2R was launched by Jayant Khandare three months ago, specifically to support foreign-educated researchers returning to India, by providing free incubating space to carry out research until they find suitable jobs.
Employing enterprise
Khandare had faced a similar situation himself when he returned to India a couple of years ago, after declining a position at a German university. He has since secured an academic research position and co-founded his own company – Actorius Innovations and Research, developing low-cost diagnostic tools and drug delivery systems.
Inspired to help his fellow scientists succeed, Khandare obtained funding from philanthropists, well-wishers and friends to set up R2R, equipping it with dry lab facilities and some instrumentation, and opened it up to researchers. He explains that the foundation's goal is to provide a platform for scientists to generate ideas that will contribute to society, but that will also boost jobs. 'Scientists are not trained to create jobs and become entrepreneurs in India as most of them are focused on basic research,' Khandare points out.
The results have been immediate. In just a few months, scientists from diverse backgrounds have come up with promising ideas to tackle domestic issues in healthcare, water and energy. For example, one group has set up a non-profit entity to produce high-purity water for dialysis. They have already received initial funding for market research and to work on the pilot plant.
Most scientists are focused on research, not being entrepreneurs
Another group of scientists is developing a low-cost microfluidic chip to tackle the menace of milk adulteration, which is common in India's big cities. 'I'm amazed with the kind of talent, quality of ideas and work being generated at R2R,' Khandare says proudly. 'People love to spend their time here and are willing to travel a long distance every day to interact with each other and work on exciting projects.' Khandare himself makes a point of spending a couple of hours at the facility every day, despite carrying out his own research and running his start-up.
Not all of the facility's residents are creating companies – many of the scientists provide support roles for existing projects, while pursuing their own research interests. Rupali Kale is supporting various projects, including the chip for milk adulteration. 'I'm not in a position to start a company. But I have worked in a firm where I had experience developing a molecule for wound management, and marketing it,' she says. 'My experience could be very helpful to others at R2R.'
Room to grow
The process for engaging with R2R is straightforward and simple. Khandare doesn't believe in any selection process and says R2R has space to accommodate around 50 people. 'Since we opened, 14 scientists are working at the facility. We hope that by end of this year, we will be around 25 people.'
R2R has received over £40,000 in funding from local philanthropists and businessmen, but Khandare adds: 'We are not actively seeking funds for this initiative. We are comfortably placed to manage this space for the next three years. I'm confident that we will be self-sustaining from the fourth year onwards as we will be able to generate revenue from our projects.'
Khandare has no plans to expand the foundation, but he is happy to provide support to others who want to start something similar. 'I will be happiest if the research environment in this country changes to an extent that the existence of R2R is no longer essential,' he concludes.