As startups flourish and outsourcing increases, Labstract is stepping in to provide space, expertise and training for the new model of R&D, as Yfke Hager learns
These are challenging times for the pharmaceutical industry. With thinning product pipelines and patent cliffs looming, many big pharma companies are looking to enhance R&D productivity by reinventing the drug discovery process. Suki Klair has first-hand experience of the challenges faced by the industry, gained during a 15-year career as a medicinal chemist. Observing the changing pharma landscape, Klair spotted a gap in the market and founded Labstract – a bioscience support services company.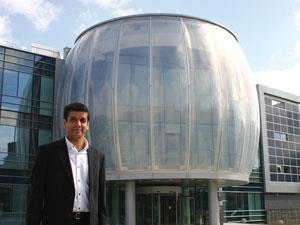 It started with a phone call. In 2012, Klair saw news coverage of the Stevenage Bioscience Catalyst (SBC), an open innovation bioscience campus located in Hertfordshire, in the heart of the London–Cambridge–Oxford 'golden triangle'. Convinced he had found the perfect place to realise his idea, Klair phoned Martino Picardo, chief executive of the SBC. In July 2012, Labstract became a tenant of the SBC, offering state-of-the-art laboratory facilities to entrepreneurs and biotech start-up companies, including the other SBC tenants.
Space to think
'The number of small discovery start-ups has increased in recent years, as a result of downsizing of large pharmaceutical and biotech companies,' explains Klair. These smaller companies often have limited facilities, and that's where Labstract comes in. 'We offer fully equipped walk-in chemistry and biology labs that scientists can use on a short-term, ad hoc basis, anything from a day to several weeks.' And academics can use Labstract's facilities, which include analytical tools such as LC-MS and NMR, to develop their entrepreneurial ideas and obtain data for their business plans and patent applications before approaching investors. To provide its scientific customers with access to the latest technologies, Labstract regularly arranges technology showcasing. 'Everyone benefits from this arrangement,' says Klair. 'Our customers get to use state-of-the-art equipment, and technology providers expose their products to the scientific community.'
Labstract also supports the market in outsourced drug discovery, where drug synthesis, screening and development are contracted out. Klair notes that companies using this approach, often referred to as virtual drug discovery, will find Labstract's chemical and biological sample management service particularly attractive. 'In order to maintain low overheads, virtual organisations depend on service providers such as Labstract,' says Andrew Lightfoot, CEO of Peptinnovate, a virtual drug discovery company based at the SBC. The ability to handle and store compounds in a secure and controlled environment is vital to ensuring their integrity, he adds. 'With the current drive for virtualisation, I expect the need for Labstract's services to grow over time,' says Lightfoot.
Another advantage of flexible lab access is faster decision making. 'Someone running a virtual drug discovery company based in Cambridge, for example, may have a contract research organisation based in India or China as their synthesis partner,' explains Klair. 'So if they lie awake at night thinking of a new compound that they want to screen, they could visit Labstract to make it themselves in a couple of days, rather than wait for their partner's next scheduled synthesis.'
Learning the trade
Labstract also offers lab-based training courses on NMR, practical medicinal chemistry and practical flow chemistry, taught by Klair and a network of expert consultants. 'These courses are aimed at PhD students or postdocs who want a career in medicinal chemistry, or industry employees in the early stages of their career,' says Klair. With the UK government warning that many scientists leave academia without the practical skills needed for a career in industry, such specialised courses may help plug the skills gap.
Brian Mahoney, an organic chemistry PhD student at the University of East Anglia who recently attended Labstract's medicinal chemistry course, stresses the importance of mastering modern techniques such as microwave chemistry and solid-phase extraction. 'The Labstract course teaches an array of techniques using facilities that you don't normally have access to in a university research lab,' he says. 'So if you want to work in an industry where these techniques are used, this course is a great stepping stone.'
With the SBC gaining momentum – a new University of Cambridge drug discovery unit is set to become a future neighbour – Labstract looks to have a bright future. And rubbing shoulders with the other SBC tenants is proving to be good for business, as Klair had hoped. 'It's a stimulating environment to work in, because it creates a culture that generates new ideas and encourages collaboration,' he says.