The modern face of engaging with the public through science
It's almost 11am, and I'm sitting in the green room of Friends House, London, UK. It's surprisingly quiet – just a few people are around the table, coats piled up in a corner, laptops open. Everyone is running through what they're going to do, what they're going to say. There aren't any real signs of nerves. But in a few moments we're going to enter the arena. Two doors away, over 900 students, aged 16–18, are waiting for a day of chemistry.
I'm here because, only a week earlier, I'd slammed chemists for not getting science communication right. 'We won't inspire the next generation with gimmicks,' I'd argued, 'they want wonder.' My point was that many – though not all – of chemists' attempts to get a science message out come unstuck by not moving beyond grabbing the audience's attention: stories and context stick in the mind.
I'm here because, only a week earlier, I'd slammed chemists for not getting science communication right. 'We won't inspire the next generation with gimmicks,' I'd argued (Chemistry World, November 2017, p50), 'they want wonder.' My point was that many – though not all – of chemists' attempts to get a science message out come unstuck by not moving beyond grabbing the audience's attention: stories and context stick in the mind.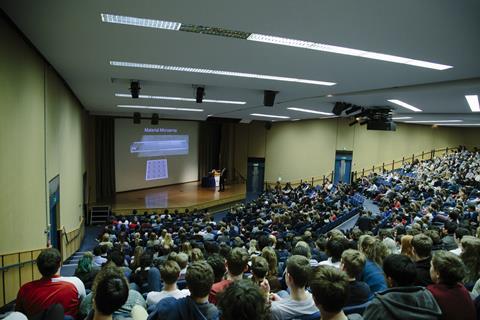 A brief Twitter storm later, and chemists around the world were debating what good public outreach looks like. One who took against my comment was David Smith, professor of supramolecular and nanoscale chemistry at the University of York. 'I suggest you go to an Education in Action chemistry day,' he replied. 'Amazing contextualised stories of chemical science.'
So here I am. About to see what a chemistry talk should look like in the 21st century.
Show not tell
Education in Action presents days for school kids in the UK, primarily aimed at those taking A-levels. It runs days for chemistry in London, Warwick and Manchester, introducing students to areas of research and expanding on what they've covered in the curriculum. Anna Webb, today's organiser, says the way chemistry is conveyed has improved dramatically in recent years. 'A few years ago, it was "let's talk about this subject". That was how it was presented – as a general interest.'
Today most of the speakers are researchers, talking about what they are actually doing. It's a subtle shift with a huge impact. Now, Webb explains, the focus is on telling a story – although there is still a place for demonstrations to keep bums on seats. 'We want to convey a narrative. How the field came about, where it is going and what's the cutting edge for research. But you need interaction. For any age group, but particularly teenagers, to sit from 11am until 4pm is a big deal.'
Smith agrees. 'Telling stories, engaging people with research and most importantly why the research matters are all important. Good chemistry outreach should also engage with the audience in active ways at key points. That might be with a relevant demonstration or an audience activity.' Smith lives up to his word. Telling the story of drug discovery involves quinine fluorescence, pouring hydrogen peroxide on to chopped liver and throwing marshmallows into the audience. But this is always done with an explanation – and it's often not the first thing that happens.
'Kids are pretty smart, you can build up to your demonstration,' remarks Kathryn Harkup, a science communicator and author who's on the bill to talk about the deadly chemistry of beauty. 'The crashes and bangs are still there, they have a place – we've seen them 100 times but the kids haven't… you can lead people to make their own conclusions, you don't have to do it and then explain it.'
You can even take it to the next level, says Themis Prodromakis, professor of nanotechnology at Southampton University, UK. 'We turned a hotel room in Athens, Greece, into a clean room,' he recalls. 'We made the students wear a lab coat and a bunny suit. Everyone sees lab coats and thinks there's something dangerous, but we were showing them that with these precautions you they get the privilege to develop materials. Some of the students said it was fantastic and wished they could have done more. There's nothing better when it comes to feedback – they see everything is possible and that can have a big impact on their life.'
Harkup is in agreement. 'There's a lot of people who say they didn't think they'd enjoy science. But when they come away saying "ah, I understood that!", that moment, when someone figures it out, is brilliant.'
Standing up for science
Grabbing attention doesn't just rely on demonstrations or a good tale, though. There's also the matter of stage presence – and I know just the man to call. Science comedian Brian Malow has appeared on US talk shows and worked with the National Science Foundation and American Chemical Society. What does he think is the secret ingredient to engaging people with science?
'Enthusiasm and passion,' Malow says. 'It's a natural format for me, because I'm a comedian, to grab people with something funny and have that segue into something informational. That's craft … but I bring in performance. My inflection, my volume, the look on my face. On stage I not only communicate an idea, but how enthusiastic I am about the idea.'
Malow highlights an interesting parallel in over-reliance on flashy science demonstrations and a common failing in comedy. 'When performing in nightclubs, blue language is almost needed or expected to get an audience's attention,' he explains. 'Some comedians have often fallen into the trap of trying to be Richard Pryor, George Carlin or Dave Chappelle. It's easy to mimic the language, but it's hard to mimic their insight into human nature.' In the same way, it's the scientific insight into what's happening that's crucial – not the fireballs and fireworks.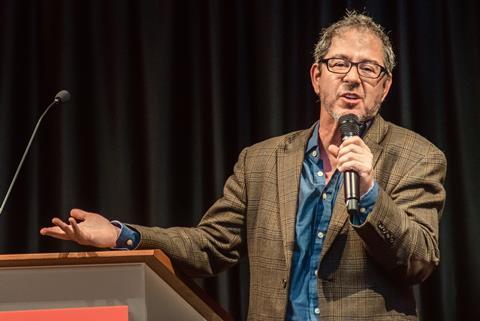 Malow also points out that modern communicators need to be willing to speak at the right level for their audience. 'I don't like the phrase "dumbing it down". Is it dumbing it down to speak French to someone who only speaks French? Or are you just talking in their language? That's not dumbing it down, it's communication – you're just spewing words unless they connect on the other end. If you think of it dismissively, it doesn't serve you well.'
It's a sentiment Prodromakis supports. 'I remember as a postdoc how difficult it was to explain my research. It's almost impossible for academics, although PhD students are getting training. It's very important to be able to use layman's terms.'
This is something that the Royal Society of Chemistry is working hard to take even further. 'Engagement is moving towards a two-way conversation,' says Susan Vickers, public engagement executive at the RSC, 'with scientists listening to what the public are saying, not just talking at them… without a two-way conversation, science is just of benefit to scientists; we want science to benefit society. For us, the aim is to be welcoming, inclusive and appropriately informed.'
This inclusivity is another vital element, says Anna Ploszajski, a materials scientist and science communicator. 'The wrong people standing up and talking about science is more damaging than a bad talk,' she says. 'If a privately-educated white man goes into a school with students from less well-off backgrounds, to me that sends a bad message. They're not going to see themselves in that person's position.'
'It's hard to engage effectively with diverse communities,' argues Smith. But, he adds, 'there is some outstanding best practice work in reaching out to the LGBT community from, for example, OUT Thinkers. The Science Museum also runs an outstanding 'sexuality lates' event each year.'
Vickers also supports this kind of extending reach. While she feels outreach is a voluntary part of a modern chemist's role ('not everyone wants or needs to do it'), 'getting out in the community, just talking to your butcher, goes a long way to improving peoples' confidence to discuss science and is hugely important.'
Getting involved
But opting out of all science communication is no longer a possibility for scientists. 'Universities, now, have a lot of funding contingent on doing public engagement,' Ploszajski observes. 'The public are taxpayers paying your grants.' Recognising this, the number of engagement courses in recent years has proliferated, she adds. 'When I did my PhD, I did a course of public engagement at University College, London. And undergraduates are doing some elements of writing or outreach.'
The University of York is one such institution that requires undergraduates to take part in public engagement. 'All of our first years do a public engagement activity,' Smith says, 'either writing an article or making a YouTube video.' Third year students have the option to do outreach in schools; other universities have similar programmes.
For those who are interested in getting involved, there's almost no excuse not to dive in. Malow highlights the potential of the online world – his YouTube videos rack up thousands of hits. 'It used to be that to get booked somewhere I had to mail a video tape of a performance and promotional material. With YouTube you can send a link. These tools have made it simpler, cheaper and easier … the barriers to entry are so low. Most people can use the phone they already own.'
For those not comfortable with the online realm, the world of science communication has never been so rich, says Harkup. 'There's three-minute thesis, Bright Club, opportunities to get out there and share. We're all enthusiastic about science, it's why we give up our lives to do it.' There are plenty of other ways: from Dance your PhD to Pint of Science and larger events such as York's Festival of Ideas.
But all of those are outside the doors of Friends House. The students and presenters have gone home now, the theatre an empty space once more. Has the day changed my view of science communication? Partly. I still believe that gimmicks and 'classic' presentations such as flame tests and fireworks are of limited long-term value without explanation, and I still feel that too much of chemistry falls back on these spectacles. But that isn't the cutting edge of modern chemistry outreach. The kids at Education in Action weren't bored into submission; they were engaged, entertained and inspired. At the end, one A-level student asked if they could speak to Ploszajski about becoming a materials scientist – and she hadn't even been one of the presenters. Clearly, something had stuck.
Speaking to the leading lights of public engagement also seems to have rubbed something off. Malow is right – it's so easy to get involved there's really no excuse.
Expect to see me on stage doing public engagement soon. Just don't expect any gimmicks…