How Víctor Molina Navas is using his skills to improve lives in Africa
Some scientists want to change the world. Víctor Molina Navas just wants to save the next village. This month, he will leave his position at Rovira I Virgili University in Tarragona, Spain and fly out to a remote village in Senegal. Here, he'll put his chemistry skills to use in meeting the most basic of human needs: safe, clean water for drinking and farming.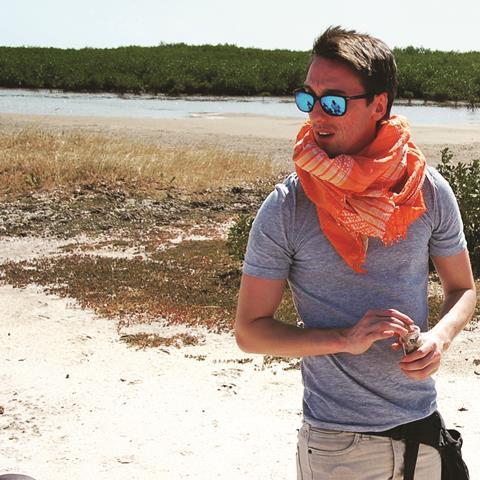 Molina Navas spends around five months of a year in Senegal, leading a non-profit called Gadis (the group for helping development and health). 'We manage different hospitals and labs,' he explains. 'We're trying to fight against Aids, malaria and other tropical diseases… where we go is the middle of the desert. There are many parts of development that are necessary: water, food, agriculture.'
Molina Navas says he always wanted to work on improving lives. Unable to get in to medical school, his nurse sister advised him that there were other ways to help. When he was 17, he went to Senegal to volunteer and received a hostile response from a local nurse. 'She told me "Well, now you can say you're a good person, we'll never see you again." That made me focus: I decided to return with more people, more materials and do something bigger and better.'
I'm always surprised when someone doing chemistry is really interested in doing something for charity
Back for good
After completing his chemistry diploma, Molina Navas realised the dream, returning with his sister and their friends to build a dispensary in the village. 'Everyone who surrounds me are medical, so we decided to focus on that,' he explains. 'We decided on building a little hospital, where once a month a group could of three to four people could go and study disease.' It still wasn't enough to make the community thrive. 'We were going once a month and seeing 200–300 patients… we needed to repair the traditional agriculture eradicated by colonialism.' For decades, the locals had only planted cash crops like cocoa, forgetting basic skills. Molina Navas' team taught the villagers how to grow tomatoes – and it was here that he could put his scientific skills to use. 'As a chemist, I can do a lot of things. I can analyse the flora, show you where you have to plant, and tell you where the sunlight is best.'
Factfile
Name: Víctor Molina Navas
Role: specialist in international cooperation, Rovira I Virgili University in Tarragona, Spain and team leader, Gadis
CV: Diploma in chemistry and specialist degree in international cooperation, MBA in management, Rovira I Virgili University
To gain further experience on large scale projects, Molina Navas went to Ecuador with Engineers Sans Frontiers – an experience that would help him continue with his projects. 'I worked on water and soil analysis of areas affected by petroleum pollution around the Napo river,' he says. 'Here I met an academic from Tarragona, who offered me a job in Spain.' Now, Molina Navas splits his time evenly between the two countries ('July to September is not a good time to go to Senegal because of malaria, so I only go if necessary'), working on projects in the field and international cooperation in academia, with each experience complementing the other. 'We do cooperative development,' he says. '[Locals] tell us what they need. We talk, we ask what they need and then we help as much as we can…. There are many rules about cooperation that aren't written, that are anthropological. We have a view of the world in Europe, but people in Africa can think very differently: a meeting in Africa is different to a meeting in Spain.'
In need of volunteers
Currently, Gadis has three members of staff, but accepts volunteers every year. 'In the past December, we had a group of volunteers – nurses, medical students, pharmacists and biochemists,' Molina Navas says. He's particularly keen to see more scientists get involved, too. 'I'm always surprised when someone doing chemistry is really interested in doing something for charity. But, especially when it comes to problems with the supply of good quality water, there are people who are interested. Now, we're seeing more people interested in this kind of volunteering.' The charity is also branching out to recruiting more students, Molina Navas says, to encourage them to think about how they can impact the world around them. 'We do a programme for students that don't know if they want to do what they're studying,' he says. 'We let them see the reality of how they can change the world. That's our new programme, and it's been very successful.'
Helping one village isn't enough – perhaps Molina Navas wants to change the world after all.