The chemistry and engineering aspects of process development have been brought together in a new MSc course, reports Yfke Hager
The chemistry and engineering aspects of process development have been brought together in a new MSc course, reports Yfke Hager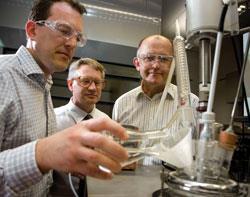 Climate change, renewable energy and waste management are just some of the global challenges of our generation. Universities must continually evolve to equip scientists with the requisite interdisciplinary skills to solve these challenges. Recognising the shortage of such postgraduates, the recently launched Institute of Process Research and Development (iPRD) at the University of Leeds, UK, now offers an MSc in chemical process research and development.
John Blacker, director of the iPRD, explains why the course was developed. 'It's what industry wants. Highly qualified scientists trained in both chemistry and engineering are desirable.' The reaction from industry to the new MSc has been positive, he adds, which is reflected by offers of practical support. Several pharmaceutical and fine chemical companies will teach course modules, award student bursaries and provide industrial placements for the research project component of the MSc.
While other universities offer courses at the interface of chemistry and engineering, iPRD researchers suggest that the MSc at Leeds offers a new approach. 'We believe the course is unique and, whilst elements can be found elsewhere, to our knowledge no one in Europe has brought the chemistry and engineering aspects of process development together in one programme,' Blacker says. Christopher Rayner, course coordinator of the new MSc, agrees. 'What makes us stand out is the range of expertise that we draw on, from the significant contributions of our chemistry and engineering departments to the practical experience of industrialists who deliver part of the course.' He points out that the MSc provides direct training for a job in industry, so graduates can expect good career prospects.
Industrial relevance
Students embarking on the new MSc take introductory core material and are then split into three streams according to their academic background. Progression to advanced core material sees chemists and chemical engineers joining forces to deliver an interdisciplinary project that involves designing a chemical process from start to finish. The final six months are spent on an industrially relevant research project, jointly supervised by a chemist and a chemical engineer. 'Overseas students may undertake the research project at their home institutes,' Rayner adds.
A few similar courses - offering significant components of chemistry, engineering and process design - exist outside the UK. The A STAR Institute of Chemical and Engineering Sciences in Singapore offers a process science research attachment programme, but not a taught MSc. In Europe, the nearest counterparts may be MSc courses in chemical and bioengineering and in process engineering at the Swiss Federal Institute of Technology (ETH) in Zurich. Sven Panke, associate professor of bioprocess engineering at ETH Zurich, suggests that industry collaborations can add value to MSc courses, but only after students have grasped the basic chemical principles. 'Industrialists can expand the horizons of students by showing them how the real world operates.' Students can enter industry after completing an MSc, he says, but he strongly advises students to do a PhD first. 'In German-speaking areas, in the field of bioprocess engineering, you'll get a job as a technician if you leave university without a PhD,' he warns.
Blacker notes that the new course at Leeds is a 'first step to an integrated MSc/PhD programme.' Plans are underway for a one-year MSc followed by an extensive research project, with an end qualification of a PhD. 'I think that industry would find these students even more attractive,' he says.