Graduates of a dual degree programme in agricultural science run by Cornell University and Tamil Nadu Agricultural University will have a lot of mouths to feed, writes Matt Brown
Graduates of a dual degree programme in agricultural science run by Cornell University and Tamil Nadu Agricultural University will have a lot of mouths to feed, writes Matt Brown
By the middle of this century, India is likely to overtake China as the most populous nation on the planet. Agricultural sciences are one of the research priorities for a country that must feed over a billion citizens. India has therefore set its sights on improving the training and experience of its food scientists. One beacon initiative in this area - a dual degree programme between Tamil Nadu Agricultural University (TNAU) in southern India and Cornell University in Ithaca, New York, US - aims to give early career Indian scientists greater technical and management knowledge while providing a global outlook.
Cutting crop losses
The country loses some 35 per cent of its produce (roughly equivalent to the annual food consumption of the UK) after harvest because of inefficient management, transport, processing and storage. India is also keen to improve crop yields by leveraging the molecular sciences. This is where the course comes in, as Suresh Damodaran of the Cornell Sathguru Foundation for Development, an organisation working towards capacity building in Indian agriculture, explains: 'post-harvest and process technologies will help to minimise the wastage, and the molecular science-based applications will help to overcome biotic and abiotic stress factors that are inhibiting crop yield,' says Damodaran. 'Presently, Indian agricultural universities do not offer world class education in these two frontier areas of critical knowledge, and trained faculty are in short supply.'
To counter these problems, TNAU reached outside India, partnering with Cornell in 2008 to offer dual award courses for postgraduate students. The course begins each June and lasts 2 years, half taught to a Cornell curriculum and half to that of TNAU. Students must meet the eligibility criteria of both the institutes separately. The programme is offered in two streams - plant breeding and genetics, and food science. Successful graduates will receive two awards: a Master of Professional Studies from Cornell and a Master of Technology (biotechnology and business management) degree from TNAU.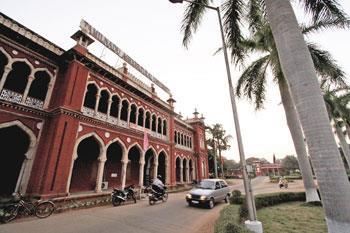 'I got attracted by the prospects of studying in an Ivy League University, [the chance of] landing a high-profile job, and having the best learning atmosphere,' says Kalavathy Rajan, a second-year student on the course. 'For someone like me, from a modest background, but with plans to focus my field of experience, gain some cutting edge technical knowledge and launch a professional career, this programme sounded very good.'
In its first year, the course attracted 27 students, with equal demand for both streams. The US half of the course consists of one summer and one autumn semester at Cornell followed by an integrated spring semester in India (Cornell courses are taught by Cornell faculty, but at TNAU). The course is then completed in India over the following three semesters. 'The uniqueness of the programme is that each university shares nearly 25 per cent of the courses with its partner university,' says Suresh.
Curriculum and culture
The courses cover scientific, technological and business aspects of the field. Those following the food science stream, for example, learn skills in lipid science, dairy chemistry, nutraceuticals and the biochemistry of food processing, but will be equally well mentored in marketing strategy, international trade and intellectual property law, and industrial plant layout and operation. Those following the plant breeding and genetics stream can expect courses on plant genomics, tissue culture, transgenic technology and all the business aspects of the biotechnology industry.
Students are also exposed to different cultural, educational and social practices to augment their learning. 'Apart from the academic knowledge I have gained, this course has also refined and modified my skills and capabilities,' says Visha Venugopal, a recent graduate. 'I also came to know about a different culture and lifestyle - interaction with the people at Cornell allowed me to gain respect for another culture. I feel proud to be a Cornellian.' Kalavathy Rajan agrees: 'I loved the American academic work culture at Cornell. I learned to wield my skills with authority and motivation. I also learnt how a lot of money augmented with some compassion can change the world. Cornell was a priceless experience!'
Matt Brown is a freelance science writer based in London, UK
Further Reading
School of postgraduate studies, Tamil Nadu Agricultural University bit.ly/TNAU-cornell