Transferable skills prepare MPharm graduates for the jobs market, writes Matt Brown
Transferable skills prepare MPharm graduates for the jobs market, writes Matt Brown
The first students have graduated from a new pharmacy course in the UK that puts equal emphasis on scientific rigour and clinical know-how. The MPharm course, run jointly by Kingston University and St George's Hospital in London, UK, received its first students four years ago. All 36 of that first intake have now achieved the degree, with four receiving first class honours, and 24 taking an upper second.
The four-year course is open to candidates with a chemistry A level alongside two other A levels, at least one of which must be another science. A five-year course, including a foundation year, is available for students with insufficient scientific background. Competition for places is strong, with over ten applicants per place.
Speaking at the graduation ceremony, Chris Cairns, head of Kingston's department of pharmacy, sang the praises of both staff and students: 'Our staff have passed on knowledge and experience in a professional and, at times, highly innovative way which must be applauded. Our students have put in an enormous amount of effort and commitment.'
The course is broken down into modules that reflect the diverse armamentarium of skills required by the modern pharmacist. A thorough grounding is given in aspects of chemistry, cell biology and microbiology pertinent to the pharmacist. Tuition is also given on drug design, formulation, pharmaceutical law and professional practice. During the first two years, students work mostly in a university setting, learning key scientific and clinical principles. In the final two years, greater emphasis is placed on the application of skills. More time is spent at St George's completing clinical modules taught by experienced practitioners. Students also get the opportunity to shadow medical professionals in a hospital setting, and try out their communication skills on 'simulated' patients.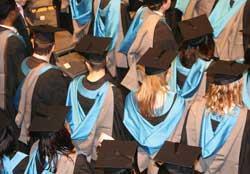 The graduation ceremony is the culmination of a twenty-year journey for Kingston University. The idea for a pharmacy degree was first mooted in the late 1980s by the then dean of the department of chemical and pharmaceutical sciences. A 'bridge course' in pharmaceutical sciences was introduced in 1995, to give students a greater appreciation of medicinal chemistry. This evolved into a dedicated MPharm course in 2004, when St George's agreed to partner and offer clinical teaching.
Kenneth Chan was one of the first to receive the qualification from Kingston and St George's. He came to the university in September 2004 as an overseas student from Hong Kong, where he'd previously completed three A levels. Chan was attracted by the strong ties between the university and hospital.
Pharmacy in Hong Kong
'In Hong Kong, pharmacy is taught in a completely different way. Courses last just three years and are based mostly in the classroom,' he says. 'Having spoken to friends in Hong Kong, I was advised to get clinical practice early on, and Kingston seemed to offer that opportunity.'
The course also places a strong emphasis on transferable skills, which are built into its module structure. Emphasis is placed on good writing and communication skills, time management and counselling ability. All are tested using the Objective Structured Clinical Examination (OSCE) method, where students are given a series of short tests to assess their practical skills.
The MPharm is a mandatory qualification for anyone wishing to practice as a pharmacist in Great Britain. Pharmacists must then take a one year pre-registration course and pass an exam to receive full accreditation by, and membership of, the Royal Pharmaceutical Society of Great Britain. Chan is now part-way through his pre-registration year at Lewisham Hospital NHS Trust.
'I found a rather substantial advantage in the pre-registration year for having a strong science background in the scientific principles behind what I'm now doing in the hospital, and I came to the pre-registration year with plenty of clinical experience already,' says Chan. 'The Kingston course excels at combining the clinical and scientific aspects of pharmacy.'
After the pre-registration year, qualified pharmacists find themselves with several options, as Chan explains. 'Pharmacy is a very diverse subject. Some of my more business-oriented friends want to open their own pharmacy, some want to follow the research route and do a PhD, while others want to get into community or hospital pharmacy.'
Matt Brown is a freelance science writer based in London, UK