The University of Melbourne has changed its curriculum to give just six undergraduate courses Karen Harries-Rees finds out what's on offer
The University of Melbourne has changed its curriculum to give just six undergraduate courses Karen Harries-Rees finds out what's on offer
The University of Melbourne in Australia has replaced almost 100 undergraduate courses with just six: Bachelor of Arts, Bachelor of Science, Bachelor of Commerce, Bachelor of Environments, Bachelor of Music, and Bachelor of Biomedicine. The idea is that students now specialise in a specific discipline to get depth of knowledge while also gaining breadth of knowledge by making up at least 25 per cent of the course with subjects from other disciplines.
Prior to the curriculum changes, Melbourne's model was similar to that of the Scottish system, with three-year degrees followed by an honours year before going on to a research higher degree, such as a Masters or PhD. Melbourne students are now encouraged to take a Masters degree in a range of disciplines for entry into a research career or employment in a relevant industry.
The Melbourne graduate school of science, launched in 2007, offers two types of Master of Science graduate programmes. The MSc (professional entry) programme has a focus on business and industry training designed to get students ready for a job in industry or government. The MSc (research training) programme is designed to lead on to a PhD.
'The Masters programmes at Melbourne are different to traditional Masters degrees in that they are coursework-based and in the case of the professional entry programme are not designed to lead on to a PhD,' says Ken Ghiggino, head of the school of chemistry at the University of Melbourne.
The emphasis of the two types of course is very different, although they both follow the same structure of studying a core discipline, business and communication skills training, and undertaking a project.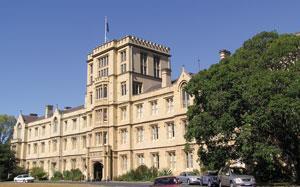 Lab or real life?
'Students on the research training Masters degree are in the lab from the word go,' says David McFadyen, assistant dean of graduate programmes, with their research project accounting for over 50 per cent of the degree. In contrast, the professional entry programme places greater weight on the professional skills and core discipline and the project is not lab-based; instead students tackle real-life problems. These projects could include building a business case for a new development, assessing the risk to a business from environmental challenges, or preparing a briefing document for a government minister.
Three professional entry MSc programmes commenced this year: biotechnology, environmental science, and management science. A nanotechnology course is starting next year and there are others are in the pipeline. The courses have more of a focus on current trends. For instance, the biotechnology course covers current and emerging frontier technologies and their use in different public and private sector organisations.
Ghiggino says there has been strong demand for the courses. 'There are about 60 students enrolled in the professional entry MSc with a quarter being international students. About half the group are in theMSc (biotechnology) programme,' he says.
'There has been extraordinary enthusiasm from students,' says Mark Elgar, associate dean of graduate programmes. He expects numbers to rise next year. 'A two-year Masters programme is a more widely recognised international qualification,' he says.
Chemistry research training
Elgar is very enthusiastic about the MSc (chemistry) research training programme on offer. 'I always felt very uncomfortable with the honours programme as a means of providing transitionary training from being an undergraduate student to being a PhD student,' he says. He believes the time constraints in the honours programme meant that students were often compromised in the science that they could do.
Elgar also believes that business and communication skills are important as part of the research training course. Researchers at universities, in government organisations or in the private sector still need these skills, he says.
'I think they will be infinitely better prepared for a research career than I ever was,' says Elgar.
Karen Harries-Rees is a freelance writer based in Melbourne, Australia