With oil-rich economies and a burning desire to be on the global map for research, the Middle East is a tempting destination for scientists, as Vikki Cantrill finds out
Aside from the oil and gas industry, few people in the west know much about the Persian Gulf region. But that could very soon change. As universities there strive to become world-leading research institutes, the Middle East is becoming a land of scientific opportunity.
'There is a huge push to improve chemistry in Saudi Arabia and the Middle East,' says Niveen Khashab, assistant professor of chemical sciences and engineering at the King Abdullah University of Science and Technology (Kaust) in Saudi Arabia. Born in Lebanon, Khashab gained her PhD and some post-doctoral experience in the US but always wanted to return to the Middle East to help improve higher education there, particularly for women.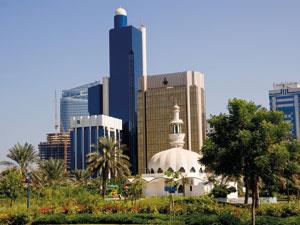 'Kaust is a great model for what a multidisciplinary graduate research institute should be,' explains Khashab. Founded in 2007, the university is the first co-educational campus in Saudi Arabia, boasting state-of-the-art laboratories and generous funding for both research and affiliated start-up companies. Through revenue from these start-ups and sponsorship, it aims to develop a sustainable base for its activities, as well as highly trained graduates for the workforce.
Ali Trabolsi, assistant professor of chemistry at New York University Abu Dhabi (NYUAD), UAE, has similar ambitions. Trabolsi, also from Lebanon, wants the quality of chemistry to be the same he experienced in Europe and the US during his studies there. 'NYUAD is the first university in the UAE and the Middle East, I believe, where people from abroad come specifically to study at the undergraduate level', says Trabolsi. 'The quality of the students at NYUAD is excellent and can be compared to the quality of students in top US institutes.' In addition, the majority of overseas students are eligible for full scholarships.
NYUAD and NYU's Washington Square campus in New York form a fully interconnected university. Students at the Abu Dhabi campus benefit from NYU's liberal arts curriculum, dynamic learning environment and mentoring system, with all classes being taught in English. In only its second year, the university is still growing and developing, and the graduate program in chemistry is due to start within the next two years.
High demand
The petrochemical industry's strong presence in the region means that demand for chemistry graduates is high. Companies such as Merck Serono, BASF, Sabic and Aramco all operate in the region and recruit large numbers of chemists. Dow Chemical and Boeing are also opening branches in Kaust's innovation cluster — a dedicated industrial area offering laboratory space and office support for businesses new to the region. But not all the chemistry is petrochemical based. Academic research also focuses on green chemistry and sustainable applications. 'People here are aware that oil won't last forever,' says Trabolsi.
For academics, one of the most attractive aspects of the region is the level of research funding and start-up packages; the latter typically at least double those expected in the US. Although many of the pressures on academics are familiar to those elsewhere, in this regard they differ. 'We have our research budget and we don't have to worry about money, grants and proposals,' Trabolsi explains.
Faculty members and their families are well supported at home too. Salaries (which are tax free in UAE) are considerably higher than in the US, especially when all benefits are taken into account. Representative benefits include rent-free accommodation and tuition for children — all of which helps to ease the transition for foreign families unaccustomed to the culture.
However, there are other challenges. For example, ordering chemicals from companies in the US and Europe can be problematic. Dealing with local import customs or company import policies frequently leaves researchers waiting weeks for essential reagents, explains Khashab. The situation is improving but there is still a long way to go.
With sustained levels of funding, both Saudi Arabia and the UAE promise to be players on the world stage for chemical research in the near future. 'I'm often asked what I think of NYUAD,' says Trabolsi. 'I see enormous promise. I see passionate faculty from all over the world. I see really smart and dedicated students. I see an exciting, rapidly developing country.'
Vikki Cantrill is a science writer based in Cambridge, UK