Nicola Davis talks to the scientists who lend their expertise to the entertainment industry
Whether it's a page-turning thriller, an unmissable TV drama or an illuminating documentary, science frequently gets the casting call for roles in print and on screen. Plots might be laced with poisons, or a scientists' analytical mind may give a refreshing perspective, and live experiments deliver plenty of bang for your buck for both education and entertainment. But writers are seldom as expert with the pipette as they are with the pen, so to help them weave in the technical detail that brings their fiction to life, they turn to the specialists. For those with a background in chemistry, consulting for the media could bring a novel twist to your career.
A forensic eye
'Crime writers ask for help when they've got a particular problem,' says David Barclay, a forensic scientist with positions at both the University of Hull and Robert Gordon University in the UK, and a wealth of experience as the former head of physical evidence at the UK National Crime and Operations Faculty. The requests can be gruesome: 'I did one recently that Stuart MacBride has written, in which he [writes about] necklacing - where they set fire to a car tyre around somebody's head,' Barclay reveals.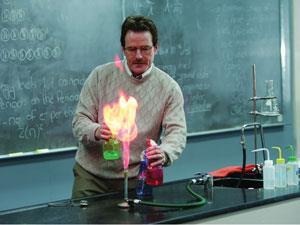 Bringing science to scenes on screen also takes expert know-how. As technical adviser for the pilot of BBC drama Waking the dead, Barclay was involved in script conferences and spent three days on set advising the director and correcting mistakes. For example, he recalls telling the director that an actress was 'holding the knife wrong; she would never pick up the knife like that if she is going to examine it'.
Sticking to reality may threaten to kill a mystery, but a resourceful consultant can explore the options, invoking less mainstream techniques that nevertheless withstand scrutiny. 'It's interesting that it is not the authors who say that you need poetic license,' says Barclay. 'You don't need poetic license – anything that is actually written down should be correct.'
With a joint BSc in zoology and chemistry, followed by a higher degree and a career in forensic science, Barclay's advice is drawn from extensive experience. 'A good knowledge of chemistry is important,' he says. But so are imagination and some creative flair: 'You need to think of the ideas, but then you have to logically think through 'how can I prove that?'" Numerous shows, including Timewatch, Horizon and even an al-Jazeera documentary into the death of Yasser Arafat, have benefitted from Barclays's expertise, both off camera and in front of it. However, even with his extensive experience, 'I think you'd have a job to make a living at it,' he admits.
Synthesising a show
Indeed, for most, consulting is an interesting addition to a career, rather than a lucrative sideline. In Barclay's case, writers approached him for advice, but for the University of Oklahoma's Donna Nelson, a more proactive approach resulted in her becoming a consultant for the hit US TV drama Breaking bad.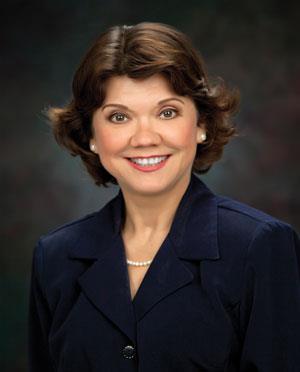 When the show's producer, Vince Gilligan, told the American Chemical Society's magazine Chemical & Engineering News that he wanted scientific accuracy but had a tight budget, Nelson decided to get in touch. 'The main character in Breaking bad is an organic chemistry high school teacher and I am an organic chemist,' she explains. 'So I thought "I'll just step up and volunteer".' Gilligan eagerly accepted.
A trip to meet Gilligan and the show's writers revealed that it wasn't just technical knowledge they wanted. 'What would make a person who has a PhD in organic chemistry become a high school teacher instead of going on and becoming a faculty member? What sorts of things would make a person become a scientist, specifically an organic chemist? What would make a person drop out?' Nelson recalls being asked. Probing the personalities of scientists and lab-based relationships was important. 'They tried to build that character development accurately right into the show,' she says.
Of course when it comes to illegally producing vast quantities of crystal meth (methamphetamine), even an organic chemistry professor may not have all the answers. Luckily, drug enforcement agents were able to shed light on the murkier side of the plot. '[They] had recovered the equipment that people were using to do illegal syntheses of methamphetamines,' Nelson explains.
Nelson's chemistry knowledge came to the fore in numerous ways, from introducing technical terminology to helping with script review. She recalls the most bizarre question with a laugh: '"How much meth would 40 gallons of methylamine make?" 40 gallons is a tremendous volume of material!'
But plausibility must be achieved with flexibility, Nelson notes: when faced with Nelson's list of possible reagents for a reduction step, the writers chose a route based on a rather unusual premise. 'They said "There's one here that says it's just the mercury–aluminium amalgam … the actors will be able to pronounce that one",' Nelson recalls. 'That was the first time I had ever selected a reagent based on how easy it was to say.'
Getting the 'wow' factor
Consultants are in a unique position to shape the public perception of science. Keeping viewers to up to date with scientific developments, debunking myths and explaining the science behind headline news are all areas where specialist scientific knowledge can be brought to bear.
As principal lecturer in chemistry and professor of public understanding of science at the University of Brighton, UK, it's a brief that Hal Sosabowski is passionate about. 'We use the spectacle of our profession to inform the public and capture their imagination,' he says. 'I get a lot of satisfaction from doing consultancy and making sure that the scientific rigour is there.'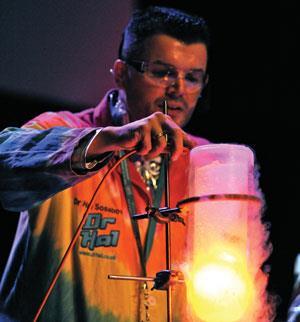 With a long-standing reputation for live science demonstrations, Sosabowski has quite a repertoire of awe-inspiring experiments up his sleeve. So when a TV researcher working on Christmas chemistry experiments found him at the top of an internet search, it's no surprise Sosabowski came up trumps. His expertise has featured on numerous radio and TV programmes including ITV's Ministry of mayhem, on which he co-presented the science slot, and BBC4's Chemistry: a volatile history.
In front of the camera and behind the scenes, Sosabowski has helped to bring chemistry from the laboratory to the living room, from electrolysing molten potassium hydroxide to exploding ostrich eggs. Most recently, he has been putting his talents to work as a consultant for the CBBC programme Operation ouch!, which takes a prod at the human body. 'We distilled wee one week,' says Sosabowski. 'Last month we showed how sick curdles milk.'
A good grounding in chemistry is invaluable says Sosabowski, but he adds that having the confidence to venture outside of your comfort zone is also essential. 'If I'm asked something that I don't know enough about, I just say "Give me 24 hours and I'll do my research".'
Consultants who are willing to field a range of scientific queries and who can couple commitment to the job with innovative ideas can find themselves in high demand. 'The researchers and producers are freelance and they go from production company to production company … there's almost a mini economy of knowledge,' Sosabowski reveals.
Next steps
To set the ball rolling there are several avenues to explore. In the US, the National Academy of Sciences' Science and Entertainment Exchange programme actively builds links between scientists and the media, with experts having consulted for films such as Battleship and Apollo 18, as well as TV series including The big bang theory and Covert affairs. Volunteering your expertise puts you on their list of contacts should an appropriate project come up.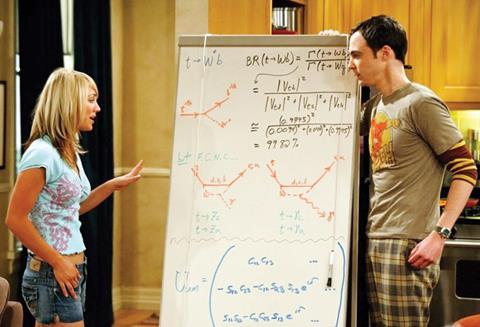 Paul Weiss, professor of chemistry and biology at the University of California Los Angeles and director of the California NanoSystems Institute, has been involved with the Science and Entertainment Exchange programme, presenting the cutting edge of nano to directors, writers and producers. 'Scientists and the folks in entertainment are very similar people — everything has to be just perfect,' he says. And engaging with the entertainment industry isn't only about discussing technical issues. 'I think getting scientists and engineers in with those shows has started to change the perception people have of what we do every day, what we look like and how we talk,' says Weiss.
Learned societies and universities are often contacted by the media so making yourself known to the press office at your institution could land you some interesting connections. Taking an alternative tack, creating a web-presence through blogging or your personal web site could help you pop up in a Google search.
Consulting is unlikely to pay the rent, but it offers a unique opportunity to use your expertise to both inform and entertain. The other perk? 'It was a tremendous amount of fun!' says Nelson.