Robert Bowles reveals how to impress potential employers at a careers fair
Q. I am looking for a new job and thinking of coming to Chemistry World Jobs Live in November. Is there anything I can do to boost my chances of catching the attention of a potential employer?
A: One of the most effective ways of finding a job is by talking directly to companies who are actively recruiting. One of the most effective ways of reaching those companies is a careers fair such as Chemistry World Jobs Live.
Chemistry World Jobs Live is running two events this year, in Manchester on 18 November and London on 25 November. These events offer fantastic opportunities to talk directly with employers looking to recruit you. There are lots of reasons to attend, whether you're starting your career, exploring the idea of a career change, dealing with redundancy or just seeking a new challenge.
You can also get involved with Chemistry World Jobs Live on Twitter (@ChemWorldJobs) using the hashtag #CWJLive15.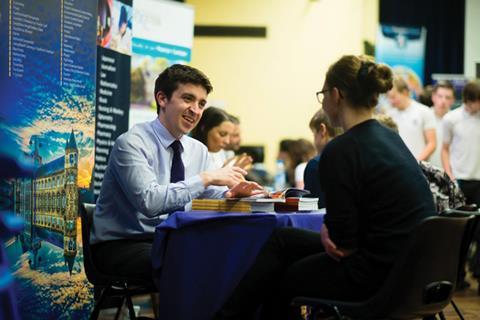 Do your research
Make sure you look at the list of exhibitors and find out as much as you can about them before you go. Which recruiters do you want to talk to? What do you want to find out at the event? This will help you decide the questions you want to ask at the careers fair.
Apply the principles you would use in a normal job search. Once you've identified your target companies, find out about their industry and the sort of roles they might be offering that interest you. This will mean you can make the most of your time at the event and you'll come across as someone genuinely interested in working for the company. You should still talk to other companies as you might come across opportunities you hadn't considered before, but it's important that you focus on who you definitely want to meet before you go.
Prepare
Treat a careers fair like an interview. Once you've identified potential employers make sure you talk to them; don't just take any literature or freebies they have, and don't ask questions that can be answered from their entry in the exhibition booklet. Introduce yourself and make a positive impression by showing you've done some research on their company.
Preparing questions to ask in advance can really help. Ask questions which give you an insight into what working there would be like. What is the culture like? What key skills do they look for in applicants? What are the key challenges for the future in their industry? Establish a dialogue and take notes as you talk to capture useful information for use in future applications. Make sure you take the prospective employer's contact details or ask if you can connect on LinkedIn. Ensure you have some way of making notes, either electronically or on paper, at the event.
Make an impression
One of the hardest things to achieve at a careers fair is standing out from the other delegates. You can do this by dressing as you would for a job interview. Make sure you take plenty of copies of your CV with you, and hand them out if the opportunity arises: you are there to market yourself to future employers.
Be aware that most companies will still have their usual recruitment processes for any current vacancies. Find out what these are and how to apply. If you attend the event with friends, make sure that you approach each employer individually and not as a group.
Follow up
Always follow up with employers with whom you built a rapport after the careers fair. This shows initiative and will help them remember you. Thank them for any advice they offered at the time, or email your CV explaining why you want to work for them. Treat this follow up as another opportunity for you to stand out from the other event attendees. If you do apply for any vacancies at companies you met at after the event, sending a cover letter or application after an event which mentions that you 'talked to… at Chemistry World Jobs Live and he/she told me that…' could really help your application stand out.
If you have more advice you'd like to share about this month's question – or have your own careers conundrum for Robert – please write to chemistryworld@rsc.org