How chemists' pay has changed over the past 100 years
This year marks the centenary of the Royal Society of Chemistry's (RSC) Pay and Reward Survey, which aims to find out how chemists' attitudes to their work life – and how much they earn – around the UK. We've delved into the RSC archives to chart how life as a chemist has evolved as industries have risen and fallen, new roles have emerged and employers have adopted fairer work practices.
1919
August 1919 marked the first 'remuneration of chemists' report – what would become the Pay and Reward Survey was run by RSC predecessor the Royal Institute of Chemistry (RIC) . The survey received 927 responses, of whom 64% worked in industry. Leave was limited, with 'only a fortnight annual holiday besides bank holidays appears to be far too common', although many chemists were 'at liberty to take Saturdays at their discretion'. Around 20 responses were from women, who had pay 'considerably lower than that for men, although many are, undoubtedly, very able workers whose services deserve far more substantial recognition'.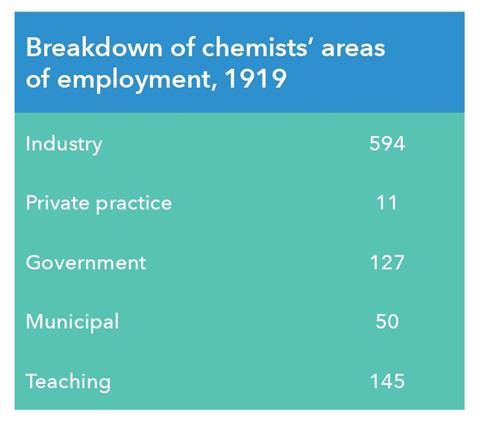 1939
Two decades later, and the salary survey had grown to more than 5000 responses – some 75% of members. The report was hesitant to give precise figures, with around 20% of respondents being given a vague payband of 'more than £1500 per year', and there was no breakdown by area of employment. The breakdown of whether a response came from the UK or abroad was also less than scientific – the RIC based it off the stamp on the return envelope.
1959
By the end of the 1950s, chemists were enjoying a median salary of £1671 – although not if you were newly qualified or a woman. Only 21% of the 220 women who responded to the report said they had a salary of more than £1500, while those under 25 typically earned less than £1000 a year.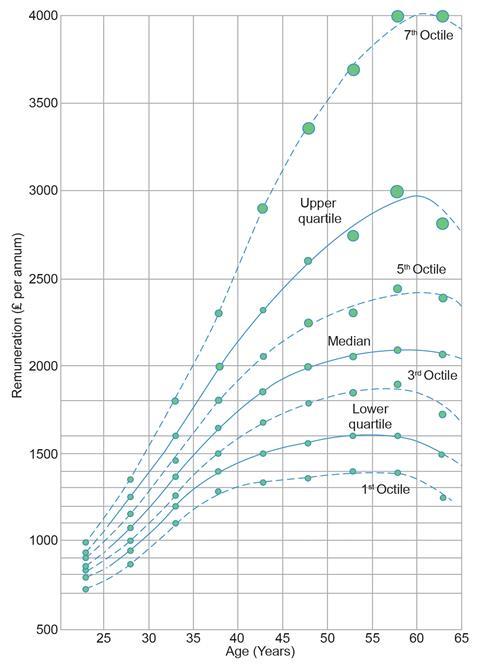 1979
The survey, published three months before chemist Margaret Thatcher became prime minister of the UK, didn't survey the entire RIC – instead it only contacted 50% of members. Even so, it found median salaries had increased by 23% since 1977, with chemists taking home a median £8000 a year. The best paid industry was oil and allied products, pulling in more than £10,340 per year, while teachers earned £6400 – about £33,500 adjusted for inflation.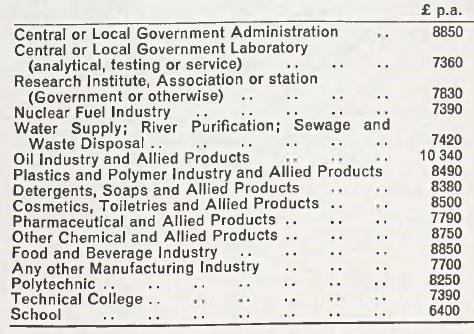 1998
At the turn of the millennium, chemists never had it so good – their median salary of £31,400 equates to around £54,000 today when adjusted for inflation. The highest wages were found in the oil, aerospace and nuclear fuels industries, and for those who worked in London (who made almost £6000 a year more than those in East Anglia).
However, once again women were at a significant disadvantage. The 16% of respondents who were women reported a median salary of £21,400, with the gender pay gap widening the further careers progressed.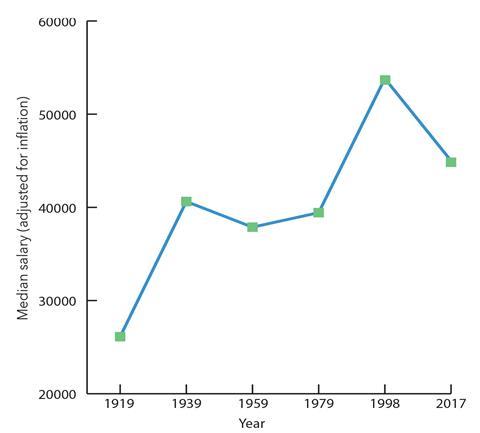 2017
The last Pay and Reward Survey put median salaries at £45,000, although the average bonus reported was some £4500. The rise of the digital age had also changed the salary landscape, with chemists in the IT and computer software industry bagging the greatest median take-home pay of £60,000 a year.
The report also focused on how respondents felt about their jobs, with questions about work–life balance and job satisfaction. In stark contrast to their colleagues a century earlier, seven out of 10 chemists said holiday and flexible working were their most important benefits, with 62% reporting their company offered flexitime.
The RSC's 2019 Pay and Reward Survey will launch on 12 June