The importance of pausing between work tasks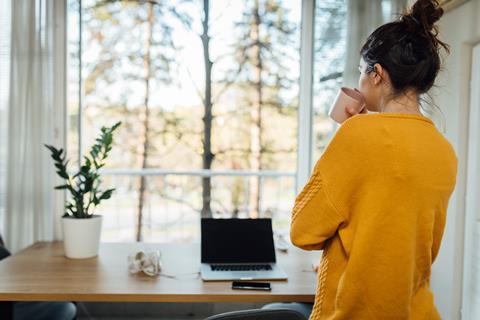 I thought my lifestyle had little in common with that of a group of cartoon space travellers, especially given current travel restrictions. But an episode of the recent Star Trek series Lower Decks hit surprisingly close to home. The plot revolved around something called buffer time. When asked by a senior officer to estimate how long a task will take the crew wildly overestimate, leaving them with time free to drink frozen margaritas. When the captain learns of this she sets the crew new work schedules that abolish buffer time – leading to disastrous consequences.
Buffer time is not a sci-fi invention. Many productivity guides suggest factoring in extra time between tasks to help you transition to a new activity, as well as taking regular breaks throughout the day. Moving straight from one task to another is mentally draining, and makes it harder to focus on the new task. It's also bad for motivation, as too great a focus on ticking things off the to-do list can cause you to lose sight of the overall importance of what you're doing – a perspective that just a few minutes of reflection might help you to regain.
But for a lot of us at the moment, buffer time has become the stuff of fantasy. For parents working from home, all free time has been sacrificed to the demands of childcare. In many universities, labs have switched to rota systems that severely limit the time a researcher can spend in the lab each month. As a result, there's a drive to work more solidly during these precious hours – particularly as researchers try to catch up with the experiments missed during lab closures.
Starting something five minutes later often won't make a difference to when you finish it
Even those of us without such heavy time pressures in place are struggling. Working from home blurs the boundaries between work and home life, which, when added to flexible working, can make buffer time feel less like a work activity and more like skiving. And then the stress and worry of living through a pandemic makes concentrating solely on getting tasks done an appealing distraction from giving free rein to your thoughts.
While these might seem like reasons to work up to the limit of your endurance, in the long run your health and the effectiveness of your work will benefit from taking a short breaks. Bear in mind as well that many tasks have a habit of expanding to fill the time you allocate to them – starting something five minutes later often won't make a difference to when you finish it.
If nothing else, next time you wash up your glassware or finish your latest draft report, pause for a moment to reflect and congratulate yourself on another job done. Perhaps skip the frozen margaritas though – or at least save them until the end of the day.