How exploring art helped me to reconnect with chemistry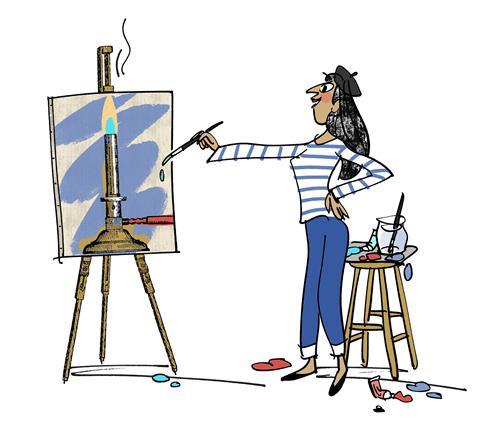 When I left university, I thought that my lab life was in the past; safely tucked away into the recesses of my memory. I was wrong.
I tried for years to escape practical chemistry. Some bad experiences as a student had left their metaphorical scars, and the Bunsen burner in particular inspired terror – reviving childhood memories of a neighbour's house fire. So when I finally finished my master's degree in molecular biology at the University of Hertfordshire, UK, I knew a life of Bunsen burners, agar petri dishes and endless electrophoresis experiments wasn't for me. But if I could instead combine my medical research skills and my talent for writing into a corporate job that was meaningful, then I'd have nailed it. I found myself helping pharmaceutical, healthcare and environmental engineering companies deliver their messages through websites, brochures, blogs, newsletters, white papers and case studies, with a good dose of creative direction and infographics thrown in for good measure.
However, a few years into my corporate life in Abu Dhabi, United Arab Emirates, a shroud of boredom descended and I began to explore new creative outlets. Little did I know, this would be the beginning of a journey of reconciliation with the lab I'd left behind.
It began with precious metal clay (PMC), a material formulated by a Japanese metallurgist, Masaki Morikawa, in which silver particles are embedded in an organic binder and water. By sculpting a piece of PMC, burning away the binder in a kiln or with a handheld gas torch and then sanding the rough edges, you have a beautiful piece of silver jewellery, ready for mounting gemstones.
I was fascinated by PMC, but as the instructor led us to the all too familiar bench and its series of gas torches I felt mortified. As I nervously held the torch in my hand, watching the binder melt into nothingness and my pendant start to gleam in the fire, my nerves were similarly inflamed – shocked at being once more face-to-face with my arch nemesis, the Bunsen burner. I dropped the idea of pursuing PMC as a creative outlet, but the desire to create didn't let up.
Then, seven years ago, I found myself attracted to making resin acrylic paintings. Having the idea is one thing, but again I would need to face my fears – this time of pouring the two-part epoxy resin. It was too much to bear: I started to have flashbacks of being rushed to the doctors when a chemical landed in my eye when I was a student. The resin and hardener were relegated to the cupboard.
Yet the need to work with the resin gradually grew stronger, until finally – three years later – I donned my protective glasses and gloves, and my lab coat. Breaking into a sweat, I mixed the components, the cautionary instructions engraved onto my heart. I tentatively poured the resin onto the 10×10cm square that contained my first artwork. It worked.
Today, I make artworks are as large as 70×70cm, using buckets of resin (I love working in layers). And my love for microscopy has also taken me to the other end of the scale: I started fashioning cufflinks using 16mm silver bases as a canvas to paint intricate designs. You cannot imagine what mastering pouring resin on those tiny cufflinks felt like. Like pouring agar on those petri dishes.
I have come far, but my journey continues. I still prefer to use a straw to blow away the bubbles that form as the resin is curing on my artworks, rather than using the artist's torch. (Even though the torch is a handy tool to bust those bubbles easily and create a lacy effect on the paintings – one look at #resinart on Instagram will show you what I mean.)
Maybe art will eventually be the path to healing my relationship with the Bunsen burner and its family. I guess I must embrace chemistry if I want to pursue art in its myriad forms. And perhaps one day, I'll be in my element (no pun intended) when the chemistry part of me and the artist part of me are collaborating together.
Jan D'Sa is a science marketing and communications expert based in Dubai