Björn Gustavii
Cambridge University Press
2012 | 93pp | £14.99
ISBN 9781107669048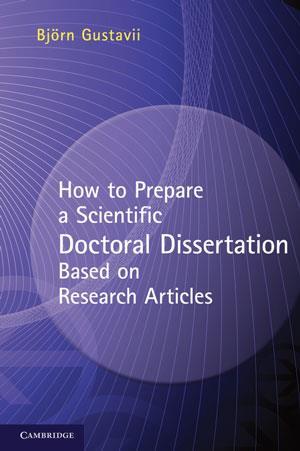 As the cost of full-time study for a doctoral degree becomes more of an issue, I can imagine a significant increase in popularity of gaining a PhD by published work (on the basis of research papers published in the scientific literature). This is especially true for those first degree graduates who gain employment in research and development laboratories.
To help aspiring graduates, Björn Gustavii of the University of Lund, Sweden, has published a book designed to offer practical guidance and advice. In particular, his book is designed for those following both what he calls the 'Scandinavian' model, in which an overall summary is followed by research papers bound in a single volume and the 'sandwich' model, in which published research papers appear as chapters between a general introduction and a general discussion.
The book is designed for theses covering mainly the 'hard' sciences (biology, medicine and technology), although most of the examples are medical in origin and this may put off some readers whose interest lies in other disciplines.
Although the book contains 19 chapters, at 93 printed pages some chapters are rather short. For example, chapter 6, Quotations, comprises slightly less than one printed page. However, the book is an easy read with some eye-catching ideas, including an illustrated title page used in a thesis on 'Reproductive factors and breast cancer' that features a prominent silhouette of a pregnant woman. There are also some sensible suggestions for avoiding scientific gobbledygook and ensuring clarity of comprehension.
I'd recommend this book to anyone considering submitting a thesis based on published work. I think it is also of value to examiners of such theses, in drawing attention to the wider range of good practice. However, this book is no substitute for a detailed appraisal of the rules and regulations of the university to which the completed thesis will be submitted. Indeed, some universities publish mandatory guidance on design and formatting. And it is essential to keep in mind that the final outcome of the thesis examination will depend primarily on the quality and novelty of the research papers included within its covers.
Purchase How to prepare a scientific doctoral thesis based on research articles from Amazon.co.uk