China's universities have been through several periods of reform. With government investment, they are now producing internationally recognised research. Vikki Allen looks at key universities and how the system works
China's universities have been through several periods of reform. With government investment, they are now producing internationally recognised research. Vikki Allen looks at key universities and how the system works
Meeting the growing demand for chemists in China has become a national priority. The domestic chemical industry is one of China's fastest growing industrial sectors and the number of people needed to work in this area continues to rise. Demand is not only for industrial chemists but also for scientists focusing on research.
Higher education institutes (HEIs) in China have seen many changes since the Cultural Revolution. New investment initiatives by the government and China's entry into the World Trade Organization (WTO) in 2001 have given China the opportunity to develop its education system and produce internationally recognised research and researchers.
In the initial years after the Chinese Communist party came into power in 1949, the Chinese higher education system was reformed to be based on the Russian model. In contrast to the broad curricula operating in primary and secondary schools, HEIs were smaller, specialist colleges. These colleges were administered centrally by the government and designed to meet the needs of the growing economy.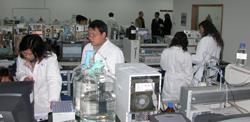 Colleges for applied subjects, such as economics, medicine and agriculture, were preferred to comprehensive institutions. Also, with a philosophy to offer equal access to education for all, many universities and institutes were moved from the more developed eastern coastal regions to western rural areas to help spread provision across the country.
Ouyang Kang, vice-president, Huazhong University of Science and Technology, Wuhan, and director of the Institute of Philosophy, has researched the effects of Chinese educational reform. At the time, the economy benefited greatly from the educational reforms, but there were problems, he says.
Then, when the Cultural Revolution started in 1966, all formal education was stopped and people with positions in universities were removed and many were persecuted. 'It was a disaster for Chinese education,' says Kang. Entry into universities was only possible through a process of recommendation.
This was stopped when the Cultural Revolution ended in 1976. University entrance exams and formal degree qualifications were reinstated. Since 1976 the Chinese education system has undergone several reforms. HEIs now want to be internationally respected. Science and technology teaching is given particular emphasis and institutes strive to offer a broad education to all students.

Investing in science
Science and engineering have traditionally been considered important in China. In 1995 with the end of the eighth government investment plan, industry was booming, and it became clear that China needed to ensure there would be sufficient science and engineering graduates to meet the country's increasing demand. Consequently, government investment in science increased.
At that time 'the government realised that it could not rely on external input or influences to keep step. China had to develop its domestic research and development and the personnel required,' says Linda Yueh, MSc tutor at the department of economics, London School of Economics (LSE), UK. Although China was behind the west in technological developments, it was fast catching up.
"The Chinese are very good at translating research to industrial output"
Since 1995, tertiary education in science and technology has been a focus for government investment to develop and foster education and research. The investment is backed by the Chinese who have a willingness to work hard and collaborate internationally on research projects. 'The Chinese are very good at translating research to industrial output,' says Yueh.
Opportunities to study or work abroad are seen as a chance to learn from other countries and broaden horizons and students consider it an essential part of higher education. Yueh says 'for the next 30 to 40 years study abroad will continue to be a very high priority to the Chinese. It is very important for people to have had direct experience with western economies and ways of working'.
Top Chinese universities
1 Tsinghua University, Beijing
2 Beijing University, Beijing
3 Zhejiang University, Hangzhou
4 Fudan University, Shanghai
5 Nanjing University, Nanjing
6 Huazhong University of Science and Technology, Wuhan
7 Shanghai Jiao Tong University, Shanghai
8 Wuhan University, Wuhan
9 Jilin University, Changchun
10 Zhongshan University, Guangzhou
Source: The 21st Century Business Herald, China Daily, 21 February 2005
Overseas experience
Enshan Sheng, marketing manager for Huntsman Polyurethanes, Shanghai, chose Loughborough University, UK, for his doctorate degree. He travelled to the UK in 1998 with a grant from the Sino-British friendship scholarship scheme.
Sheng believes he benefited greatly from being able to study and work outside China. Today, the fast changing market attracts Chinese students overseas back to China. 'There are a lot of opportunities in China due to the economy booming. In many cases, salaries offered.are as good as those in the UK,' says Sheng.
Tuition fees were introduced for all Chinese universities in 1999. The funds generated from fees allowed more students to enter tertiary education and freed university funds to be used to upgrade facilities. Fees are in the range Yuan 3000-6000 (?200-400), depending on the discipline studied.
Low-income families can apply for bursaries from universities and banks to help with fees. Students who wish to study abroad as an undergraduate or postgraduate have a number of funding options. The large number of schemes reflects both the Chinese desire and ambition to learn from others, as well as the size of the country itself. Those who are not awarded a scholarship are often supported by the government directly.
Getting funding is generally straight forward. Education is extremely important to the Chinese, says Sheng. 'With the one-child policy in China, parents attach a lot of importance to the education of kids. This means that they are willing to do anything for a better education for their child.'

Progress through collaboration
Travelling overseas isn't just about a better education and improved employment prospects. By collaborating with research institutes from other countries, China has progressed very quickly. Exchanging ideas and working practices with others has helped China to further science that it could not otherwise have done. Many Chinese collaborations are with the US and Japan. Far fewer are with Europe and, in particular, the UK, although this is beginning to change.
Paul Sermon, department of chemistry, University of Surrey, UK, has been involved in collaborations and has taken on Chinese students since the early 1990s. One such collaboration involved a postdoctoral fellow, Yuhan Sun, now director of the Institute of Coal Chemistry in Taiyuan, Shanxi, China.
Scientific collaborations with China have increased over the past 10 years and, with the level of government funding available, the future looks bright. Sermon says he is impressed by the motivation of students from China looking to study in the UK. 'With investment in people and instrumentation the Chinese could be scientifically very strong.'
"With investment the Chinese could be scientifically very strong"
The department at Surrey is looking to set up new working relationships with China in the area of fuel cells. Two Surrey researchers, along with researchers at three other UK universities, have applied for funding to visit China and meet Chinese researchers who are considered world leaders in advanced catalysts for fuel cells.
There is a lack of collaboration like this between the UK and China, but the potential to promote and improve science through such collaborations has not gone unnoticed. In response, the British Council launched the UK-China partners in science campaign; an initiative to help strengthen scientific links between the two countries.
Over 100 events are planned this year to raise awareness within the scientific communities of both countries. Several of the events focus on the chemical sciences and will likely attract large audiences. 'The campaign will mean greater interaction between universities and research collaborators and will also influence international public relations and regulations,' says Nick Khosla, head of science & innovation, British-Consulate General, Shanghai.

Government funding
Government funding for science and technology in China is generous and is considered to be one of the ways economic growth can be sustained. Sponsorship of departments, universities or individuals to improve buildings and facilities can be granted by central or local governments, the Ministry of Science and Technology (MoST), the National Natural Science Foundation of China (NNSFC) or the Chinese Academy of Sciences as well as other smaller organisations.
There are a puzzling variety of grants available, but one thing is clear, many universities receive considerable funds. The national basic research programme, known as Programme 973, was set up in 1997 by MoST to improve basic science and technology.
Between 2001 and 2005, Programme 973 received more financial backing, by central government, than any other basic research programme. Consequently, large grants were available and a total of Yuan 2.5 billion was invested. Projects typically receive two fifths of an award at the start of a project with the remainder subject to a detailed assessment and evaluation. Large projects are known to attract Yuan 20-30 million.
Programme 863, the national high technology research and development programme of China, was launched in early 1986 by the government. In contrast to the basic research programme, this focuses on domestic strategic and high technology advances. Funding areas include information technology, agricultural technology, advanced manufacturing and environmental technology.
"Government funding for science and technology is one of the ways economic growth can be sustained"
The government also manages a priority funding initiative known as Project 211. This aims to create 100 top Chinese universities for the 21st century. Under this plan, set up in 1995, selected universities can apply for priority funding. This project deliberately concentrates large sums of money to provide high-calibre institutions.
Fudan University, Shanghai, is one university that benefits from Project 211. It is currently ranked number four in China. Fudan University, considered as a traditional, comprehensive university, was founded in 1905. It has 46000 students, with 780 in the school of chemistry.
The chemistry department attracts subsidies of Yuan 30 million each year, including money from Project 211. This figure is expected to double over the next few years, according to members of the department. Alongside affiliated institutes, the department also has a key laboratory in molecular catalysis and innovative materials. Key laboratories are funded, for the most part, by local government. Only a small percentage of Fudan University's funds come from industry.
The Shanghai Institute of Organic Chemistry (SIOC) is an independent research unit that enrols only graduate students onto its courses. Because SIOC is not a university it doesn't qualify for Project 211 and so relies on other sources of income. However, SIOC is part of a similar project for institutes called the knowledge innovation programme, set up by the Chinese Academy of Sciences. Under this scheme, SIOC recently received Yuan100 million for new buildings.
Because further education is so important in Chinese culture, many people choose to donate money towards the upkeep of universities. This is not a stable source of income, but some universities receive substantial gifts. For example, at Tsinghua University, Beijing, a recent donation of Yuan10 million was used for a new chemistry department building, which opened in December 2004.
Zhejiang University, Hangzhou, has also benefited from donations. The university runs both undergraduate and graduate programmes but concentrates on undergraduate teaching and has a campus dedicated to this. The chemistry building on this campus was opened in late 2002 and was made possible by a donation from Ruo-Yun Zhou and Li-Yun Zhou, daughters of a former department dean. The Zhou family fled China during the Cultural Revolution.
More than 2000 students use the facility, including those from other disciplines studying chemistry modules. The department receives more than Yuan1.5 million per year from the government and the NNFSC, for the facility's upkeep.
A brief history of higher education reform in China
1949
China's education system was based on the Russian model. Universities and colleges were divided to form specialist institutes and many universities were moved into rural areas to even out provision. These institutes were controlled by central government which also controlled the distribution of graduate students.
1966-1976
All formal education in China was stopped during the Cultural Revolution. During the later years, people entered university as students only by a process of recommendation. Many subjects were discontinued.
1977
The education system was restructured to give the system that operates today. The national university entrance exam was reintroduced and a comprehensive range of subjects became available with unified curricula for university degree courses.
1986
The government introduced the structural reform of higher education. Many institutes merged to form more comprehensive units. Mergers of centrally controlled institutions led to 72 'national' higher education institutes (HEIs). Mergers of locally controlled institutions led to 257 new HEIs.
1999
Tuition fees introduced for all university students. Fees are in the range Yuan 3000-6000 (?200-400), depending on the subject studied.
2001
Following China's entry into the World Trade Organization, new types of higher education establishments were introduced. These included independently funded universities and colleges, independent university-affiliated colleges for specialist subjects; and cooperation colleges that use foreign investment or foreign universities to set up an affiliated college or international university

Financial backing
Government emphasis is on quality not quantity, and consequently not all universities and institutes receive good financial backing. Those that are backed have been able to dramatically improve their facilities over the last decade. Improvements have also been made to living conditions at universities, although many students still share small dormitories for up to six people. Modernising catering facilities has also been a priority. The restaurant on the student campus at Zhejiang University, Hangzhou, is four floors high catering for 12 000 at a time.

Developing abilities

An important objective for tertiary education in China is self-cultivation. This means helping individuals to develop and perform to the best of their abilities. Chemistry students are also expected to study modules in humanities or political subjects. Opportunities for a rounded education have been expanded since China's entry into the WTO.
Joining the WTO affected China in many ways, but for universities it paved the way for foreign investment. Cooperative colleges and universities can now be set up combining the resources from two countries.
The UK's University of Nottingham now has a campus in Ningbo, Zhejiang province, which was set up in partnership with Zhejiang Wanli University, Ningbo. This is the first of the new cooperative universities and it opened its doors to students in September 2004. Degree programmes are China-based but taught in English. The university currently offers courses in business and international studies but not in science.
There have been many changes in the Chinese education system over recent years. These changes, along with a willingness to collaborate and a commitment to scientific research, mean that China is now well placed in the international arena. As Yueh, at LSE, says: 'Things look very good for the future, particularly because the Chinese are so good at translating research into industrial output.'
Focus on higher education institutes

Fudan University, Shanghai
Founded in 1905 as Fudan Public School. The chemistry department was established in 1905. Currently ranked four in China.
Students: 46 000 students, including those on full-time, part-time, continuing education and distance learning programmes. 780 chemistry students, including 500 undergraduates, 140 MSc and 140 PhD students
Funding: As part of Project 211, which aims to create 100 top Chinese universities, Fudan receives priority funding. The chemistry department receives around Yuan 30 million (?1.98 million) per year, mainly from central and local government.
Fudan University offers a comprehensive range of subjects to undergraduate students. The chemistry department has a key laboratory in molecular catalysis and innovative materials. There is also an institute of advanced materials and an institute of biomedical science.

Shanghai Institute of Organic Chemistry, Shanghai
Founded in 1950 by a merger of the Institute of Organic Chemistry of the former Central Academy of Sciences and the Institute of Organic Chemistry and Institute of Materia Medica of the former Peking Academy of Sciences.
Students: 400 full-time graduate students
Funding: The institute is part of the knowledge innovation programme from the Chinese Academy of Sciences (CAS). The institute receives a total of Yuan 150 million per year from the government, project funds and industrial collaborations.The institute recently received Yuan 100 million from CAS for building development.
The institute is an independent research unit and enrols graduate students on MSc and PhD programmes. The focus is on fundamental and applied research in organic chemistry. The institute has a state key laboratory for bio-organic and natural product chemistry, a state key laboratory for organometallic chemistry (both funded by central government) and a key laboratory for organoflourine chemistry (funded mainly by local government).
The institute also runs an industrial pilot plant to test scale-up reactions and undertakes research into environmentally-friendly organic chemistry.

Zhejiang University, Hangzhou
Founded in 1897 as Qiushi Academy and merged in 1998 with Zhejiang University, Hangzhou University, Zhejiang Agricultural University and Zhejiang Medical University. The chemistry department was established in 1915. Currently ranked three in China.
Students: 42 845 full-time students. 797 chemistry students, including 355 undergraduates and 442 MSc and PhD students
Funding: As part of Project 211, the university receives priority funding. The chemistry department received Yuan 21 million in 2004; 46 per cent from government and 54 per cent from industrial collaborations.
The department receives around Yuan 1.2 million per year from the National Natural Science Foundation of China, the Ministry of Education and National Bases for the Cultivation of Talents in Fundamental Scientific Research and Teaching (for undergraduate education). The department also received around ?1.3 million under Project 985 for facilities.
Zhejiang University is a comprehensive university for undergraduate and graduate students. It focuses on undergraduate teaching, for which it has a dedicated campus. A chemistry teaching building opened in October 2002, built with money donated by Ruo-Yun Zhou and Li-Yun Zhou, daughters of a former department dean. Over 2000 students use the facility. The undergraduate campus also has a restaurant - claimed to be one of the largest in Asia - catering for 12 000 students and staff.
Further Reading
Ouyang Kang, Policy Futures in Education, 2004, 2, 141