The use of palm oil to make biodiesel has incited environmental and humanitarian concerns. Jane Qiu unpicks the controversy and the possibilities
The use of palm oil to make biodiesel has incited environmental and humanitarian concerns. Jane Qiu unpicks the controversy and the possibilities
With its tightly clustered wooden houses, leafy outskirts and picturesque water front, the medieval town of Porvoo - 30 miles east of Helsinki - is an unlikely location for an oil refinery. Yet, it is home to the world's foremost second-generation biodiesel facility - with a capacity of 170,000 tonnes a year - owned by the Finnish company Neste Oil.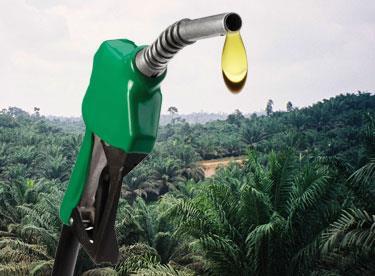 And according to Simo Honkanen, vice president of Neste Oil's marketing department, the company has something completely different. While first-generation biodiesel is a fatty acid methyl ester (Fame)-based fuel, and can be blended with fossil diesel at no more than 5 per cent, this new product of Neste Oil, known as NExBTL biodiesel, is paraffinic - very similar to fossil diesel. It can be distributed with existing infrastructure and used up to
50 per cent without compromising the engine.
Neste Oil is not alone in its quest. United Oil Products (UOP) in Des Plaines, Illinois, in the US - a subsidiary of the US conglomerate Honeywell - has developed a similar process with the Italian oil company Eni, headquartered in Rome. Their Ecofining technology also gives rise to paraffinic biodiesel, which UOP prefers to call 'green diesel'.
With many countries around the world promoting the use of biofuels in vehicle traffic, companies like Neste Oil and UOP are eager to seize a large slice of the emerging biodiesel market. How green and renewable this second-generation biodiesel is, however, remains a subject of debate. Although the technology for producing paraffinic biodiesel can use a mixture of different feedstock, palm oil is currently the best option - compared with rapeseed and soy oil - in terms of process economics.1
At Porvoo, for example, 80 per cent of the feedstock is palm oil, which is also likely to be the case for Neste Oil's major new facility in Singapore - at the centre of palm oil plantations. This has caused serious concern among many environmental groups and researchers. 'Expansion of palm oil plantations has been associated with harming the poor and damaging rainforests,' says William Laurance, of the Smithsonian Institution in Manaus, Brazil. 'There is no credible mechanism in place yet to ensure that a growing demand for palm oil would not worsen the problems.'
A superior product
Despite the controversy, Honkanen has good reasons to be pleased that Neste Oil is the first company to commercialise a product 'far superior' to what is currently available on the biodiesel market.
Fame-based biodiesel is problematic: it can't be used at low temperatures, it dilutes oil lubricants, and it can stick to the valves, thereby causing damage to the engine. Some critics also question whether Fame-based biodiesel is truly renewable, because 10 per cent of methanol is added to vegetable oil during the trans-esterification process. Methanol is derived from fossil fuel and requires a lot of energy to produce. By contrast, Neste Oil and UOP treat triglycerides, the main component of animal fat and vegetable oil, catalytically in the presence of hydrogen.
Hydrogen is typically produced from the hydrocarbons in natural gas, using steam-reforming technology, so this process too relies on fossil fuel. But, according to Neste Oil and UOP, hydrogen production requires far less energy than methanol. And projects are ongoing to produce hydrogen from renewable sources.
Both companies are keeping the exact details of their processes under wraps, but the basic reaction breaks the triglyceride structure, giving rise to fully saturated straight-chain paraffin, whose lengths vary from C14 to C18.
The technology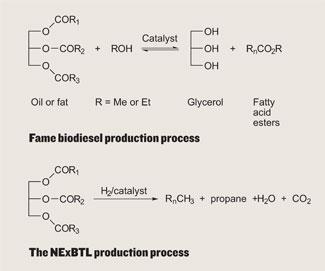 The products from both companies are comparable, with their cetane number - a measure of the combustion quality of diesel fuel during compression and ignition - typically 84-100 for NExBTL and 70-90 for UOP's 'green diesel'. For Fame biodiesel and fossil fuel, this is around 50. In addition, their cloud points - the temperature at which solids are no longer fully soluble and precipitate out of the liquid - are much lower. Such solid precipitates can clog an engine's fuel filters and injectors, so the fact that the cloud point of NExBTL biodiesel can go down to as low as -34oC means that it meets a crucial specification required for winter diesel in chilly Finland. By changing the degree of isomerisation, the companies can control how branched paraffin molecules are, tailoring the cloud point of their products as required. A straight chain paraffin precipitates at a much higher temperature than its branched counterpart with the same carbon number.
This paraffinic biodiesel is also very stable because the 10-11 per cent oxygen in triglycerides is completely removed in the form of water, CO and CO2. 'There is no use-by date with our NExBTL biodiesel,' says Raimo Linnaila, a business development manager at Neste Oil. It is very similar to what diesel engines already burn, and so can be distributed with existing facilities and be blended with fossil diesel at up to 50 per cent.
'In theory, it could be used neat,' says Graham Ellis, business manager of UOP's renewable energy and chemicals unit. But, with a density around 780kg/m3, the second-generation biodiesel is slightly lighter than the typical sulfur-free European EN590 diesel whose density is about 835kg/m3, and so may not fulfill the density specification in some countries.
Timing is everything
According to Honkanen, many oil distributors and car manufacturers around the world have tested NExBTL biodiesel and are keen to have it in place. Neste Oil is set to expand rapidly, and will invest billions of euros in its refining business over the next decade, particularly in biodiesel. It has the ambition to become the Nokia of the oil industry - to rise as the world's largest biodiesel provider.
The Porvoo factory is just the first step towards that goal. Another facility with the same capacity is underway in Porvoo; the company is also investing
550 million (?438 million) in building a major new factory in Singapore, with an annual production of 800,000 tonnes of NExBTL biodiesel. In addition, it is planning a fourth unit in Austria, with an annual capacity of 200,000 tonnes. 'By 2015, we will be able to produce millions of tonnes a year of NExBTL,' says Honkanen.
The main market will be Europe, which is anticipating the growing demand as a result of the proposed EU legislation on biofuel - expected to be passed by the European Parliament later on this year. This will increase the use of biofuel to 10 per cent of overall gasoline and diesel fuel consumption by 2020. 'That's where Neste Oil comes in,' Honkanen says.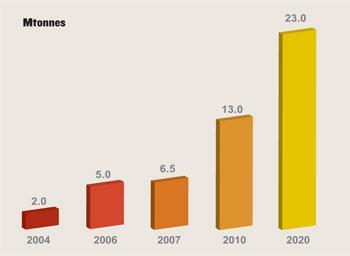 © DATA FROM THE EUROPEAN BIODIESEL BOARD
On the other side of the Atlantic, UOP is busy catching up. Since the announcement of its Ecofining technology early last year, it has licensed the process to two major European refiners - Italy's Eni, Ecofining's codeveloper, and Galp Energia, Portugal's largest refiner. They will build plants in Livorno and Sines, respectively, which will be up and running around 2010, with an annual production of 330,000 tonnes each.
Meanwhile, UOP is talking to potential clients around the world, with the major markets being Europe and North America, says Graham Ellis, business manager of its renewable energy and chemicals unit. In the US, most passenger vehicles are powered by gasoline engines, and the heavily subsidised production of bioethanol - gasoline's blending component - has been the main driver of the biofuel industry in the country.
However, Ellis believes there is also a healthy market for diesel, which powers a large proportion of trucks and farming vehicles in the US. According to figures released by Pervin & Gertz, a Texas-based energy consulting firm, the country consumed 1.5 billion barrels (or 212 million tonnes) of diesel in 2007, compared with 3.4 billion barrels of gasoline. The current target set by the US National Biodiesel Board is to have biodiesel account for 5 per cent of the country's on-road diesel fuel market by 2015, which will result in a demand of 9 million tonnes of biodiesel. 'It's far enough to support the green-diesel industry,' says Ellis.
Other companies, including the UK's BP and US-based ConocoPhillips, are also applying the hydrogenating process to make biodiesel using their existing facilities, a technology called co-processing. Although this can produce paraffinic biodiesel, the product has a high cloud point and its quality varies, says Ellis. This is because traditional refineries are not built to handle CO2 and oxygenated feedstock - intrinsically associated with hydro-treatment - and are not able to isomerise paraffin molecules. 'So it's better to have a dedicated facility for making green diesel,' says Ellis. 'And locating an Ecofining facility inside an existing refinery would significantly reduce the cost.'
Fueling unsustainable growth?
Both Neste Oil and UOP claim that their paraffinic biodiesel products are green and renewable because life-cycle analyses - which examine the whole production chain 'from cradle to grave' - show that they have much lower total environmental impact scores than fossil fuels and Fame-based biodiesel. They also outperform Fame-based biodiesel in terms of reducing the emission of greenhouse gases, especially NOx. Both NExBTL and green diesel emit 10 per cent less NOx compared to their fossil counterpart, whereas the first-generation biodiesel results in 10 per cent more.
But different ways of conducting life-cycle analyses may give different results, and the data should be taken with a pinch of salt, according to Dan Helenius of Greenpeace Nordic, headquartered in Stockholm, Sweden. A recent study - commissioned by the environmental group and conducted by the Institute of Energy and Environmental Research (IFEU) in Heidelberg, Germany - suggests that some analyses of palm oil-based biofuel are flawed because they have not considered some crucial factors and indirect impact, such as destruction of peatlands and rainforests as well as the so-called 'leakage effects', whereby farmers, displaced from their lands by palm oil companies, turn natural forests into crop lands.2
Peatlands and rainforests are invaluable sources of biodiversity, and store an enormous amount of carbon. In a recent article published in Science, David Tilman, of the University of Minnesota's ecology, evolution and behaviour department, and his colleagues showed that it would take palm oil-based biodiesel 86 and 423 years to reduce the amount of greenhouse emission resulting from turning rainforests and peatlands, respectively, into plantation.3
Already, an increasing demand for palm oil has fueled a 1.5 per cent annual rate of destruction of rainforests in Indonesia and Malaysia, which together account for 86 per cent of global palm oil production.4 Researchers estimate that 27 per cent of concessions for new palm oil plantations are on peatlands and rainforests, totalling 2.8 million hectares in Indonesia, the third largest emitter of greenhouse gases in the world, after the US and China.5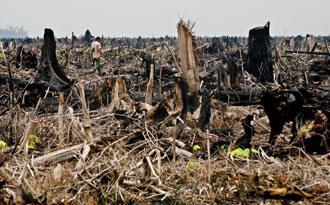 © ORJAN F. ELLINGVAG / DAGENS NARINGSLIV / CORBIS
A recent report released by United Nations Environment Programme (UNEP) indicates that 98 per cent of rainforests in Indonesia will be destroyed by 2022 if the current rate of destruction is not stopped. It would be ironic if a drive claiming to save the Earth ended up devastating the environment, says Laurance.
The environment is not the only cause for concern. Expansion of palm oil plantations has displaced indigenous people from their land, often without proper consultation and compensation, says Jefri Saragih, of Sawit Watch (Sawit means oil palms in Indonesian), an environmental group and a partner of Oxfam, a British non-governmental organisation (NGO). This has caused serious tension between local farmers and companies, which has culminated in a number of violent conflicts. In January 2008 alone, Sawit Watch monitored 513 conflicts between Indonesian communities and companies, some of which have led to local people being arrested, beaten and even sentenced to death.6
Some stakeholders, including the biodiesel industry, government administrations and NGOs, have high hopes for the Roundtable on Sustainable Palm Oil (RSPO), a trade organisation that has been set up to promote sustainable palm oil production. Others remain sceptical. In a meeting last November, Saragih appealed to RSPO to help resolve conflicts, release imprisoned farmers - including a mother and her two-year-old baby - and revoke the death sentences. 'There isn't any progress yet after nearly six months,' he says.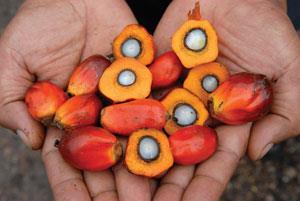 © JOHN VAN HASSELT/CORBIS
According to Helenius, there are several problems with RSPO. It's not binding for its members, and several major palm oil companies such as Wilmar and Datu Palma, members of RSPO, were caught having practices against the organisation's principles, such as rainforest clearance, burning cleared lands, and local conflicts. More importantly, RSPO's certification scheme will not demand that its members segregate certified products from uncertified ones. This means a company just needs to have one plantation certified for all of its palm oil products to be certified.
The IFEU report is also unconvinced that RSPO, in its current form, can address serious social and environmental concerns. It concludes, therefore, that the use of palm oil for biodiesel production must be regarded as unsustainable, which applies as long as no effective certification system is available.
Neste Oil stands firm that it is against any conducts involving local conflicts and destruction of rainforests, and buys palm oil only from suppliers committed to sustainable practices. And its main supplier, IOI Group - an established Malaysian palm oil company - reputedly has good farming practices and is able to achieve good yields. But this is not foolproof. IOI is expanding its business: it has acquired several plantation companies in Sarawak, part of Malaysian Borneo, and bought concessions covering rainforests and close to peatlands in Central Kalimantan in Indonesia.
Helenius maintains that, even if IOI's practices are totally 'clean', Neste Oil would still be held responsible for causing social and environmental problems indirectly. Laurance agrees: 'It's very difficult for companies to buy palm oil with confidence that this would not contribute to deforestation. It's basically impossible.'
Refining the future
UOP agrees that the Ecofining process could be unsustainable if appropriate farming practices are not in place, especially where palm oil plantations are concerned. Neste Oil's Honkanen also admits that there are 'challenging issues' to be dealt with in making biodiesel from palm oil, but maintains that an increasing palm oil demand can be met by increasing the yield and by expanding plantations into the wasteland. Based on World Wildlife Fund's estimates there are 20 million hectares of idle non-rainforest land suitable for sustainable palm oil production in Southeast Asia, compared with the 9 million hectares of plantations in the region.
Honkanen also thinks that using food feedstock, including palm oil, for biodiesel production is just a 'transition phase' of the industry. 'An advantage of our technology is that it can make high-quality biodiesel from virtually any feedstock,' he says. 'And we have very active R&D activities to find suitable non-food biodiesel feedstock such as algae and jatropha.'
But uncertainties remain about the use of algae as biodiesel feedstock, especially on commercial scale. According to Linnaila and Ellis, jatropha, a scrub weed able to grow on wasteland, can be readily integrated into their biodiesel production processes. But the plant is not available in abundance - a situation unlikely to change for some time because little is known about how to make it a successful crop.
Neste Oil is also trying to make biodiesel from solid biomass, such as wood chips, grass and hay using gas purification technology. In a pilot scheme at Varkaus, in Eastern Finland, the biomass is first converted into gas under high temperature and pressure. The gas contains a number of impurities, such as sulfur and metals, which need to be removed before it can be turned into paraffin through the Fischer-Tropsch process - a catalytic process to synthesise hydrocarbons by controlled reaction of hydrogen and carbon monoxide.
This is the panacea for the biodiesel industry, but the technology is fraught with hurdles. 'It's quite tricky to get really clean gas,' says Honkanen. In addition, a huge amount of biomass is necessary for one unit of paraffin, and the process generates a large amount of heat and steam. 'You need the infrastructure to use the heat and steam in the factory to get the economics in place,' remarks Honkanen.
So none of those developments will be able to alleviate the world's growing demand for palm oil in the short term, and this 'transition phase' may simply be too long for poor farmers in Indonesia. 'Our people are suffering because their land continues to be taken away from them by palm oil producers,' says Saragih. 'We hope the Indonesian government and international communities will help to protect the farmers and rainforests.'
Helenius is adamant that companies should stop making biodiesel from palm oil: 'They should wait until they have a sustainable raw material, rather than promoting a business that is causing local conflicts and environmental damage,' he says. 'If Europe wants to solve its emission problems, this is not the way to do it.'
Jane Qiu is a freelance science writer based in London, UK
Further Reading
1 J Holmgren et al, Hydrocarbon Processing, 2007, 67
2 G Rainhardt et al, Conclusive evaluation of studies assessing the environmental impact of the use of palm oil as a bioenergy carrier. September 2007
3 J Fargione et al, Science, 2008, 319 , 1235
4 Y Basiron, Eur. J. Lipid Sci. Techol., 2007, 109 , 289
5 A Hooijer et al, Peat CO2 assessment of CO2 emissions from drained peatlands in SE Asia, Tech. Report No. Q3943 (Deft Hydraulics, 2006)
6 Losing Ground, a report published by Friends of Earth, LifeMosaic and Sawit Watch, February 2008