An ambitious project in Switzerland aims to create the world's first fully integrated science city. Yfke Hager reports
An ambitious project in Switzerland aims to create the world's first fully integrated science city. Yfke Hager reports
Overlooking Z?rich, the H?nggerberg is home to the former wine-producing village of H?ngg, annexed by Z?rich in the 1930s. But the hill also houses the city's latest ambitious science venture: a high-tech campus known as Science City. An innovative urban development strategy aims to develop the H?nggerberg site into a campus that will completely integrate science and society, create a vibrant social scene, and give the public an insight into scientists' lives.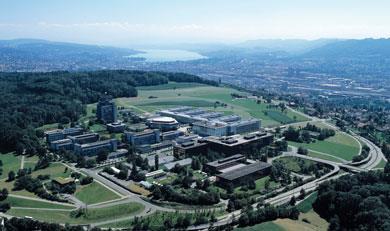 Science City is the latest pioneering project of an institute that has always placed a high value on innovation. Since its foundation in 1855, Eidgen?ssische Technische Hochschule (ETH) Z?rich (the Swiss Federal Institute of Technology) has been a magnet for creative scientific minds from around the world. These include Peter Chen, professor of physical organic chemistry, recently appointed as vice president of research at ETH Z?rich.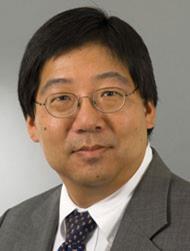 Thirteen years ago, Chen left Harvard University to take up a full professorship at ETH Z?rich after receiving an invitation from the institute to fill a position. While he was impressed by what he saw when he came for his interview, the biggest factor in Chen's decision to move to Z?rich was the organisation of funding in Switzerland. 'In the US, professors can get high quality labs, equipment money, and a reduced teaching load,' he says, 'but what you can't get is unrestricted money for innovation - in the sense of purpose, not amount.' At most institutions, he explains, it's extremely difficult for researchers to obtain a grant to do research in an area that they don't already have extensive expertise in. According to Chen, the funding situation in the US is stifling innovation. 'When I came to Z?rich at the end of 1993, I saw the possibility of obtaining funding for what I call academic venture capital,' he says.
Chen's research career has certainly benefited since his move to Z?rich. In the US, his track record for obtaining grants was above average; about one in three of his grant applications was awarded funding. 'My success rate here, in the past 13 years, has been 100 per cent, as compared to the typical 40 per cent at the Swiss National Science Foundation,' he says. 'Here, I can innovate at will, and I can innovate continuously. And that was why I came to ETH Z?rich.'
Starting young
The 21 Nobel laureates who have taught or conducted research at the institute attest to its scientific pedigree. 'A key aspect of our success is the high quality of people here,' says Chen. The fact that full professors at ETH Z?rich are considerably younger than those at most other institutions - in chemistry, most of the full professors are aged under 40 when they are appointed - may be another factor contributing to its scientific success. By appointing fairly young professors, Chen points out, the institute taps into the most creative phase of most scientists' lives.
ETH Z?rich has made a considerable contribution to the explosive diversification of chemistry and related sciences around the turn of the last century. 'This was mainly due to great leadership in the early 20th century,' Chen says. He points to the strategic vision of Leopold Ruzicka, winner of the 1939 Nobel prize for chemistry, and head of the Laboratory of Organic Chemistry at ETH during the 1940s and 1950s. 'Ruzicka recognised that the future of organic chemistry lay in its fusion with physical and biological sciences. Of course, this has since happened at many institutions, but to have seen this in the early 1950s was visionary,' Chen says. The Laboratory of Organic Chemistry founded both the Laboratory of Physical Chemistry and the Institute of Biochemistry at ETH Z?rich, illustrating the origins of interdisciplinary research at the institute.
When the expanding institute suffered a shortage of space in the centre of Z?rich during the late 1960s, the federal government decided to build a second campus on the H?nggerberg, a wooded hill just north-west of Z?rich. In 1971, theoretical physicists moved into the first buildings on the new site, located seven kilometres from the institute's historic main buildings in the city centre.
New teaching and research facilities, housed in a building shaped like a five-toothed comb with gleaming geometric fa?ades of stainless steel and glass, were completed on the H?nggerberg site in 2001. The five distinct but connected laboratory areas enabled the department of chemistry and related research areas, including pharmacy and materials science, to be brought together in a single facility. The move to the new facilities also meant that the chemistry department, originally located in the city centre, joined the physics and biology departments at H?nggerberg. 'Given the importance of multidisciplinary research, it was very important for the chemistry department to move closer to physics and biology,' Chen says. The number of interdisciplinary collaborations has increased since the move, he adds.
Beyond the useful
While the emphasis at ETH Z?rich has always been on fundamental science, research applications come naturally, especially for chemists. 'Chemistry has a mixed blessing,' says Chen. Chemistry research receives funding because it's a 'useful' science, with many potential applications. But Chen believes that it's not sufficient for chemistry to be merely useful. 'We need to attract the best minds to this field,' he says. 'If chemistry only has utility, what will attract them? You do chemistry because you love chemistry. It's fundamentally about making things that never existed before. And that is an intellectual challenge worthy of spending your life on.'
This is precisely the kind of message that Science City hopes to deliver to the public. According to Michael Salzmann, project director for Science City, transforming the ETH H?nggerberg site into an integrated university campus is the most important project to develop ETH Z?rich into a 21st century university. 'The plans for Science City are to develop the second location outside the city centre in a more integrated way,' he says. 'We didn't just want to build more labs and buildings, but develop a real campus.' While the campus-style university is common in other countries like the US, he adds, it's not common in continental European countries.
But the aim is for ETH Z?rich to become much more than the traditional university campus found in other countries; the goal is to become an intersection between science and society, with its doors open to the public. 'What is different about Science City is that we have programmes inviting people both in and outside Z?rich to come to the campus and meet scientists - to see an MRI scanner in action, or meet a Nobel laureate,' Salzmann explains. 'There's a huge programme to start a dialogue between university people and people outside the university.' Science City programmes are usually planned for weekends, Salzmann says, and include short talks, demonstrations and tours.
Chen agrees that Science City represents an essential development for a modern university. 'ETH Z?rich is a public institute,' he says. 'Research here is largely funded by tax payers' money and, as such, we have a responsibility to provide objective, accurate information to aid policy making, and to convey to the public that science is a worthy, exciting, honourable career. The only way to do that is to be engaged in a visible way.'
But convincing the public to take an interest in science could be tough. The European Commission's 2005 Eurobarometer survey Europeans, Science and Technology found that 40 per cent of Europeans hardly ever or never read science articles, while 90 per cent hardly ever or never attend public meetings or debates about science. Despite this, Salzmann reports that Science City has proved to be popular: since the initiative started in November 2006, over 10,000 people have participated in a Science City event. In 2007, the follow-up Eurobarometer survey Scientific Research in the Media found that the majority of Europeans would prefer scientists to present scientific information to the public themselves, which may explain the popularity of Science City programmes. 'People say that they really appreciate the opportunity to communicate directly with scientists and see how they work in the lab,' Salzmann says.
Scientists at ETH Z?rich carried out award-winning research in 2007. Chemist Peter Seeberger was awarded the 2007 K?rber Prize, a prestigious German science award, for his research on the synthesis of complex sugars. He received the award for constructing an instrument that automatically synthesises carbohydrates, which will facilitate the production of novel sugar-based vaccine candidates against malaria, aids and tuberculosis.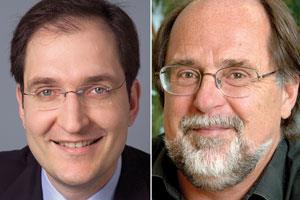 Ari Helenius was awarded the 2007 Marcel Benoist Prize, Switzerland's most prestigious science award, for his research on novel mechanisms by which viruses penetrate cells. Helenius, a biochemist at ETH Z?rich, has discovered several intrusion pathways used by viruses to gain entry into host cells. His research group has also elucidated intracellular quality control systems, which ensure that newly synthesised cellular proteins are correctly assembled and folded. His research has potential medical applications, and he has co-founded a biotechnology company to develop new strategies for anti-viral medicines.
In the city
ETH Z?rich's ambition to integrate science and society extends beyond inviting the public to special events. As part of the urban planning strategy for the site, new buildings are being planned with the intersection between science and the public in mind. Salzmann lists some of the future plans, which include a sports centre open to the public and university members, and a new guesthouse for visitors to the university with a public restaurant on the roof. 'We plan all new buildings to give the public close proximity to our scientists,' Salzmann says.
Science City will also encourage open dialogue and collaboration between science and the business world. In recent years, the ETH had averaged around 10 spin-out companies per year, with a record number of 21 in 2007. The total number of successful spin-outs to date is 130 - comparable to the number from Stanford University or the Massachusetts Institute of Technology (MIT) in the US. 'Some planned lab buildings will have an entire floor dedicated to new spin-out companies,' Salzmann says, to foster an entrepreneurial spirit within the institute.
The investment in Science City reflects the substantial growth of the institute; the student body is expected to grow by 20 per cent by 2015, with staff numbers increasing correspondingly. It also aims to expand the number of professors, from the current 360, to 440 within the next 10 years, Salzmann says.
Over the past decade, increasing numbers of universities have turned to private sector management models in a bid to improve performance. The new executive board of ETH Z?rich, in place since 1 September 2007, objects to this trend. Universities should not be treated as private sector companies, says Chen, because they have a very different role in society. So what will ETH Z?rich need to do to ensure that it remains competitive in the future? 'We will continue to need top quality faculty appointments and students,' Chen says. 'For faculty, we offer an excellent infrastructure and an environment where creativity is encouraged and innovation is made possible. For students, we offer a broad palate of courses, good teaching and high quality of living.'
Neil Williams, associate director of the European Science Foundation and coordinator of the European Young Investigator (Euryi) awards scheme, agrees that the institute provides an excellent academic environment for young researchers. 'For the first three years of the Euryi awards scheme, ETH Z?rich won more awards than any other institution,' he says. 'It's certainly an attractive place for excellent young scientists from around the world.'
Whether ETH Z?rich continues to attract the best scientific minds will depend in part on the success of ventures like Science City. 'The future challenge for ETH Z?rich will be to define science and engineering so that young people see them as attractive endeavours,' Chen says. 'We will need to convince young people that science offers a promising and exciting career.'
Yfke Hager is a science writer based in Manchester, UK