Scotland is an established home for the chemicals industry - but is now increasingly attracting biotech and life sciences companies. Yfke Hager reports
Scotland is an established home for the chemicals industry - but is now increasingly attracting biotech and life sciences companies. Yfke Hager reports
Thirty years ago, John Bremner and his fellow graduates from the University of Glasgow found themselves scattered across Europe pursuing careers as organic chemists. It was then that Bremner decided it was time to move back to Scotland. 'We started wondering why we were all working abroad to find jobs in organic chemistry,' Bremner recalls. 'The solution we came up with was to set up our own company in Scotland.' By targeting a niche market - laboratory reagents for DNA and RNA synthesis - the resulting company, Cruachem, became a successful venture.
Bremner isn't alone; many innovative home-grown and international companies select Scotland as a base. What makes Scotland such an attractive location? 'Fundamentally, its people,' says Sandy Dobbie, chairman of Chemical Sciences Scotland (CSS), a partnership of government, industry, and academia working to ensure the future success of the Scottish chemical sector. 'An exceptionally strong academic base means that we have a ready-made supply of people with the right skills.'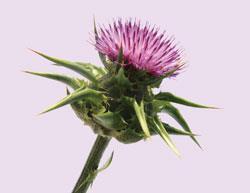 The Scottish government plays an important role too, with its focus on creating a sustainable competitive advantage for emerging and existing Scottish businesses. With a turnover of ?9.3 billion, Scotland's chemical sciences sector is one of its highest value industries and a priority for the Scottish government.
According to Dobbie, 'governmental support mechanisms are available all along the pathway from early stage proof-of-concept to fully fledged companies.' Often overlooked, Scotland's abundance of high quality water and extensive energy supply network are high on the wish list for fine chemicals companies. Scotland's English-speaking workforce can also attract international companies looking for a gateway into Europe. It all adds up to an incredibly supportive environment for innovation and a powerful rationale for doing business in Scotland, Dobbie says.
Scottish Enterprise works closely with CSS to deliver the government's economic development strategy. 'We understand what the sector's objectives are and help meet them, to grow the economy,' says Caroline Strain, head of the Chemical Sciences Team at Scottish Enterprise. For example, Scottish Enterprise's proof of concept programme and enterprise fellowships help academics commercialise their research activity. Since the programme's conception in 1999, 217 innovative projects have received ?41 million funding, resulting in 42 spin-out companies and leveraging over ?235 million of public and private investment.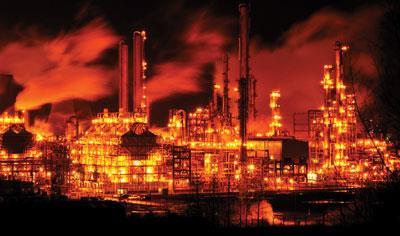 On the southern shore of the Firth of Forth, the iconic cooling towers of the Grangemouth refinery punctuate the skyline. Owned by the privately held UK-based chemicals company Ineos, Grangemouth is Scotland's only oil refinery and its main fuel supplier. In March 2009, Scottish Enterprise and the Scottish Council for Development and Industry (SCDI) reported that the Scottish-based oil and gas supply chain industry posted a 10 per cent increase in sales in 2007-2008.
Whether the oil and gas industry will represent a strength for the Scottish economy during the recession and the recovery remains to be seen, but 'adaptability is key to the resilience of the chemical sector,' notes Dobbie. While existing heavy and speciality chemicals industries in Scotland are exploring new business directions to adapt to emerging markets, it's the life sciences industry that has expanded in explosive fashion in recent years, says Dobbie.
Life science lift-off
Jane Gotts, international trade manager at the SCDI, concurs. While the SCDI's latest survey shows that overseas sales of chemicals rose by 28 per cent over the last two years, looking back 10 years shows a different picture, with an overall fall of 23 per cent since 1998. 'In comparison, Scotland's biotech and life sciences industry has shown substantial growth in global sales,' Gotts notes. 'The latest survey valued these exports at ?387 million, a rise of more than 200 per cent over 10 years. These figures relate to overseas sales of products manufactured and therefore do not include the R&D element, which is vast in this industry. Given the right support, the industry will continue to expand both domestically and in overseas sales.'
Gotts believes that years of effort to raise the international profile of the Scottish industry could be the key to prosperity back home. SCDI has organised 350 trade missions since 1960, which enable participating companies to visit an export market and explore networking opportunities overseas. 'Trade missions can particularly benefit SMEs,' she explains. 'Some markets appear daunting to smaller companies, but they can form a support network with larger companies.'
Scottish Development International (SDI) also encourages Scottish companies to identify global business opportunities. In January 2009, SDI hosted a stand at InformexUSA, North America's largest chemicals trade fair, to showcase the chemicals capability of Scottish companies. 'It was a resounding success,' says Strain. The 13 attending companies reinforced existing contacts, she says, 'but were also introduced to new customers and won business from them.'
With such extensive support mechanisms, how are Scottish biotech and chemical companies faring in the current economic climate? After 30 years back in Scotland, Bremner is now business development director of Link Technologies, a Cruachem spin-out based in the Strathclyde Business Park in central Scotland. 'We bridge the gap between chemistry and life sciences - we ask molecular biologists what they want to do, and apply chemistry to provide the tools to allow them to do their work,' he explains. Such a multidisciplinary approach may prove to be a useful tactic for tackling the recession. 'Our business is showing no signs of dropping off,' says Bremner. 'In fact, we've been busier in the past six months than we were in the previous six months.'
Finding a niche market also appears to be a formula for success. Ingenza, a recent successful spin-out from the University of Edinburgh, is a biocatalyst and bioprocess development company that uses proprietary deracemisation technology to manufacture chiral amines and amino acids. Surface Active Solutions, which offers novel chemical treatment and waste remediation solutions, and NiTech Solutions, which develops novel reactor technology, are two innovative companies demonstrating that reducing the chemical industry's ecological footprint can also be an economically viable venture.
But not all companies face a rosy future. 'Many companies are experiencing tough times,' says Strain. 'They are considering how they can differentiate themselves and develop new angles and technologies, so they will be ahead of the game when the market picks up. Competitiveness is high on the agenda.' 2009 and 2010 will be difficult years, she adds. To meet these challenges, many companies are looking to strengthen the links between industry and academia. Strain points to the fact that Interface - a central point of access for industry to the Scottish universities' research base - has never been busier.
University challenge
One collaborative venture tapping into the pockets of chemical expertise around the country is ScotCHEM, a chemistry research pooling initiative which sees many of the region's top universities working together. ScotCHEM comprises WestCHEM (Glasgow and Strathclyde Universities), EaStCHEM (Edinburgh and St Andrews Universities) and Heriot-Watt, Dundee and Aberdeen Universities.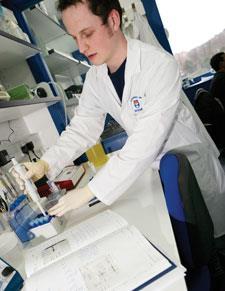 Several ScotCHEM initiatives aim to develop the knowledge economy that will be key when the recession ends, explains ScotCHEM director Chris Gilmore. 'Now is the time for companies to invest in a skilled workforce, to make sure that they are prepared when the economy picks up again.'
Last year, ScotCHEM and the Scottish Funding Council (SFC) announced an investment of ?1.8 million over three years to fund 31 PhD studentships in chemistry. 'The studentships were created to enhance interactions between academia and SMEs,' says Gilmore. The students will be based at a chemistry department within the ScotCHEM community, but conduct part of their research at an SME. 'They will be exposed to industrial problems from the start of their PhD, which will help stimulate an entrepreneurial spirit,' Gilmore notes. Building relationships between academia and industry is important, agrees David Gani, director of research policy and strategy at the SFC. 'We are keen to support initiatives that lead to SMEs gaining access to a skills base that will make companies more competitive.'
ScotCHEM could also pave the way for new approaches to securing research funding, as funding bodies tighten their belts in the crumbling economy. 'EaStCHEM and WestCHEM each independently decided to submit jointly to the Research Assessment Exercise (RAE) [as two submissions] to leverage their pooled facilities and expertise,' says Gani. 'Joint RAE submissions are uncommon, but may represent a new model for funding universities.'
From the RAE viewpoint, the university pooling initiative has already proven successful, says Gilmore. In the latest RAE, published last December, EaStCHEM ranked fourth in the UK for chemistry in terms of the grade-point average of their Hefce (Higher education funding council for England) quality profile. But 'when you factor in staff volume - the power ranking - EaStCHEM is ranked top in the UK,' Gilmore adds.
The Dundee model
Even in these unsettling times, investment in Scotland's booming life sciences industry continues. Schering-Plough recently invested $30 million (?21 million) in its Newhouse research facility near Glasgow to bolster its early drug discovery capability, while the Edinburgh BioQuarter received ?12 million from Scottish Enterprise and the University of Edinburgh to set up a technology commercialisation fund. The Edinburgh BioQuarter is a landmark 100-acre life science real estate development that aims to establish Edinburgh as one of the world's top 10 centres for biomedical commercialisation. Until then, the poster child for the successful development of a local biotech hub remains Dundee.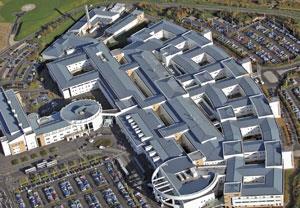 Dundee is one of the fastest growing biotech clusters in the UK, and this transformation is largely credited to Sir Philip Cohen, director of the Medical Research Council (MRC) protein phosphorylation unit and former head of life sciences at the University of Dundee. About 4300 people in Dundee are directly employed in the biotech and life science industries, which accounts for 16 per cent of the local economy. 'Dundee University is the powerhouse of life science research in the city, with an annual research income of ?50 million,' says Cohen.
His personal odyssey demonstrates the importance of long-term funding for innovative research. 'I worked in the field of protein phosphorylation for 25 years without anyone showing the slightest commercial interest in what I was doing,' he says. 'But everything changed in the 1990s. Suddenly, people grasped the potential of protein kinases and phosphatases.' Realising that these enzymes might represent important drug targets, Cohen wanted to produce them on a larger scale. 'It took me only five minutes to see that I needed to get big pharma involved. I was na?ve and inexperienced when it came to collaborating with industry - it took an enormous amount of time to get it all off the ground.' Yet his collaboration with the pharmaceutical industry taught Cohen the power of industrial collaboration to enhance basic research in life sciences.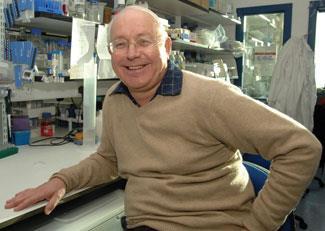 In 1998, Cohen founded the Division of signal transduction therapy, a collaboration between scientists at the MRC protein phosphorylation unit and six leading pharmaceutical companies (AstraZeneca, Boehringer Ingelheim, GlaxoSmithKline, Merck & Co., Merck KGaA and Pfizer), to develop kinase and phosphatase inhibitors for the treatment of disease. 'This is thought to be the largest collaboration between academia and the pharmaceutical industry,' Cohen says. 'It has attracted over ?40 million funding over the past 10 years.' It's a simple model - the companies share access to all the unpublished results, technology and reagents from the participating laboratories and have the first rights to license the intellectual property (IP) they generate.
A particular challenge in the current financial climate is attracting funding to start up new biotechs, says Cohen. But he believes that a solution exists. 'I'm very keen on the idea of a company becoming profitable early on by selling services, before launching into drug discovery,' he says. It's a concept that works in practice. In 2002, Roland Wolf and Cliff Elcombe founded CXR Biosciences, a spin-out from the University of Dundee Medical School. Their strategy was to sell their capability in drug safety testing as consultancy or contract services to fund the company's early development, ultimately allowing the company to switch to drug development. Over the years, CXR convinced pharmaceutical and chemical companies to fund research projects, leading to a broad IP portfolio. As a testament to the success of this approach, CXR has never needed to approach its investors with hat in hand, but has exclusively funded the business with ?11 million of revenues from customers.
For Cohen, a landmark event occurred in December 2008, when one of the top 10 pharmaceutical companies, Wyeth Pharmaceuticals, opened its first Scottish research institute in Dundee. 'If we can attract a second big pharma company to Dundee, then the local biotech industry will take off in a big way, and traffic here will become as bad as it is down south,' he laughs. But, he warns, 'we shouldn't be too complacent. We've certainly had successes in the past, but we still have a long way to go.'
Yfke Hager is a science writer based in Manchester, UK