Andy Extance surveys how pharma uses outsourcing in a variety of different ways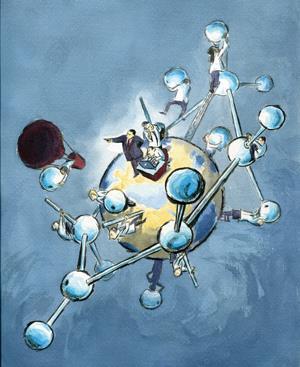 When a drug is on the verge of approval, the hopes and labours of hundreds of scientists hang in the balance. And today the pressure of hundreds of millions of pounds and over a decade of effort invested is often felt beyond the pharmaceutical company sponsoring the drug filing. Such moments have been the highest highs and the lowest lows Mark Cassidy, from India-based outsourcing firm Piramal Enterprises, has experienced in his career.
Cassidy is president of active pharmaceutical ingredient (API) services. 'A huge amount of contingency planning goes in,' he says. 'By the time a product is taken to market, you've typically supported a pharmaceutical company for many years. You've been standing shoulder-to-shoulder with that company and the people in it to make it a success. If it fails, a lot of that comes to nothing. If it succeeds, there's a new weapon to fight diseases with. It's not a normal day in the office, whether it's successfully launched or not.'
During the 2000s, the industry suffered a lot of lows. The average number of new molecular entities (NMEs) approved by the US Food and Drug Administration (FDA) per year fell to 23.5, from 31.1 in the 1990s. Reorganisations, changes in strategy and site shutdowns followed, as pharmaceutical companies strove for better research productivity – ultimately measured by NME approvals – and profitability. Firms have built on their strengths, with many dismantling and outsourcing other functions to specialists like contract research and manufacturing service (Crams) providers. In the process, they've transformed the industry landscape dramatically from what it was 25 years ago.
Focusing their efforts
'Outsourcing allows pharma to pay only for things they need for as long as they need them,' Cassidy says. 'Pharma and Crams companies can also deepen focus on their respective core competencies.' The development and manufacturing of antibody-drug conjugates that Piramal does at its Grangemouth, UK, plant exemplify this. There, attaching toxic chemotherapy compounds to antibodies makes highly selective therapies targeting specific cancer types, an approach currently used by two marketed products.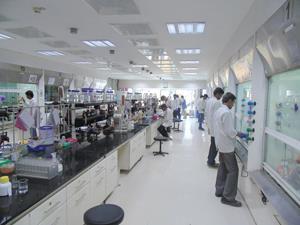 'We're serving multiple customers, developing deep competencies in conjugation, so they don't have to,' Cassidy says. Piramal's capabilities also prove attractive to smaller companies, he adds. 'The lion's share of pre-clinical discovery and early development takes place in emerging pharma companies now. They typically want to stay totally virtual, so a lot outsource.'
Garry Pairaudeau, head of research outsourcing at pharmaceutical company AstraZeneca agrees that focusing on core competencies means contractor companies can provide cost-effective research and development. However, he highlights that cost saving is rarely the sole motivation for outsourcing. 'More often it is to create flexibility,' he explains. 'It allows the highly trained and experienced scientists within the pharma industry to focus on the most challenging problem solving and creative idea generation. It creates a flexible resource model which allows the organisation to better respond to changes in their portfolio, increasing responsiveness and allowing us to follow scientific developments more effectively. It also brings diversity and innovation into project teams and, in some cases, access to specialist skills or new technologies outside of the organisation's internal capability.'
Nevertheless the explosion of science still ongoing in countries like India and China has made these comparatively low wage economies important to R&D outsourcing. 'There is still incredible growth in emerging markets, as they have rapidly developing capabilities across a wide range of skills,' Pairaudeau says. 'They are moving from their traditional base of chemistry into biology, genetics and bioanalysis. Some of the larger organisations aspire to provide comprehensive services across the value chain, while others offer specialist boutique services.'
Developing understanding
The primary product of R&D is knowledge, and sharing it between scientists can be difficult, even within a single company. Sharing it between different organisations can understandably be even harder. Pairaudeau says that today modern facilities such as video and telephone conferencing help make sure the message gets through. Yet it still remains important to be conscious of language barriers and cultural and time differences, he adds.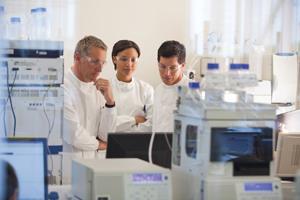 'Communication is one of the key challenges in successfully managing any outsourced relationship,' Pairaudeau says. 'Ultimately there is no substitute for face to face communication, particularly at the start of a partnership. Once a personal relationship has been established, communication always becomes much easier. Personally, I feel that direct scientist-to-scientist communication is vital to ensure clarity when discussing complex information such as synthesis protocols or assay conditions, rather than operating through mediating or outsource managers.'
Today's framework of interdependent drug developers, producers and service providers has taken decades to erect. Pharmaceutical companies that in the past would only have added to their drug pipelines by licensing already approved drugs started the process by first sharing simple tasks. 'In the early days companies were willing to experiment on more routine, non-mission critical functions,' says Jeremy Howells, who studies R&D management at the University of Southampton, UK.
Today pharmaceutical companies bring internal and external ideas together broadly across R&D, but Howells emphasises that doing this effectively doesn't necessarily save money. 'It was around savings, but now it's moved into newer business models and ways of being more innovative, ensuring their expenditures have greater success,' he explains. 'If you look back 20 to 30 years, it would have been very rare to bring in products from outside before they knew a final outcome. Now it's much more common. They monitor other companies, sometimes bringing them into their collaborative networks and also taking stakes in ones they're interested in.'
Sites of interest
Big pharma's increasing reliance on smaller drug developers helped keep Almac Group, a Craigavon, UK, based pharmaceutical service firm, growing in each of the last 15 years. When Denis Geffroy, vice president of business development, first started at Almac 10 years ago, its clients were mainly big pharmaceutical companies. They either wanted to exploit its specialist skills, or to cope with API demand peaks.
'Then, 10 years ago, we saw big pharma going east, mainly based on price,' Geffroy recalls. 'Almac continued growing thanks to biotech and startup companies, which emerged significantly in the last 10 years. Then three or four years ago we saw another reverse. Sadly, through the global financial situation, small companies weren't able to fund projects. Amazingly, at the same time a lot of pharmaceutical companies came back west, as price attractiveness of China and India was not as good as before. Also there have been issues with quality and overall costs of travelling and managing projects in remote locations.'
Brains will beat brawn in this industry

Mark Cassidy
For Almac's UK and US sites, the latest outsourcing reconstruction stage is entering committed relationships with drug vendors. 'We've seen pharmaceutical companies looking to form long term strategic partnerships,' Geffroy reveals. 'They're not only looking at price, they're now looking at reliability, capacity, technical skill and proximity.' He adds that big pharma production site closures could also be contributing to Almac's ongoing growth.
Discussing how Piramal might support reliable ongoing manufacturing after site closures is an important part of meeting pharma's needs, Cassidy acknowledges, one it has been engaged in recently. In such circumstances the low costs of his company's Indian sites can be useful. 'Cost can get you in the mix, but there are other things that we focus on to ultimately drive sustainable competitive advantage – trust, service, quality, for example,' Cassidy says. 'We also shouldn't underestimate technical skills. If somebody's got a 14 step route in low cost assets, working smarter with better technologies in higher cost assets might do it in half the number of steps. Brains will beat brawn in this industry.'
Where work is done often depends on its nature. 'A large proportion of discovery services are now carried out in the east,' Cassidy observes. 'Moving into later development, western suppliers often have had more experience supporting launches and in working closely with pharma and the FDA during this period.' Later in a drug's life cycle, when patents expire and generic drug producers compete with big pharma, API production again frequently heads east. 'Then, often companies are looking to really optimise cost – albeit still very much with quality, safe, reliable partners,' Cassidy says. 'They're looking towards countries like India. The fact that we've got assets in India and the west helps us support customers across those diverse needs.'
Founded on manufacturing bedrock
Yet not all pharmaceutical companies want to outsource more manufacturing. In fact, GlaxoSmithKline has brought four products that had been made by an Indian third party supplier back home. The compounds, steroids used in skin creams, had been transferred to India while GSK was in discussions to close the Montrose site where they were previously made. But having brought the site back from the brink, in November 2013, GSK announced a £25 million investment to support new manufacturing there.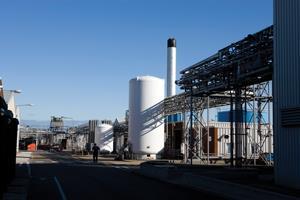 GSK's other UK manufacturing investments include a new £350 million plant in Ulverston and £200 million for upgrading its Ware and Worthing sites and establishing a manufacturing innovation centre, announced in December 2013. The UK's patent box, which reduces the tax corporations pay on profits from patented inventions from around 20% to 10%, is prominent in the company's announcements for these moves. However, some of the company's manufacturing manoeuvres are also steered by the need to adapt to the new industry environment.
'We've seen a change in molecules being approved, fewer pure blockbusters, more niche molecules,' observes Clive Badman, GSK's head of pre-competitive collaboration. 'Do we have the right supply chain to meet those demands? Do we have the right technologies?' Answering such questions is important enough that the company feels working with others will help find them. Badman chairs the industry steering group, which also includes AstraZeneca and Novartis, for the Engineering and Physical Sciences Research Council (EPSRC) Centre for Innovative Manufacturing in Continuous Manufacturing and Crystallisation, led by the University of Strathclyde.
'The supply chain at the moment is about a year or two in length,' Badman admits. 'Continuous manufacturing would slash that to two months. At the same time, the nature of a continuous system means you're continuously monitoring it. Our manufacturing «right first time‰ will improve, so we'll waste less material. Inherently continuous rigs are smaller, and therefore less costly to install, have lower operational cost, and they are much more sustainable.'
And in March 2014 the UK government announced it would provide £11 million as part of a £23 million, 22 partner Advanced Manufacturing Supply Chain Initiative project led by GSK. Together, they'll look at supply chains for products in both clinical trials and commercial drugs, Badman says, encompassing continuous manufacturing of APIs, formulation and packaging. 'All the companies are working together pre-competitively to create capabilities that we can use in our own environments,' he explains.
Architectures of strength
Howells notes that GSK has also moved to take full advantage of external collaboration in early stage drug discovery. 'GSK, it's well documented, has moved away from very monolithic departments towards smaller, more entrepreneurial teams that are more agile and can make more of their own decisions,' he says. 'It's not directly outsourcing, but they're often working with other teams both within and outside the company. For a company of that size, what they've done and how they've moved, although it's taken a lot of time and resources, is quite a radical departure. They've probably changed more than most big pharma companies, but they've been successful.'
That approach is distinct from the 'phased model' used by many other pharma companies, points out Howells. 'They might do collaborative work, take a minority stake in a company, and then subsequently take it over,' he explains. 'Often companies have targets for spending externally. 40% of AstraZeneca's R&D budget – at least in some of its big centres – is now seen as being spent externally.'
Shortening supply chains is a factor in how companies that do outsource manufacturing decide who to work with, Almac's Geffroy says. 'There are efficiencies if you can do almost from A to Z all under one roof,' he explains. 'You can have a single legal contract, one single monthly project review meeting. If a process is running early, you can start the next step straight away. If it's late you can anticipate and adjust for the next step.'
40% of AstraZeneca's R&D budget is now spent externally

Jeremy Howells
Almac's Rapidd one-stop-shop package therefore seeks to take a company's lead candidate into Phase I clinical trials in 11 months, rather than the usual 18–24. 'It's trying to bring together chemistry, analytical, formulation, packaging, labelling and distributing the drug to the clinic,' Geffroy explains. 'We also have clients with drugs on the market, where Almac manufactures the API, does all the analytical support, the primary and secondary packaging and ships it directly to pharmacy. There is a fully integrated service even for commercial supply to shorten the timeline to having a product ready on the shelf.'
Call them outsourcing, partnerships, collaboration, or open innovation, such elements are now integral to the pharmaceutical industry's structure. People have endured upheaval, hard decisions and difficult personal situations in the remodelling it's taken to get here, but there are signs these tough choices may be paying off. Since 2010, the average number of NMEs approved each year has been 29.25, slightly nearer to the figure for the 1990s than the 2000s. Could the chances be increasing that the days on which the FDA reveals its momentous verdicts will be memorable for the right reasons?
Andy Extance is a science writer based in Exeter, UK