Rachel Brazil looks at how chemists are helping make robots with a more gentle touch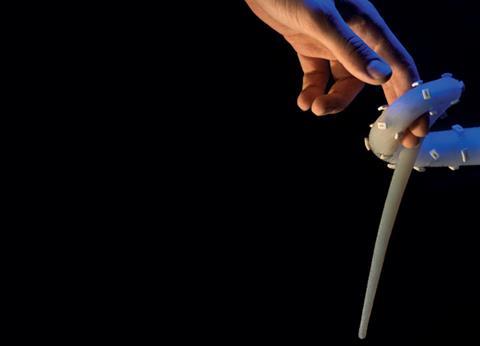 The original 'robots' from Czech playwright Karel Capek's 1921 play Rossum's universal robots were not the electromechanical machines we know today; they were flesh and blood. As envisaged, they were far superior to today's metal robots, which are designed to do the things we find 'dull, dirty or dangerous', but incapable of seemingly simple tasks like picking fruit. Now engineers, materials scientists and chemists are looking at how machines made from soft materials might have better control and dexterity, and be better at interacting with living things.
Conventional robots, made from motors and metal bearings, are great for tasks such as spot-welding cars, says Jonathan Rossiter, head of the soft robotics group at Bristol University in the UK. 'But when it comes to living in our world, having these large movable metal objects in our lives is a little bit challenging.' Robots are rarely designed to interact with humans, but soft materials could change this, he explains. 'They can be a little bit more like the kinds of things we interact with, like dogs or cats.'
As with many design challenges, nature is providing inspiration. Think about an elephant's trunk. Made of soft matter in the form of 150,000 muscles, it has the ability to tear down trees but also delicately manipulate objects the size of a peanut. 'Life has found amazing ways to use the properties of soft matter,' says Orlin Velev of North Carolina State University in the US, who is designing hydrogel materials that mimic the action of muscle. 'If you really compare what you can do with a mechanical device and what even the simplest live organisms can do, there is a very big difference. Organisms are flexible, they are adaptable and they can self-repair. It's really a kind of functionality that is nowhere close to present-day technology,' says Velev.
Soft robotic actuators
Adam Stokes from the University of Edinburgh in the UK agrees that soft materials could open up new avenues in robotics and get us closer to the functionality offered by biology. One of the big challenges in soft robotics is finding materials that can act like muscles and provide actuation or movement that is inherently 'compliant'. A compliant actuator does not follow one rigid path and is responsive. For example, a compliant robot gripper can grasp an egg without crushing it.
Source: National Academy of Sciences
The first miniaturised soft robots to impact our world are likely to be in medicine, according to David Gracias, a chemical engineer from Johns Hopkins University in Baltimore, US. He is working on tiny soft robots for surgery and his robotic microgrippers could provide a totally new approach to diagnosis of diseases like cancer. The flexible 1mm robotic hands are made of the hydrogel poly(N -isopropylacrylamideco-acrylic acid) (pNI-PAM-AAc). 'The beauty of hydrogels compared to other materials is that swelling and shrinking can be really significant; this large strain can drive actuation,' says Gracias. The hydrogels can change volume by over an order of magnitude and change from a water-solvated hydrophilic state at cold temperatures to a collapsed hydrophobic state above body temperature.
'We envision medical applications with not just one gripper, but hundreds to thousands of them, and in that situation it's going to be hard to actuate each one with an external control signal, so we want the local environment to trigger the actuation,' explains Gracias. His hydrogel grippers start as open star shapes, but at a higher temperature in the body they close up as the hydrogel dehydrates. Gracias found they worked better when stiffened in areas by non-swellable polypropylene fumarate, which provide a rigid grip so they can take small tissue samples from inside the body. They are also embedded with iron oxide nanoparticles in the hydrogel so they can be guided by a magnetic field for deployment and retrieval. 
The idea of a swarm of soft robots for statistical sampling inside the body is very attractive to clinicians, because it could lead to earlier disease diagnosis. 'The way conventional medical biopsies work is that typically you first see something using an imaging modality such as MRI and then you go in and take a sample of the diseased tissue. But in the early stages of a disease, you often cannot easily visualise it, so this statistical biopsy sampling introduces a new concept in medicine,' says Gracias. Ultimately, the goal is to be able to replace many currently invasive processes with biodegradable untethered soft robots. 'For a very long time it's been in the realm of science fiction but now a critical mass of people are trying to make this a reality,' he says. The microgrippers have already been successfully tested in biopsies of a pig's gastrointestinal tract.
A soft robotic world
Most approaches to soft robotics look at replacing conventional hard actuators with soft alternatives, but that is not the full story. 'They open up a whole new range of capabilities that conventional electromechanical systems can't do,' says Rossiter. Again, taking inspiration from soft materials in biology, this includes changes to surface shape, texture and colour, which are observed in squid, octopuses and cuttlefish. These animals are able, for example, to change their skin colour through expanding muscles that stretch out small sacs of black colouration. Rossiter has replicated the effect using electroactive polymer artificial muscle, with the view to creating artificial camouflage. 
Soft materials are set to change how we interact with robots, but how close will they get to us in the future? Could they directly interface with biological systems? 'Finding the soft robotic equivalent of actuators that then can be interfaced and controlled by the human body is my best guess for the longer term development of the field,' says Velev. He is already creating simple electrical circuits from soft hydrogels that could provide a way to interface with the human brain. Perhaps the closest we have come to combining animals and machines so far is the tissue-engineered artificial jellyfish developed by researchers at Harvard and Caltech in 2012. The swimming jellyfish, named Medusoid, was made from thin silicone membranes cultured with rat heart muscle cells and freely propelled itself through water.  
It is likely that soft, compliant actuators will create robots able to behave more like natural organisms. 'If you look at an industrial robot, it has the same number of degrees of freedom as somebody's arm, but you can tell it's not moving in a biological way because of the way it is controlled,' argues Stokes. He gives the example of the latest rough-terrain robot 'BigDog' designed by Google owned-company Boston Dynamics. It has four articulated animal-like legs with compliant actuators that can absorb shock and recycle energy from one step to the next. 'If you see it moving, it looks biological,' says Stokes. Soft robots will do this even more effectively because like biology, they can have 'embodied intelligence' – meaning their movement and control are closely integrated in one material.
Our future interacting with soft robots may not be far off, and Rossiter expects the field could soon produce a mass-market gadget that catches the public imagination. But he says that the innovative new materials being designed for soft robotics have the potential to change much more. 'Every part of our environment is going to be affected by these technologies – your floor may not be a hard rigid floor anymore. What if we stand still and the floor ripples to move you out of the door?' The challenge to materials chemists has been set. 
Rachel Brazil is a science writer based in London, UK