From mass spectrometers to lab reagents, the newly formed Thermo Fisher Scientific sells it all.
From mass spectrometers to lab reagents, the newly formed Thermo Fisher Scientific sells it all.
On 9 November 2006, two leading companies in the life, laboratory, and health sciences industries officially merged to become a powerhouse supplier of analytical instruments and consumables. The smaller of the two companies, Thermo Electron Corporation, a Massachusetts, US-based analytical instrument maker, announced that it would acquire Fisher Scientific International, a leader in laboratory reagents and services, for $10.6 billion (?5.4 billion) in Thermo stock.
Since there was very little product overlap between Thermo Electron and Fisher Scientific, the new company, Thermo Fisher Scientific, is something of a one-stop shop for the broad spectrum of materials and equipment needed for each phase of an experiment or application, from sample preparation to data analysis and storage.
'We've put two wonderful companies together,' says Marijn Dekkers, president and CEO of Thermo Fisher. 'We're bringing together R&D excellence, hardware expertise, and application experience from the Thermo side with unparalleled access to customers, consumables capability, and service capability from the Fisher side.'
Catalogue conversion
George Hatsopoulos, a native of Greece and a graduate of the Massachusetts Institute of Technology, established Thermo Electron in 1956. Initially, he started the company to produce a device that could convert heat directly into electricity - part of his doctoral thesis in mechanical engineering. Although his original idea has yet to become a commercial success, in the past 50 years Thermo Electron has become a leading maker of mass spectrometers and a provider of other analytical instruments, equipment, services and software for use in life science and clinical research, drug discovery, and industrial and environmental monitoring.
Hatsopoulos retired in 1999 and in 2000 Dekkers, a chemical engineer, took over as chief operating officer. Since that time, he has spearheaded a major reorganisation of the company and worked to drive growth through aggressive R&D programmes, expansion into Asian markets, and strategic acquisitions, such as the merger with Fisher Scientific.
'By combining the companies, they've built upon their brand strength and become a total product provider,' says Shankar Sellappan, a research analyst with Frost & Sullivan, a business research and consulting firm.
Fisher Scientific was founded in 1902 by Chester G Fisher who, at the time, was an engineering student at what is now the University of Pittsburgh, Pennsylvania. The company is known for its catalogue, which Fisher introduced in 1904, and is recognised worldwide as a leading supplier of laboratory consumables such as bioreagents, cell-culture media, and rapid-diagnostic tests.
'Fisher, with over 100 years of having a catalogue in almost every laboratory around the world is a company that through its catalogue and internet capability has incredible access to the customer base,' said Dekkers at the 25th annual JP Morgan healthcare conference in San Francisco, California, US, in mid-January.
Wide spread
The new company, which will employ 30 000 people in 38 countries, has a customer base of about 350 000. The main business for Thermo Fisher will be consumables, which are expected to represent 56 per cent of total sales, followed by 28 per cent for instruments, and 16 per cent for software and services. Thermo Fisher products will be marketed under two brands - Thermo Scientific (the technology brand) and Fisher Scientific (the catalogue).
'We have a very broad set of capabilities compared to our peers in our industry,' says Dekkers. 'This breadth of capability is important as our customers are looking more and more for integrated workflow solutions.'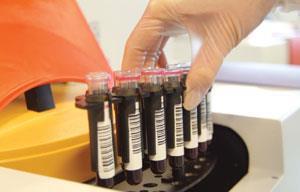 In general, a typical workflow for a particular experiment or application consists of sample preparation, which requires reagents and other consumables and sometimes automation, sample analysis, which often requires an analytical instrument, and data interpretation and storage. Normally, researchers buy the elements that make up a workflow from different sources and then put the pieces together themselves to create an optimised workflow. This is often very time consuming.
'We've always looked at workflows,' says Ian Jardine, an analytical chemist who worked at Thermo Electron for 18 years and is now vice-president of global R&D for Thermo Fisher. However, since consumables play a big role in the initial steps in a laboratory method, 'we've had a minimal ability to tackle this,' he explains. 'Now our most exciting discussions are how we can leverage both sides,' he says, to fill in the gaps and provide all the parts of a workflow solution. 'We think this is a unique ability,' says Jardine.
It is not that integrated workflows have never been done before; DNA sequencing, for example, is an example of an optimised workflow. 'It's just not done a lot,' says Dekkers. 'Now we can go and have a discussion with a customer and say: "What are you really trying to do and let us help you put that optimum workflow together".'
In addition to DNA workflows, forensics, and clinical diagnostics, proteomics research is one enterprise that Jardine believes the new company can leverage its expertise in instruments and consumables to design integrated workflows that help their customers to be more efficient and effective in the laboratory.
A typical proteomics workflow seems simple enough: extract proteins from plasma or from cells in cell culture, digest the proteins, and analyse them with a mass spectrometer. However, there are numerous strategies within this workflow, explains Jardine. 'Lots of people do this in lots of different ways,' he says. 'I would argue that it is inefficient.'
But Thermo Electron is recognised as being the foremost provider of mass spectrometers for proteomics and Pierce, a Fisher Scientific company, is a leading supplier of proteomic reagents and chemicals. 'There are now many opportunities for us to figure out how to use more efficient chemistries to enhance analysis by mass spectrometry and to continue to improve our mass spectrometers and our analysis software,' says Jardine.
R&D review
As the vice-president of global R&D for the new company, Jardine has embarked on a review of all Fisher Scientific R&D projects. Although he does not expect to finish this review before late spring, he is pleased with what he has seen so far. 'The Fisher R&D folks know what they're doing and are tackling good products,' he said. 'But sometimes people don't know how good they are,' said Jardine. 'We've learned over the past five years to be very ambitious in terms of our goals. With that philosophy we've had no real failures,' he said. 'So mine is almost a coaching role; I can encourage our Fisher colleagues to be even more ambitious,' said Jardine.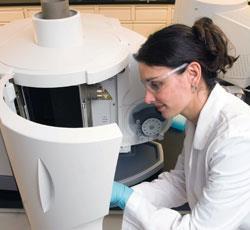 In addition, Jardine will work to make R&D for the new company more efficient by cutting programmes that aren't producing and siphoning money to more promising projects. This was his role at Thermo Electron and although R&D spending has dropped in the past few years from 6.5 per cent of sales to 5.5 per cent, Thermo Electron's vitality index jumped from 15 per cent in 2003 to over 25 per cent in 2006. (The product vitality index represents the amount of revenue currently generated from products introduced in the past two years. It is a public metric used to indicate overall product vitality.)
Thermo Fisher held its first analyst meeting in mid-December where Dekkers reported that the company expected to rake in $8.8 billion in 2006. In 2007, revenues for the new company are expected to jump at least seven per cent to exceed about $9.4 billion dollars.
The company's confidence is backed by market analysts. 'Thermo Fisher Scientific is squarely positioned as the leading supplier of instruments, consumables, software, and services to a broad range of applications of drug discovery, academic research, diagnostics, and industrial applications,' says Tycho Peterson, an analyst for JP Morgan.
'We very much believe that R&D and new products drive growth and profitability,' says Jardine. 'Our goal is to provide customers with at least what they expect but also much more than they even imagined.'
Jessica Ebert is a freelance science writer based in Minnesota, US