While Canada may win medals when it hosts the 2010 Winter Olympics, when it comes to innovation the nation is still finding its feet. Helen Carmichael reports
While Canada may win medals when it hosts the 2010 Winter Olympics, when it comes to innovation the nation is still finding its feet. Helen Carmichael reports
Neighbouring countries Canada and the US are often compared due to their many similarities, but chemists working on both sides of the border say that the US has wrung greater productivity out of its human resources and other intellectual capital. Ed Grant, head of the University of British Columbia (UBC) chemistry department, says he sees no reason for this to continue. 'The commitment to education and the tradition of intellectual rigour in Canadian science is all there as a vein waiting to be mined,' he says.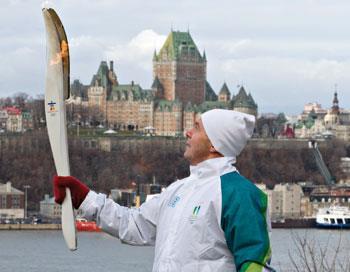 Show me the money
For academic researchers, one big advantage over European and Asian systems is that in Canada, as in the US, faculty members compete on a level playing field for resources regardless of their seniority. In fact, junior faculty members are often given extra support. As well as benefiting homegrown researchers, a stretch at a Canadian university at postdoc or junior faculty level is a very attractive career stepping stone for overseas visitors too.
In terms of sources of funding, for most academics the Natural Sciences and Engineering Research Council of Canada (NSERC) and Canadian Institutes of Health Research are the only games in town, says Grant. Other financing options include small specialised agencies and some funding from the provincial government.
Another valuable source of cash is the Canada Foundation for Innovation (CFI), an independent corporation created by the Canadian government to fund research infrastructure. CFI's last funding round in April 2009 benefited a number of chemistry projects, including a new centre for developing and commercialising molecular imaging probes in Hamilton, Ontario, and funding for Amy Blum to relocate her labs from the US to McGill University, in Montr?al, Quebec.
A physical chemist who started her postgraduate career at the University of Washington in Seattle, US, Blum says that she was attracted to McGill due to the number of potential nanotechnology collaborators based there.
Her group has several ongoing projects using viruses as nanoscale scaffolds for self-assembling nanostructures, including building cheap, low power, sensitive molecular electronics-based sensors. These can be tweaked to detect different toxic chemicals, or for medical diagnosis, depending on the type of molecules attached to the viruses they are self-assembled from. 'By using pre-synthesised components we can have precise control over the characteristics of the individual components and then look at how those characteristics determine how the whole assembly functions,' she explains.
In addition to CFI funding for laboratory renovations and equipment and a start-up fund from McGill, Blum is funded by NSERC and the provincial funding body the Quebec Fund for Research on Nature and Technology. While getting initial funding has been straightforward, says Blum, she is now looking for other, less common finance sources to grow her four-strong research team.
In addition to university-based research, Canada boasts an extensive network of national laboratories run by the National Research Council which can be likened to the system of national labs in the US.
Industry's shortfalls
While there are strong similarities between the US and Canada academically, when it comes to industry they diverge significantly. The international Organisation for Economic Cooperation and Development (OECD) ranks Canada just 13th globally for innovation, and according to the non-profit organisation, the World Economic Forum, the country has been relatively slow to adopt some leading edge technologies and also lags in attracting new business and investment. Grant says that introducing policies to reverse this trend would greatly stimulate Canadian intellectual capital development.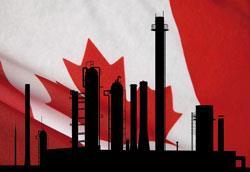 Foreign control of major Canadian businesses is an important factor in the chemical industry's low research and development (R&D) intensity in Canada, as companies tend to do most of their R&D either in their own countries or in emerging economies where it is cheap to do so. Major pharmaceutical companies, along with those active in agrochemicals and petrochemicals, base their North American research labs in the US. This leaves slim pickings for those scientists who want to carry out research in a Canadian industry setting.
The Canadian government recently commissioned its business innovation experts to look at the issue in depth, resulting in the report Innovation and business strategy: why Canada falls short. The report, released in April 2009, concluded that a fragmented internal market and Canada's strength in natural resources mean it is typically 'upstream' in many North American industries - meaning Canadian manufacturing plants supply basic chemicals, with most of the innovation and R&D spending taking place in the US.
The chemical industry that Canada does have is concentrated in the central and western regions. Ontario and Quebec in central Canada are the biggest chemical producers, the centres of the plastics industry, the leading petroleum-refining regions, and home to seven of the 10 largest chemical companies.
Meanwhile, the majority of the petrochemical manufacturing industry is based in Alberta in western Canada, and it is here that most of the recent growth in the industry has taken place thanks to natural gas feedstocks.
The chemical industry is the fifth largest manufacturing sector by sales in Canada, and is rated fourth in terms of average employee earnings - with pay rates 24 per cent above the manufacturing average.
According to the Canadian Chemical Producers' Association (CCPA) year-end survey, the chemical industry's 2009 has been 'grim'. The economic downturn was behind a sharp drop in sales of basic chemicals of 35 per cent to C$16.6 billion (?10.1 billion) from 2008 levels.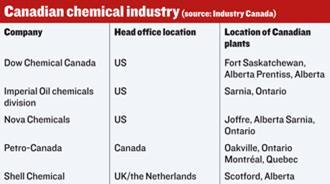 Life sciences
Although pharmaceutical firms don't tend to base their R&D headquarters in Canada, this doesn't stop foreign companies contributing financially to Canadian R&D. One example is Pfizer's recent investment of C$12.2 million in key partnerships in Quebec and British Columbia to enhance the company's position in biotherapeutics.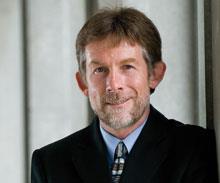 The UBC-based Centre for Drug Research and Development (CDRD) - that takes early stage technologies through preclinical development and advances the best to the clinic - is working with Pfizer to fast track promising academic research projects into high value medicines. This may also form the basis for new companies or licensing opportunities.
Angus Livingstone, managing director of UBC's university-industry liaison office, says that while the last 15 years have seen a trend towards aggressive company creation to profit from life science's intellectual capital, the biotechnology downturn over the past three to four years has reversed this. 'Venture capital, the fuel for development and growth of these companies, has all but dried up,' he says. And those surviving venture capitalists are reserving their funds for follow-on investment in firms they already support.
UBC and its affiliated hospitals have been something of a medical biotechnology powerhouse - creating 137 companies of which some 50 per cent were venture capitalist backed. CDRC has helped fill some of the funding gap since the economic downturn. 'Before, we would try to spin new technologies out into a company and raise money to build management and attract their own capacity - only to then fail when they could not get follow-on funding,' Livingstone explains.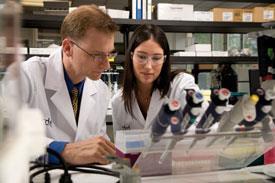 Longer term, CDRD aims to become a national resource. 'CDRD is now representing and attracting technology from all of British Columbia's universities and hospitals and has just signed up its first joint project with a group out of the new Mars Discovery District [a technology transfer and innovation project] in Toronto,' adds Livingstone.
Reactor crisis adds contrast
Canada has led nuclear isotope production for medical uses since the 1950s, producing 70 per cent of the global supply. But May 2009 saw the Canadian government close its 52-year-old Chalk River, Ontario, nuclear reactor for repairs - causing significant shortages of radioisotopes such as technetium-99 (see Chemistry World, January 2010, p7).

To overcome supply problems, Canada's research community is considering using alternative, cyclotron-produced radioisotopes and magnetic resonance imaging (MRI) - with appropriate MRI contrast agents - to replace current diagnostic procedures requiring nuclear reactor-produced isotopes. Industry leaders in MRI contrast agents, such as Bracco, have bases in Canada. 'The radioisotope crisis has given a swing towards research activities in tracers and contrast agents in positron emission tomography (PET) and also in MRI,' says Mark-Andre Fortin from the University of Laval in Quebec City.
In 2009, materials scientist Fortin received infrastructure funding, from the Canada Foundation of Innovation, to establish a lab specialising in contrast agents for medical scanning incorporating radioactive particles. One of Fortin's major goals is to introduce groundbreaking magnetoreactive biomarkers for combined PET and MRI - a goal that he believes is just months away.
'We synthesise Gd2O3 and MnO nanoparticles for molecular targeted imaging and cellular labelling and tracking,' says Fortin. 'We can use the same crystals doped with positron emitters as dual PET-MRI tracers. It is possible to combine the exceptional sensitivity of PET with the good resolution offered by MRI, to track cells with two imaging modalities providing good whole-body, in-depth resolution.'
The Quebec Health Network has invested significantly in biomedical imaging since 2003, and demand for contrast agents and radioactive PET tracers has followed. With the foundation of the National Canadian Institute of Optics in Quebec City, and the creation of the University of Laval's centre for optics, photonics and lasers, a strong cluster of research and new start-ups has emerged around Quebec City.
Bucking the trend
The Canadian government's Innovation and business strategy: why Canada falls short report paints a gloomy picture of Canada's business savvy when it comes to R&D, stating that despite many start-ups and excellent university research, commercialisation efforts have by and large been a disappointment. In GDP terms, Canada spends more in combined direct spending, plus tax breaks, on business R&D than either the UK or the US. The report blames a lack of innovation-based business strategy for Canada's failure to reap the full benefits.
But the 'bigger picture' belies individual winners. UBC-based David Dolphin is an internationally recognised porphyrin chemistry and biochemistry expert and lead creator of the breakthrough macular degeneration treatment, Visudyne. He is quick to point out that universities like UBC have supported business initiatives - with considerable success - for many years.
Biopharmaceutical company Quadra Logic Technologies (QLT), where Dolphin is vice-president of technology development, originally used his porphyrins for photodynamic therapy to destroy cancer tumours by cutting off their blood supply. The technology worked, but was not adopted by oncologists. Still, the company realised that because its technology stopped new blood vessels forming, it could be applied to the wet form of macular degeneration.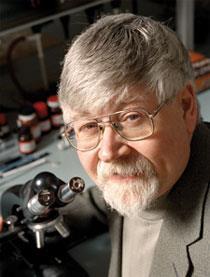 QLT brokered a successful deal with Ciba Vision (now owned by Novartis). The rest, as they say, is history: first approved in 2000, Visudyne is now approved in 72 countries. 'We have sold over C$3 billion, of which UBC gets two per cent of the gross sales,' says Dolphin. 'The company's happy, the investors are happy and the university is happy.'
Other successful biotech firms to flourish in British Columbia in recent years include pharma company Neuromed (that recently announced its merger with Cambridge, US-based CombinatoRx), single-use speciality medical device company Angiotech, and Xenon Pharmaceuticals.
Inevitably some biotech firms are struggling, especially in the current economic climate. The biotechnology industry has called for support to keep companies afloat, and in mid-July 2009 industry body BioteCanada warned that up to 7000 highly skilled R&D jobs were at risk if financing wasn't found to keep biotechs afloat. Layoffs and scaling back have become commonplace, and some clinical trials have been mothballed.
So why beat a path to Canada? 'Water, mountains and great students,' Grant replies. 'It also has terrific science and resources.' If innovation takes root at the heart of Canadian business strategy this wealth might yet be turned to this great nation's winning advantage.
The beginning of a new era
With Canada's many petrochemicals operations owned almost entirely by foreign companies, the gradual demise of its homegrown Nova Chemicals - that was sold in 2009 to Abu Dhabi state-owned International Petroleum Investment (Ipic) for C$500 million - is a milestone both for the company and Canadian business history.
The Nova Chemicals ethylene and polyethylene (PE) complex in Alberta is one of the largest in the world and the company is North America's third largest producer of linear low-density PE.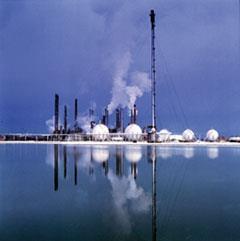 Nova Chemicals made its debut as a publicly traded company in 1998. Until then the company was part of Nova, which combined Alberta's natural gas pipeline network and petrochemical operations. A year later, the headquarters of the chemical business were moved from Calgary in Canada - somewhat controversially - to Pittsburgh, US.
The move to position the business closer to US customers did not pay off and additions to its styrenics business led to losses and heavy debts. Demand for commodity chemicals then plummeted, and February 2009 saw Alberta premier Ed Stelmach refuse to bail out the struggling company. This left the door open for Ipic to move in and scoop Nova Chemicals's operations in Canada, the US and Europe.
According to Ipic, Nova Chemicals will continue to operate as an independent chemicals and plastics company with substantial investment in its Alberta and Ontario operating facilities, and also in its large, productive R&D facilities in Calgary.
Nova Chemicals is currently investing in a North American PE plant due onstream in 2011. And other forthcoming projects include another Advanced Sclair PE plant, plus a smaller gas-phase PE plant in the Middle East for 2014. It is Ipic who are making the expansion possible - as the former Nova Chemicals would not have been able to foot the bill.
Helen Carmichael is a freelance science writer based in Vancouver, Canada