Chemists in developing countries face unique challenges. But as Mike Brown discovers, for those willing to take them on, the benefits can be enormous
Chemists in developing countries face unique challenges. But as Mike Brown discovers, for those willing to take them on, the benefits can be enormous
The International Year of Chemistry (IYC), this year, is an opportunity to celebrate chemistry and its contribution to society. It is a chance for chemists to come together to share ideas and collaborate in order to find answers to some of the world's biggest challenges such as clean water for all, and combating climate change and poverty.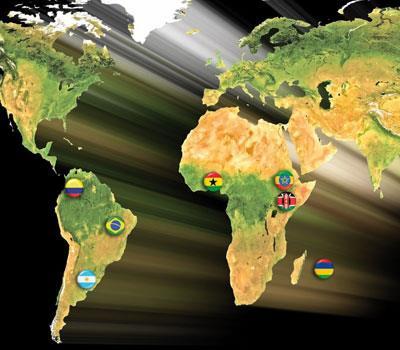 Like many industries, the chemical sector and scientific research and development (R&D) are arguably dominated by the big players such as the US, Europe and China. But IYC also gives other countries the platform to showcase their work. Sponsored by the International Union of Pure and Applied Chemistry (Iupac) and the United Nations Educational, Scientific and Cultural Organization (Unesco), the year-long celebration invites countries to endorse and promote the concept.
One country that has been heavily involved in IYC is Ethiopia. The Ethiopian Chemical Society worked with the Federation of African Societies of Chemistry (FASC) to bring a resolution to Unesco in which 25 countries including Morocco, Niger, Nigeria, the Republic of Korea, South Africa, Togo, Uganda, United Republic of Tanzania and Zambia showed their support for IYC.
Yonas Chebude, a chemist at the University of Addis Ababa in Ethiopia and treasurer of FASC, believes that chemistry has a key role to play in maintaining and improving our quality of life and should therefore help in the development of a country.
After training as an inorganic chemist is Germany, Chebude returned to Ethiopia to carry on his research, but quickly realised that he would be unable to continue work on boron and fluorine-containing small molecules because of limited facilities. 'I found that sustainable chemistry is more meaningful for a developing country such as Ethiopia, because we have resources such as sunshine, which offer good opportunities to discover and apply new chemistry,' he says.
Exploiting local resources
One of Chebude's research projects is focused on synthesising biodegradable materials from the oil of an endemic plant called Vernonia galamensis, while a new project that he is excited about involves identifying and characterising zeolites - microporous, aluminosilicate minerals commonly used as commercial adsorbents, catalysts or for water purification. 'Zeolites are important raw materials for the economy of many countries around the world. However, zeolite deposits in Ethiopia, despite being abundant, are yet to be exploited,' he says. His research team are heavily involved in characterising the mineral and chemical properties of the zeolites in order to assess the potential for their exploitation and commercialisation.
Johannes Awudza, head of the department of chemistry at the Kwame Nkrumah University of Science and Technology in Kumasi, Ghana, also appreciates the importance of recognising local resources. His research focuses on developing biofuels, as well as materials for solar cells and treatment of drinking and waste water.
With the need for alternatives to fossil fuels as energy sources, biofuels are good candidates, but Awudza stresses that researchers have to be conscious about the 'food versus energy' debate and the use of agricultural land for energy crop production. His team's work on biofuels involves characterising different oils (including edible, non-edible and used vegetable oil) for biodiesel production. 'We search for locally based raw materials such as cocoa husks and plantain peels for catalyst production,' he says. 'And we have been trying to use corn cobs, corn husks, rice husks and other agricultural wastes to produce bio-ethanol.'
Clearing the water
But one of the biggest problems in Ghana is contaminated water. 'People often depend on contaminated water from rivers, streams and shallow wells for domestic use. Using this kind of water often leads to water-borne diseases,' Awudza says. 'Application of simple water treatment techniques using locally-based materials can help reduce incidences of water-borne diseases to a large extent, hence we research in this area,' he adds.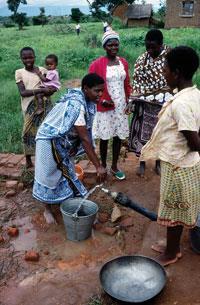 Shem Wandiga, at the University of Nairobi in Kenya, agrees that water quality is an area where chemistry can have a real impact. 'I wanted to contribute to changing the lives of my people,' he says. He underlines the 'appalling' state of water supplies in Africa: water is contaminated with sediments, biological pathogens and chemicals from agriculture and industry, which has a direct impact on human health. Together with his research team, Wandiga is developing analytical techniques that can be applied at the household and community level to identify and remove chemical pollutants from water. 'We are developing catalysts that can oxidise chlorinated organic compounds in water. If successful, we shall be able to provide catalysts that can be used at the point of water use,' he says.
Wandiga is also involved in the development of a climate change adaptation institute at the University of Nairobi. The institute will offer degrees and short training courses to help professionals from all sectors of society adapt to climate change. It will also encourage research into climate adaptation technologies, and provide a framework for national and regional policy assessment and advice to governments regarding climate change issues.
Local solutions to local needs
On the small island of Mauritius in the Indian Ocean, the big problem is not water, but waste. 'Wastes were disposed of in open dumps around the island and were creating a high risk to the environment and public health,' says Romeela Mohee from the University of Mauritius. 'Furthermore, the quantity of solid wastes was increasing year by year and finding an appropriate solution for a small island developing state like Mauritius, was quite a challenge.'
Mohee looks to this waste as a source of materials or energy. A major part of her work involves hydrolysing lignocellulosic biomass - plant material composed of cellulose, hemicellulose, and lignin - through acid, alkali and enzymatic hydrolysis. Her aim is to find environmentally friendly waste disposal alternatives and explore readily available feedstocks in Mauritius for ethanol production.
Mohee also devotes some of her resources to optimising the enrichment of compost and the composting process, with the aim of using compost as an alternative to chemical fertilisers. 'I work on the optimisation of chemical parameters such as carbon content to ensure stability of the composts,' she explains.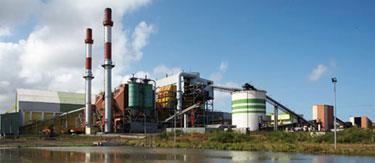 In a country where the chemical industry is mainly in food products, agrichemicals and pharmaceuticals, many farmers are finding it hard to make money as the price of chemical fertilisers rises. The island is developing its first large-scale commercial composting plant where around 300,000 tonnes of waste will be converted into compost on a yearly basis. 'Mauritius is well on the way to producing biological agricultural products free of fertilisers,' Mohee adds.
But some forms of waste require more drastic clean-up operations. In Ghana there are high volumes of waste plastics and rubbers - in the cities, on landfill sites and on agricultural land - that do not degrade. Awudza explains that this is a huge problem, as many places no longer support plant life because of the plastics present in the soil. 'The environmental aspect of polymer use, especially the menace of plastic waste, poses an important challenge to scientists and technologists. With a background in polymer chemistry, I also feel the need to contribute to the solution,' he says.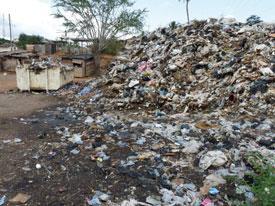 Harnessing biodiversity
There are 36,000 plant species reported in Colombia and probably 98 per cent of them are chemically unknown, explains Andrew Jarvis, who works at the International Center for Tropical Agriculture in Cali. 'They have all sorts of traits and interesting chemical properties, but also genes that are useful in improving our crops,' he says. 'These wild plants are absolutely essential for food security globally,' he adds.
Jarvis spends a lot of time identifying where the plants are, then his collaborators extract the natural products. He identifies the sites where specific plants are likely to have the genes or traits that are useful for domestic crops. 'In places where there is very low rainfall for example, we could find traits that would allow our crops to adapt to climate change and drought,' he says. 'We could be looking in areas where there is reported resistance to a specific disease.'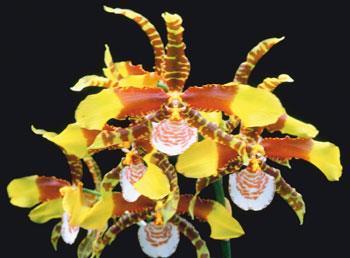 As well as enhancing crops, the natural world is a rich source of molecules with all sorts of uses. Carmenza Duque, who works at the National University of Colombia in Bogot?, specialises in marine natural products and flavour chemistry. She has discovered many new compounds that show promise as antimicrobial, anti-inflammatory and anticancer drugs.
Duque has discovered the aroma composition of about 15 fruits and identified several glycosides and polyols as important contributors to the total aroma of fruits. Two of her aroma formulation products have been used by the domestic flavour industry, as a base to prepare flavourings for commercial products.
Duque contends that working in a developing country means that there are many more opportunities open to a chemist. She says that in scientific research there are many fields to choose from and many problems to solve. In Colombia for example there are many organisms that you cannot study anywhere else in the world. 'One can see that the results obtained [from studying newly discovered organisms] could be applied for the benefit of the people and of the country,' she says.
Jarvis agrees - for example, there is a plant that grows about 100km from his office that the indigenous people are very protective of. 'They call it Alegria or "happiness" because if you make a tea out of it, it acts like a natural Prozac,' he says. 'You could have a billion dollar antidepressant industry coming out of that - the potential is immense!'
Building industry
One country that is already taking advantage of its biodiversity is Brazil. The country has a strong pharmaceutical sector based around natural product chemistry, explains Vanderlan Bolzani, who studies the metabolomic profile of sugar cane at the institute of chemistry at S?o Paulo State University. The chemical industry in Brazil is also very dynamic, Bolzani tells Chemistry World, and can boast self-sufficiency in petroleum. The country is one of the most efficient at producing ethanol from sugar cane - which powers 90 per cent of its cars - and manufactures executive aircraft for international customers.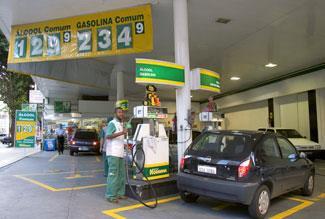 In neighbouring Argentina, Ernesto Calvo and Federico Williams at the University of Buenos Aires, believe that there is a very strong chemical industry in their country. Calvo explains that the industry was forced to develop between the two world wars, when importing raw materials from the US and Europe ceased. As a result, the raw materials were made from locally produced agriculture and feedstocks. Large scale chemical industry in Argentina today focuses on petrochemicals, steel, aluminium, pigments and paints, says Calvo.
Calvo and Williams have strong links with industry in Argentina and internationally. They develop chemically modified surfaces and coatings to prevent against corrosion. They are currently working on a $2.4 million (?1.5 million) project to develop functional nanostructured aluminium surfaces that have antibacterial and superhydrophobic properties. They are also researching self-demoulding surfaces for specific products for the chemicals and tyre industries.
But establishing high-tech industries in sub-Saharan Africa poses more of a challenge, as Chebude reveals. The pharmaceutical industry in Ethiopia mainly formulates and packages drugs from imported ingredients. 'The synthesis of pharmaceutical products is still in its infancy,' says Chebude. He explains that fertilisers dominate the chemical industry in Ethiopia, with the government planning to build a fertiliser manufacturing plant to produce diammonium phosphate and urea, based on natural gas. 'A potential area for the growth of the chemical industry in Ethiopia is the mining industry,' he adds.
Many foreign companies with sites in Ghana carry out their research and development in other countries, says Awudza. 'However, with time and by training more chemists with entrepreneurial skills, I believe the situation will improve. There is a lot of opportunity to develop small- and medium-sized enterprises in Ghana,' he says.
A time of progress
Wandiga highlights the lack of an efficient economic infrastructure as a major challenge when trying to grow a chemical industry or R&D. But things are beginning to change. 'Kenya has a good education system that produces quality students who have done very well in more advanced countries,' he says. 'There are many qualified Kenyan chemists who are employed abroad, for lack of suitable employment opportunities at home. With proper government policy and investment, Kenya stands to leapfrog in chemical science, due to its highly trained manpower,' he adds. Organisations like the RSC's Pan Africa Chemistry Network, of which Wandiga is president of the Kenya hub, have an important role to play in supporting this development.
Chebude emphasises that even though there is a lack of funding and facilities in Ethiopia, the government is showing signs of devoting more funds to R&D. 'There are ample opportunities for doing chemistry here,' he says. 'More importantly, there is a generation of scientists with the knowledge, ideas and enthusiasm to do high quality work.'
In Argentina, Calvo explains that support for science has been growing with the recent creation of the Ministry of Science, Technology and Innovation. 'Their policy has been to achieve and demonstrate a social and industrial impact of science,' he says.
This is an important change in policy and has prompted a surge of young scientists in Argentina. Since 2002, the national budget for science and technology has increased steadily and has now reached unprecedented levels, Calvo tells Chemistry World. In 2002, the budget was ARS818 million (?126 million), but this has risen 532 per cent to ARS5176 million in 2010. 'The Ministry of Science also has a special programme to repatriate young scientists and to involve Argentine scientists living abroad in current research projects,' he says.
Brazilian science and technology has also achieved a significant position in the international arena in the last few decades. Bolzani explains that the country is the 13th highest producer of leading scientific publications in the world, and more than 90 per cent of these articles were as a result of research in public universities. 'Brazil is still behind the US and China in its capacity to translate investment in R&D into tangible results for the economy,' she says. But for how long?
It is clear that chemistry is a major player in the development, growth and independence of a country. IYC gives all nations the opportunity to showcase their innovative chemistry vision. Areas in the world that are affected by really difficult challenges such as contaminated drinking water and poverty aren't just waiting for other countries to help, they are finding solutions themselves. 'For us in the developing world, doing chemistry can be daunting. Materials and equipment are scarce, access to journals and literature in general can be difficult,' says Awudza. But even with these challenges, passionate chemists from all over the world are still willing to try to solve the major issues affecting their fellow man.