Chemistry World's roundup of the year's chemical industry activities shows the growing strength of emerging economies
The recession is opening up a big gap in output performance between the chemical industries of the developed and developing worlds, which will continue to widen over the next few years.
While the chemical sectors of western Europe, North America and Japan struggle to make up the ground they lost after the financial crisis in late 2008, chemical producers in the emerging economies of countries such as China, India and Brazil are using expanding domestic demand to grab a larger share of the global chemicals market. In Europe chemicals output, excluding pharmaceuticals, fell by 12 per cent in 2009, according to the European Chemical Industry Council (Cefic). But by the last quarter it was already showing a slight increase, which Cefic believes will gather pace in early 2010 to provide an overall rise in production of around 5 per cent during the year.
The American Chemistry Industry Council (ACC) expects US chemicals production, excluding pharmaceuticals, to grow by 3 per cent in 2010 after falling by 9.4 per cent in 2009.
However, the predicted growth in 2010 in both Europe and the US will still leave output levels well below those before the recession. The financial turmoil of 2008 cut US and western European chemicals production by 15-16 per cent. By the end of 2010 Europe's chemicals production will not only be 11 per cent lower than that in the first quarter of 2008 but even over 5 per cent lower than that in early 2005.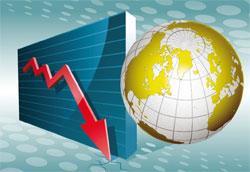 '2010 will be a transition period after the European chemical industry bounced off the bottom in 2009 with the help of government stimulus measures such as car scrappage schemes,' says Alan Eastwood, economic advisor to the UK Chemical Industries Association (CIA) and chairman of Cefic's economic forecasting group. 'We will still have some way to go before we reach a position of full recovery from the recession,' he adds.
Emerging resilience
The emerging economies were also hit by the recession but not so hard as those of the industrialised countries. As a result their chemical and other manufacturing sectors have bounced back much more quickly.
Chemicals production in fast growing nations such as Brazil, Russia, India and China (BRIC) actually increased by an average of 12.3 per cent in 2009 after a slowdown to 2.7 per cent in the previous year, according to Oxford Economics, a consultancy in Oxford, UK, which uses a forecasting model covering 70 countries worldwide. In 2010 it is predicting average BRIC's chemical production will rise by 13.4 per cent. 'The latest 2009 third-quarter figures show that there has been much stronger pickup in demand for chemicals than previously expected, especially in the emerging economies,' explains David Thomas, chemicals consultant at Oxford Economics. 'As a result total chemicals production worldwide will be higher than forecast in late 2009 and early 2010,' he says. 'We are already seeing global output returning to only 2 per cent less than what it was at the peak of 2007.'
The major impetus behind the relatively quick rebound in demand in the developing world is the buoyancy of the economy in China where the government has launched a massive financial stimulus programme to counteract the economic downturn. Most forecasters reckon that China will record the highest rise in chemicals output in 2010. Oxford Economics predicts that in 2010 chemical output will increase by 16 per cent after a 16.5 per cent jump in 2009.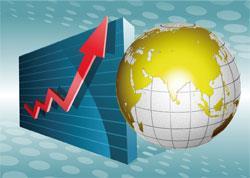 'China is already accounting for 17 per cent of the world's chemical output,' says Thomas. 'The high growth in chemical production will continue in 2010 because of the large number of new chemical plants due to come on stream in the country during the year. Their output will slow down the big inflow of imports into China.'
One beneficiary of this enlarged stream of imports into China has been basic chemical producers in the US. They have been able to take advantage of the weak dollar and also cheap natural gas, which has driven down the cost of petrochemical feedstocks. US natural gas prices have fallen by 30 per cent in the past year.
'The big rise in exports of basic chemicals has been the surprising success story of the US chemical industry in 2009,' says Kevin Swift, ACC's chief economist. 'In the first 10 months of the year, exports of bulk plastics went up by 21.5 per cent compared to the same period in 2008 - most of them being shipped to China and elsewhere in eastern Asia. This was at a time when plastics production in the US actually fell - by 2.5 per cent.'
The surge in exports of US basic chemicals helped the country transform a $2.6 billion chemicals trade deficit in 2008 to a $2.4 billion surplus in 2009, the US industry's best trade performance for nine years. In 2010 it will do even better with a predicted $3.9 billion surplus.
Middle East comes online
The big expansion in China's chemicals capacity will curb an expected influx of bulk chemical imports from the Middle East where over 50 petrochemical plants and derivatives are due to come on stream by 2012.
Much of Middle East's additional capacity of around 35 million tonnes per year has been destined for China. Instead, a large proportion of it could be diverted to Europe and, to a lesser extent, North America.
Already Middle Eastern players like Saudi Arabia's Saudi Basic Industries Corporation (Sabic), now one of the world's largest petrochemicals producers, has a distribution network in place in Europe. Intensified competition from imports, like those from the Middle East, will put extra pressure in 2010 on European producers whose domestic customers will continue to be cautious.
'Despite the growth in output, companies will still be keeping their inventories relatively low because of uncertainties about the future,' says Henrik Meinche, senior economist at the German Chemical Industry Association (VCI). 'They will be planning their orders month by month rather than in terms of quarters.'
'By the end of 2010 and early 2011 we should see the first signs of a full recovery,' he continues. 'Companies will become much more optimistic. They will start to worry about whether they have enough raw materials to meet stronger demand and as a result build up inventories to more normal levels.'
Long way back
Nonetheless Meinche, along with other European forecasters, is not expecting European chemical output to climb back to pre-recession levels until 2012-2013. Similarly, the ACC believes that three years of steady output growth averaging 3 to 4 per cent will be needed to make up the lost production.
'It is going to be a slow process,' says Swift. 'Some of our major customer industries will take even longer to recover. The US automobile sector may not get back to its previous peak output levels for 5-6 years or even longer.'
With prospects of a lengthy period of sluggish growth in demand in their domestic markets, chemical producers in industrialised countries are holding back capital investment. In the US, the ACC expects it to have fallen by over 20 per cent in 2009-2010.
Meanwhile much of the world's investment in chemical plants is taking place in the developing world, putting its emerging economies in a strong position to become an even more powerful force in the global chemical market.
'Around 80 per cent of new chemical capacity is being built in emerging countries, while in Europe and North America plants are being closed which will never be replaced,' says Thomas. 'The emerging economies already account for 40 per cent of global chemicals production. They are well on track to providing over half by 2020.'
Forecasters are warning about the dangers of a double-dip recession caused by factors like the premature withdrawal of government stimulation funds or another financial crisis triggered by bank failures. But these are thought more likely to affect the industrialised world. It would take a major upheaval to stop the advance of the emerging economies and their chemical sectors.
Sean Milmo
Interesting story? Spread the word using the 'tools' menu on the left.
Also of interest

15 December 2009
Our round-up of the pharmaceutical industry in 2009 shows the fallout from this year's mega-mergers has swept across the sector