Iupac and Unesco take lead in planning celebrations
The global significance of chemistry will be officially recognised in 2011 by the international year of chemistry, thanks to a resolution adopted by the United Nations during its 63rd general assembly in December 2008.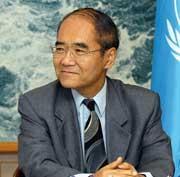 The UN's Educational, Scientific and Cultural Organization (Unesco) and the International Union of Pure and Applied Chemistry (Iupac) will take the lead in planning the event. The chosen year marks the 100th anniversary of the founding of the International Association of Chemical Societies (IACS), which was succeeded by Iupac a few years later.
'The year will give a global boost to chemical science in which our life and our future are grounded,' says Iupac's president Jung-Il Jin. 'We hope to increase the public appreciation and understanding of chemistry, increase young people's interest in science, and generate enthusiasm for the creative future of chemistry.'
Ethiopia, host nation of the Federation of African Associations of Chemistry (FASC), submitted the resolution calling for the year. Events during 2011 will also aim to draw attention to the UN Decade of Education for Sustainable Development, which is taking place from 2005-2014.
Director-General of Unesco, Ko?chiro Matsuura, welcomed the opportunity to celebrate 'one of the fundamental sciences', and stressed the importance of raising public awareness about chemistry with regard to the challenges of sustainable development. 'Chemistry will play a major role in developing alternative energy sources and in feeding the world's growing population,' he says.
Celebrations planned so far include an advance publicity event at the Pacifichem 2010 conference in Honolulu, Hawaii, US, in December 2010; an official launch in Paris, France, in January 2011; multiple events at the Iupac Congress in San Juan, Puerto Rico in August 2011; and a closing event in Brussels, Belgium, in December 2011.
2011 is also the 100th anniversary of Marie Curie's receipt of the Nobel prize for chemistry. Dave Garner, president of the RSC, says that he is particularly pleased that the year will provide a platform for the celebration of women in science.
Further planning will take place during the 42nd Iupac Congress in Glasgow, UK, in August this year.
Victoria Gill