Air Products has launched a $7 billion takeover bid for rival gas supplier Airgas to gain access to the US bottled gas market
UPDATE 10 February: The Airgas board of directors yesterday unanimously decided to reject Air Products' $7 billion offer, believing it 'very significantly undervalues' the company

Air Products has launched a $7 billion (?4.47 billion) takeover bid for rival gas supplier Airgas to gain access to the US bottled gas market.
If shareholders agree to the $60 a share bid, the combined company would become the largest industrial gas supplier in North America and reunite Air Products with the packaged-gas operations that it sold to Airgas in 2002 for $236 million. The combination of the firms would create a company with annual sales of around $12.5 billion.
Airgas, which had 2009 sales of $3.9 billion, has already turned down two bids from Air Products as the Airgas board of directors felt the bids 'grossly undervalued' the company. The first of those offers was made in October 2009 and was an all-stock proposal with an implied value of $60 per share. After this first offer was knocked back, Air Products launched a cash and stock proposal which valued the shares at $62.
This was followed by the $60 all cash bid that would protect Airgas shareholders from any reductions in Air Products share price after the bid was announced. Air Products said the size of its latest, all-cash bid was a 38 per cent premium on Airgas' share price on the eve of the offer and an 18 per cent premium over its 52-week high. Any deal will be partially funded by the investment banking arm of JP Morgan which would see Air Products buy Airgas for $5.1 billion and assume its debts of $1.9 billion.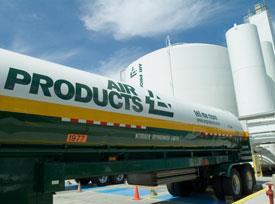 However, this premium did little to convince Airgas's board of directors, who voted unanimously to turn down the offer, with chief executive Peter McCausland stating that 'Airgas' management has consistently created long-term shareholder value, as measured by stock price appreciation and total shareholder returns'. He continued by saying that Airgas' stock price had increased 80 per cent over the last five years, compared to just 40 per cent for Air Products' stock, and criticised Air Products' unsolicited approach as 'simply an opportunistic attempt to buy Airgas at a bargain price' that was a result of a brief anomaly in stock market performance.
Having seen both of these private bids knocked back, Air Products decided to make its interest public when it announced this latest bid, sending Airgas' shares soaring 40 per cent to over $60 per share late on Friday, while Air Products' share price fell 7 per cent to $68. Some analysts have predicted that Air Products may have to offer as much has $68 a share to tempt shareholders into a sale.
Nevertheless, John McGlade, Air Products' chief executive, has said that 'while it remains our strong desire to reach an agreement with Airgas on a friendly basis, we are fully committed to pursuing this transaction and are prepared to take all necessary steps to complete it, including making an offer directly to Airgas shareholders'.
Matt Wilkinson