German solar energy company Conergy files for insolvency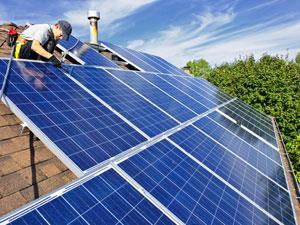 Germany's once high-flying solar energy sector has suffered yet another blow, with the firm Conergy filing for insolvency, a victim of a global market being flooded with solar energy products, especially low-priced products from China.
Conergy's insolvency leaves SolarWorld as the only major photovoltaic module company not to have filed for bankruptcy in Germany, by far Europe's largest producing nation of solar products. Germany's Q-Cells was taken over in 2012 by South Korea's Hanwha Chemical Corporation and Solon filed for insolvency in late 2011, but remains in operation.
The Hamburg-based Conergy had attemped to find a "strategic investor," but failed and slid into 'illiquidity,' filing court insolvency papers on 5 July. Sales units are still active, but some of its production has been temporarily stopped as the company tries to secure investment and resume production.
European solar industry and research leaders contacted by Chemistry World called on the European Union and national governments to take action to ensure the survival of the European solar sector against what they describe as unfair competition from China.
Hans-Martin Henning, deputy director of the Fraunhofer Institute for Solar Energy Systems in Freiburg, Germany, says solar energy is a 'very important technology for the future of the world,' adding that Europe must have a vibrant solar industry. But Henning notes that Europe's solar sector is under intense pressure from Chinese companies, which have access to long-term credit under 'very good conditions' and 'unlimited amounts of money.'
He compares the strategic importance of the solar industry in Europe to the commercial aviation industry, noting that European leaders decades ago formed and supported Airbus to ensure that Europe would have commercial aviation production.
Henning says the head of his institute, Eicke Weber, who was not available for comment, is involved in efforts to convince politicians at the European level and national levels, especially in Germany and France, to support solar industry in Europe. The National Solar Energy Institute (INES) in France also is involved in the lobbying effort.
Whether or not steps are taken to bolster Europe's solar industry 'is a political decision,' Henning says.
Alexandre Roesch, head of regulatory affairs at the European Photovoltaic Industry Association (EPIA), says that in recent years the global photovoltaic market has evolved in a difficult environment of overcapacity: 'Despite some cases of specific material and component shortages that have been seen in the last three years, module production capacity was in between 150% to 230% higher than annual global installations.
Europe, he says, must establish a dedicated industrial policy for photovoltaics with 'sector-specific measures aimed at maintaining and developing a competitive local industry base.' According to Roesch, those measures would include improved access to financing and an ambitious policy to develop skills and competencies.
Both Roesch and Henning emphasised the importance of continuing to support solar research despite the current financial difficulties in the industry.
Henning says that the industry's financial problems have 'definitely had a negative effect' on company-backed research at Fraunhofer, but that funding from the German government has remained stable.
EPIA's Solar Europe Industry Initiative team in May approved a new Implementation Plan for 2013-2015, which outlines priorities for research, development and innovation in Europe's photovoltaic sector. Roesch says the plan is 'built around three pillars': performance enhancement and energy cost reduction; quality assurance, long-term reliability and sustainability; and electricity system integration.