Efforts to tackle the threat will need new thinking, but their may be no easy solutions or short cuts to new drugs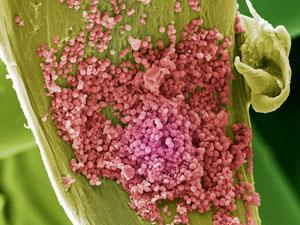 Global research efforts to develop new antibiotics need to be accelerated urgently, the UK government's chief medical officer has warned. She adds that that new drugs are desperately needed to fight the 'catastrophic threat' of growing antimicrobial resistance.
In the second part of her annual report Dame Sally Davies focuses on antimicrobial resistance and infectious diseases. She says that the development of new antibiotics has stalled since the late 1980s because 'there are fewer economic incentives' to produce new antimicrobial agents than for other classes of drugs.
In the meantime, new infectious diseases are emerging every year and diseases thought to be under control are becoming resistant to antibiotics. Describing antimicrobial resistance as an international problem, she says global action and a partnership between the private sector, public institutions and academia is required to mount an effective response.
Time bomb
'Antimicrobial resistance is a ticking time bomb not only for the UK but also for the world,' she says. 'We need to work with everyone to ensure the apocalyptic scenario of widespread antimicrobial resistance does not become a reality. This is a threat arguably as important as climate change.'
The low-hanging fruit in antibiotic drug discovery has almost certainly been harvested
Davies' call for action comes just a month after the EU's €2 billion (£1.73 billion) Innovative Medicines Initiative (IMI) announced the first two antimicrobial resistance projects in its 'new drugs for bad bugs' programme. Michael Goldman, executive director of IMI, tells Chemistry World that he was pleased that Davies is raising awareness among policymakers and the public of the threat posed by antibiotic resistance.
'Chief medical officers are well placed to do this,' he says, adding: 'In the EU alone, antimicrobial resistance is responsible for some 25,000 deaths every year, and the annual treatment and social costs have been estimated at some €1.5 billion. If no steps are taken to address these issues, we risk leaving society in a situation where doctors will have few, if any, options to treat bacterial infections.'
Costly endeavour
Efforts to develop new antibiotics have been hampered by scientific and regulatory hurdles, Goldman says, adding that clinical trials are extremely costly because of regulatory requirements and the large numbers of patients required. 'At the same time, because some antibiotics will only be used on a very small number of patients, the costs of development often exceed the potential return on investment,' he says. 'In other words, antibiotic development is simply no longer a financially viable option for pharmaceutical companies, and just a handful of pharmaceutical companies remain in the field.'
The IMI's antimicrobial resistance research projects will combine the efforts of researchers at universities, institutes and small and medium sized enterprises throughout Europe with large pharmaceutical companies, including Bayer Pharma, AstraZeneca, Sanofi, Merck, Sanofi-Aventis and GlaxoSmithKline.
In the first IMI project, announced in February, €194.6 million was allocated to the COMBACTE programme (combatting bacterial resistance in Europe) to develop effective new antimicrobial medicines, including conducing multinational trials at all stages of development. The second project, called TRANSLOCATION (molecular basis of the bacterial cell wall permeability), received €29.3 million to investigate new pathways for getting antibiotics into bacteria and preventing bacteria from expelling them.
WHO to turn to?
Magda Chlebus, director of science policy at the European Federation of Pharmaceutical Industries and Associations, says: 'We believe that the public-private partnership model is one of the best ways to deal with this upcoming health threat as it brings together the best of both worlds, bringing the best outcomes for all European citizens.'
The appeal for global action from Davies has also been warmly welcomed by many in the academic community. Ulrich Schwabe, a professor of pharmacology and toxicology at the University of Heidelberg in Germany, is one of these academics and calls for the World Health Organization (WHO) to take a leading role. 'It is well known that there are tremendous differences in antimicrobial resistance in Europe and also other parts of the world, as well as increasing resistance in big countries like India and China,' he says. 'The WHO has long experience in dealing with drug resistance problems in the treatment of malaria, including developing programmes for private and public partnerships for antimalarial drugs.'
A beastly problem
Derek Lowe, a US-based chemistry blogger and medicinal chemist who writes for Chemistry World, agrees that a lack of financial incentives have been a factor in the dearth of new classes of antibiotics in the past couple of decades. But he adds: 'I'm not sure that the no financial incentives explanation is the whole story.' As he noted in a recent column: 'One reason we don't have new antibiotics against resistant bacteria is that finding one is extremely difficult.'
For example, Lowe notes a Nature Reviews Drug Discovery paper detailing research by GlaxoSmithKline scientists targeting 300 bacterial genes, leading to 70 screening campaigns. 'They spent a lot of time and a lot of money, and gave it the same effort that a large drug company would give any other first-line therapeutic area, but came up completely empty,' he says.
He describes the problem of developing new antibiotics as 'a beast', adding that 'the low-hanging fruit in antibiotic drug discovery has almost certainly been harvested by now. We're short of understanding more than anything else. Money for basic research into bacterial targets and bacterial membrane penetration or efflux might be well spent, if we're going to talk financial incentives.'