Huge losses at star Chinese renewable energy firms are ringing alarm bells
Huge losses at star Chinese renewable energy firms are ringing alarm bells as the nation vows to keep its growth momentum by investing in the environmental sector.
On 10 March, Tianwei Baobian Electric, China's leading solar panel and wind power equipment manufacturer based in Baoding, Hebei Province, reported a record loss of 5.23 billion yuan (£511 million) for 2013. And Tianwei Baobian is not unique: Sinovel, China's largest wind turbine maker, forecasted a likely loss of 3 billion yuan, after making a loss of 580 million yuan in 2012.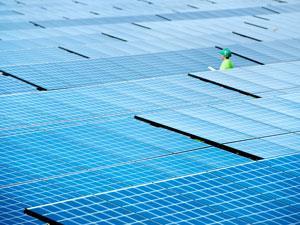 On 21 February, Suntech – which used to be the world's largest photovoltaic product manufacturer – filed a bankruptcy petition in New York, US, where its stock is listed. Another big Chinese solar panel maker, LDK Solar – which is also a major supplier of polysilicon for panel production – made a continued loss of $38 million (£23 million) for the third quarter last year.
The bitter scenario for new energies is not limited to solar and wind power equipment manufacturing. China National Offshore Oil (CNOOC), China's third largest petroleum producer, is planning to sell off its coal chemical subsidiary. The company is reportedly also seeking buyers for its loss-making wind power generation business.
Too fast, too soon
William Moomaw, a professor of international environmental policy at Tufts University in Massachusetts, US, thinks the primary reason for the huge losses is that the industries expanded faster than the market was growing.
'Much of the demand for solar and wind turbines was driven by government policies and subsidies. When Spain removed the subsidies for solar panels suddenly, they disrupted their own industries and caused a disruption in the entire industry,' Moomaw tells Chemistry World.
Chinese public and private investors have rushed to the sector in the past eight years, attracted by the huge fortunes the earliest entrepreneurs have earned. When Suntech first listed on the New York Stock Exchange in 2005, it made its founder, Shi Zhengrong, China's richest businessman.
The Chinese government has also forced all power generation firms to build renewable power capacity to curb international pressure on carbon emissions – resulting in huge wind power installation in the country's northwestern provinces. But while China has the world's largest wind power capacity, reluctance of power grid firms to accept its variable output means it is underused and market growth has stalled.
By comparison, China's solar industry has relied heavily on exports to Europe. The Eurozone crisis and economic downturn led to government subsidy cuts, which, combined with punitive import tariffs on cheap Chinese solar products, has hit the sector hard.
Keep the home fires burning
China's domestic policies should also be blamed. 'Many local governments provided huge investments, favourable land prices, tax reductions and research subsidies to renewable energy equipment manufacturers, reducing their sensitivity to market slumps,' says Qiu Dengke, secretary general of Guangzhou Low Carbon Industry Association.
To try and offset the sudden market shrinkage in Europe, the Chinese government has supported massive installation of solar power plants, which has enabled some manufacturers to recover profitability. Of the 20 domestically listed photovoltaic makers that had forecasted their 2013 earnings by the end of February, profits have grown for 14 – including several that had made losses in 2012 – and decreased for six.
Promises to fight air pollution, made by Chinese premier Li Keqiang and industrial and environment ministers at the annual plenary meeting of the National People's Congress – China's legislature – seem set to promote more low carbon electricity generation at the cost of thermal power plants. The proposal to build new transmission lines to transport clean electricity from China's northwestern provinces to smog-laden coastal areas is also a good news.
'To support sustainable development in the renewable energy sector, the government should fairly and openly support all players, rather than subsidising a limited number of star firms,' Qiu tells Chemistry World.