Industry news, March 2009
Pfizer's Wyeth injection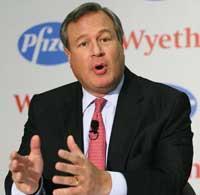 Pfizer has agreed to pay $68 billion (?48.3 billion) for rival US biopharmaceutical firm Wyeth, gaining access to its rich product portfolio and promising pipeline of experimental drugs. Pfizer hopes Wyeth's products will fill the financial void that cholesterol drug Lipitor (atorvastatin), which currently brings in $13 billion a year, will leave when it loses patent protection in 2011.
The merged company will boast a product portfolio that includes 17 blockbuster drugs covering a broad range of therapeutic areas, including cardiovascular, oncology and infectious disease. The merger announcement ended weeks of speculation over who was in Pfizer's sights for a takeover, and has also put an end to Wyeth's takeover talks for Netherlands-based vaccine manufacturer Crucell.
Deals of this size are never without consequences, and in this case, Pfizer has already said it will be looking to cut 15 per cent of the combined company's workforce, as it seeks to save $4 billion from the combined company's annual costs. The extra 19,500 job losses will be on top of the 13,000 jobs the company has cut over the last two years.
As the deal's details were announced, it emerged that the two companies had been in talks for months, and that Pfizer's desire to tighten the focus of its research efforts may have played a part in Wyeth's decision in December 2008 to concentrate its drug discovery efforts in just six therapeutic areas - oncology, central nervous system, vaccines, musculoskeletal, metabolism and inflammation (see Chemistry World, December 2008, p13).
The cash-and-stock deal will see Wyeth shareholders receive $50.18 per share and will be financed, in part, by loans from a consortium of banks amounting to $22.5 billion - a remarkable amount considering the current reluctance of banks to lend money. The consortium includes Goldman Sachs, JPMorgan Chase, Citigroup and Bank of America - all of which were in the queue for the US government's $125 billion bail-out package. Pfizer's shareholders will also pitch in to fund the deal - the company halved its quarterly dividend compared to the last quarter to just 16 cents a share.
According to Pfizer CEO Jeffrey Kindler, 'the combination of Pfizer and Wyeth provides a powerful opportunity to transform our industry.
It will produce a distinct blend of diversification, flexibility, and scale...that positions the combined company for success.'
However, analysts and commentators have questioned whether making such a big company even bigger is the correct way to go. Derek Lowe, US medicinal chemist and Chemistry World 's In the pipeline columnist, took a dim view of the merger, saying that Pfizer doesn't have a great record of making acquisitions work. 'Pfizer's own labs certainly haven't done a good job producing compounds. Some of that has been sheer bad luck, but some of it may well have been the inertia that happens in a big organisation,' says Lowe.
Matt Wilkinson
PHARMACEUTICAL
US looks to stop generic delays
Two senior US senators have introduced a bill that, if passed, would stop pharmaceutical companies paying competitors to keep their cheaper generic drugs off the market.
'It's time to stop these drug company pay-for-delay deals that only serve the profits of the companies involved and deny consumers access to affordable generic drugs,' said Senator Herb Kohl, a Wisconsin Democrat, who unveiled the legislation along with Senator Chuck Grassley, an Iowan Republican.
Meanwhile, on 2 February the US Federal Trade Commision accused Brussels-based Solvay Pharmaceuticalsof conspiring with three generic drug makers to illegally keep cheaper generic versions of its testosterone-replacement therapy AndroGel off the market.
Last November, the EU competition commission believed that such delaying tactics cost EU taxpayers €3 billion (?2.7 billion) between 2000 and 2007 (see Chemistry World, January 2009, p16)
GSK and AZ to slash more jobs
Both GlaxoSmithKline (GSK) and AstraZeneca (AZ) have announced plans to extend their cost cutting programmes as they prepare for many of their biggest-selling drugs losing patent protection.
GSK is increasing its cost-cutting plans from ?0.7 billion to ?1.7 billion - while the company refused to disclose the number of job cuts the plans would entail, analysts are expecting thousands of positions to be cut. GSK's last restructuring plan, aimed at cutting ?700 million from its cost structure, saw around 10 000 employees lose their jobs.
The company's revenues for the year rose 6 per cent to ?24.3 billion - flattered somewhat by the weakness in the British pound. However, operating profits fell 6 per cent to ?7.1 billion and restructuring charges of ?1.1 billion and legal charges dented an otherwise impressive set of results.
Andrew Witty, GSK's chief executive, was keen to stress that he believed the company was in a strong position. 'GSK secured 17 per cent of FDA approvals for new NCEs [new chemical entities] and vaccines, last year. In an environment where declining R&D productivity for pharmaceutical companies is of increasing concern, I believe that this level of innovation is very promising,' he said.
Meanwhile, AZ has said it will shed a further 6000 jobs in a bid to reign in costs by another $1 billion (?0.7 billion) a year. The extended cost cutting plans mean that job losses at the company will amount to 15,000 in the run up to 2013, while total savings should amount to $2.5 billion.
The cost cutting programme has already seen the company increase its profit margins throughout 2008. While sales only rose 3 per cent to $31.6 billion, operating profit rose 9 per cent to $10.9 billion. Much of the sales growth came from emerging markets such as China, where sales rose 31 per cent.
Pharma remains profitable
The wider pharmaceutical industry has managed to remain largely unaffected by the global recession, with most companies posting positive results.
Abbott saw its 2008 fourth quarter sales rise 10 per cent to $7.95 billion, and fourth quarter operating profits rise 14 per cent to $1.7 billion - helped largely by strong sales of its rheumatoid arthritis drug Humira (adalimumab). For the year, Abbott recorded operating profits of $5.7 billion from sales of almost $30 billion.
Swiss healthcare company Novartis saw an 87 per cent increase in fourth quarter operating profits, which reached $1.87 billion. For the full year, the company's operating income rose 32 per cent to $8.9 billion, aided by recently launched pharmaceutical products which added $2.9 billion in sales throughout the year.
Schering-Plough's chief executive, Fred Hassan, believes the company has hit 'the sweet spot on product flow and exclusivity,' after the company recorded sales (including the sales from its cholesterol joint venture with Merck) of $20.7 billion - a 36 per cent increase in revenues compared with the previous year. The company recorded operating profits of $2 billion, compared to an operating loss of $1.2 billion during the previous year - which was mainly due to charges relating to its acquisition of Organon.
Aided by the sale of its share of ImClone to Eli Lilly, Bristol-Myers Squibb managed to turn around its prior-year net loss of $89 million for the fourth quarter to record a net income of $1.24 billion. Strong sales of its blood-thinning drug Plavix and antipsychotic drug Abilify helped sales increase 4 per cent to $5.2 billion for the quarter. Operating profits for the year were up 80 per cent, reaching $5.2 billion on sales of $20.6 billion.
Meanwhile Eli Lilly has recorded heavy fourth quarter operating losses of $3.2 billion after being hit by charges connected with its acquisition of ImClone. Despite having eight products breaking the $1 billion sales mark, the company's revenues remained essentially flat at just over $5 billion for the quarter. For the full year the company recorded an operating loss of $1.2 billion on sales of $20.3 billion.
Stem cell trials given green light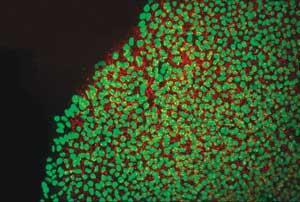 Pioneering clinical trials to assess UK-based ReNeuron's stem cell therapy to treatpatients disabled by stroke have been given the go-ahead by the UK Medicines and Healthcare Products Regulatory Agency (MHRA). The 'first in man' trials will see the experimental neural stem cell therapy, ReN001, injected directly into the affected region of the brains of 12 stroke patients, to assess whether the stem cells regenerate the brain so the patients can move again.
Meanwhile, the US Food and Drug Administration (FDA) has approved the first human trials of a therapy based on human embryonic stem cells (HESCs). Spinal cells grown from embryos will be injected into patients who have just become paralysed from the chest down, in the hope that their damaged nerve cells will regrow.
Roche gets hostile as growth slows
Swiss pharmaceutical giant Roche saw sales decrease 1 per cent to CHF 45.6 billion (?26 billion) during 2008 due to declining sales of its pandemic flu drug Tamiflu. And with the US Centers for Disease Control and Prevention (CDC) announcing that a high proportion of the year's influenza A (H1N1) virus strains circulating in the US this year are resistant to the drug, sales are only likely to drop further.
The company was also hit by unfavourable exchange rates, which contributed to its operating profits dropping 4 per cent to CHF 13.9 billion. However, the company was keen to highlight cancer drug sales increased by 15 per cent to CHF 19.7 billion - many of which were developed in collaboration with Genentech .
Roche is currently trying to acquire the 44 per cent of Genentech it doesn't already own, and has decided to go direct to the company's shareholders with a hostile bid after the Genentech board refused a $43.7 billion bid. In January, Genentechannounced that its sales for the year had increased 14 per cent to $13.4 billion and that its net income had increased 24 per cent to $3.4 billion.
Pfizer's oncology rollercoaster
The UK's National Institute for Health and Clinical Excellence (Nice) has approved Pfizer 's kidney cancer drug Sutent (sutinib) after the pharma giant reduced the cost of the drug. Sutent normally costs over ?3000 for a six week treatment, but will be given to the NHS free of charge for the first six weeks of treatment, after which the NHS will pay if the drug seems to be working.
Meanwhile, the company has shuttered a late-stage trial of its pancreatic cancer drug candidate axitinib, after it failed to extend patient survival time - although the company has said it will continue to study the drug's ability to treat kidney cancer. This is just the latest in a string of promising drug candidates that Pfizer has failed to get onto the market - the biggest of those being the spectacular late stage failure of its cholesterol drug candidate torcetrapib.
Bayer Cropscience reveals new product portfolio
Bayer CropScience has announced plans to launch ten new herbicidal active ingredients before 2012, which it says could have sales of €1 billion (?0.9 billion). The first of these, indaziflam, is an alkylazine that controls a broad spectrum of weeds including bluegrass, goosegrass, ryegrass and goosefoot. The company believes the new herbicide's long-lasting effects will be particularly useful for those growing fruit and vines, as well as those caring for golf courses and sports fields.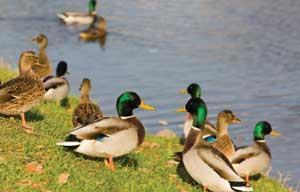 Meanwhile, the company has joined forces with wetland and waterfowl conservation organisation Ducks Unlimited to develop winter wheat varieties, which 'provide economic advantages to growers when included in cropping rotations while also enhancing waterfowl and other wildlife habitats,' says Bill Buckner, head of North America and President and CEO of Bayer CropScience LP.
The company will invest $20 million (?13.9 million) over the next five years to develop and promote the growing of winter wheat, as well as to conduct wildfowl and environmental research to ensure sustainable habitats are developed.
Dow's Rohm & Haas rollercoaster
US chemical giant Dow is being sued after publicly stating that it will intentionally breach the deadline to close its acquisition of Rohm & Haas even though it has received all the regulatory approvals and has access to the funds to buy the company.
Andrew Liveris, Dow's CEO, has said the deal is 'untenable at this time' due to 'unacceptable uncertainties on the funding and economics of the combined enterprise'. The deal started to fall apart when the Kuwait Petroleum Company's decided at the last minute to pull out of the K-Dow joint-venture - a deal that would have given Dow access to $9 billion of the $15.3 billion it needs to complete the purchase of Rohm & Haas.
Rohm & Haas announced that it made a 2008 fourth quarter operating loss of $12 million and had seen sales fall 13 per cent to $2.0 billion. This prompted the firm to slash another 900 jobs (5.5 per cent of its workforce) on top of the 925 job cuts announced in June 2008 as part of its pre-acquisition restructuring plans.
More industry job losses
With the sobering news that the UK (along with many other countries) is now officially in recession, there has been yet more bad news for the chemical industry and its workers.
Huntsman has decided to slash its workforce by 9 per cent, making some 1175 employees redundant. A further 490 contractor positions will also be shed and the firm has also announced plans to close its titanium dioxide plant in Grimsby, UK.
'The steps announced today should take approximately $340 million out of our cost structure in 2009. These savings, combined with the $1 billion in payments we received during December from Apollo Management [in compensation for Hexion's aborted takeover of the company] provide our company with a strong balance sheet and significant liquidity,' said Peter Huntsman, the company's CEO.
Meanwhile, US coating, glass and chemical maker PPG is considering cutting up to 4500 jobs in the US and Europe after fourth quarter operating profits fell 58 per cent to $128 million, despite sales rising 3 per cent to $3.18 billion. The cuts represent just over 11 per cent of PPG's global workforce and are the result of waning demand from the automotive industry.
Similarly, falling demand for flat screen TVs and fibre-optics has shattered prospects for Corning, with a drop in fourth quarter net profits of 70 per cent the backdrop to slashing 3500 jobs - around 14 per cent of the company's workforce.
Swiss textile chemicals supplier Clariant AG has also decided to trim its workforce, cutting 1000 jobs (5 per cent of its total). The cuts will come mainly from the firm's sales and administration staff, with technical staff being asked to work reduced overtime, take compulsory holidays and work shorter days until the recession abates.
Japan's Sumitomo Chemical is facing the prospect of recording a yearly net loss for the first time in 26 years due to the slump in demand caused by the global downturn. The company has been cutting back production to reduce its inventories but this hasn't been enough to compensate for the projected loss of ?15 billion (?112 million) and is now being forced to reduce its workforce by 2500 - 2000 of these by the end of the month.
Meanwhile, German chemical manufacturers BASF and Lanxess have announced plans to cut working hours at selected operations. While the number of staff that would be affected at Lanxess has not been disclosed, BASF plans to reduce working hours for 1680 staff.
Petrochemical slump hits profits
The global slump in demand caused US chemicals giant DuPont to record a fourth quarter pre-tax loss of $961 million on sales of $5.8 billion. Despite sales for the fourth quarter being markedly down compared with the $6.9 billion recorded during the same quarter in 2007, full year sales increased slightly to $30.5 billion, up from $29.3 billion.
Meanwhile, Nova Chemicals recorded operating losses of $318 million on sales of $1.1 billion, although spending cuts increased the company's cash reserves to $573 million.
The sharp drop in demand for petrochemicals has hit Saudi Arabian Basic Industries Corporation (Sabic) particularly hard, with the firm's fourth quarter sales slumping nearly 40 per cent to Riyal24.7 billion (?4.4 billion), and fourth quarter operating profits crashing by 85 per cent to Riyal1.6 billion. Steady performance earlier in the year meant that the full year operating profits were only down 9 per cent.
However, German industrial conglomerate Evonik is looking to capitalise on the slowdown and has announced it is considering investing in three joint ventures, worth up to $500 million each. Sabic, Saudi Aramco and Saudi International Petrochemicals (Sipchem) are all named as potential partners. Evonik wants access to cheap Saudi energy and feedstock supplies in preparation for the eventual recovery of the markets.
Sasol throws itself on the mercy of the courts
South African petrochemicals giant Sasol has turned itself in to the South African Competition Commission after an internal review revealed evidence of a possible price-fixing ring. This has sparked an investigation into nearly all of South Africa's petrochemical companies as well as four major gas companies. Sasol has submitted a leniency application to the commission after being hit by a €318 million (?299 million) fine last year for its role in a paraffin wax price-fixing cartel.
The company is also being investigated for allegedly abusing its dominance in the fertiliser market by charging excessive prices for certain products, while agreeing with its major competitors to fix the price of others.
LABORATORY
Waters buys into a greener future
US-based analytical instrument maker Waters has bought the world's largest supercritical fluid (SFC) chromatography manufacturer, Thar, for an undisclosed amount. Thar's SFC and extraction systems are used to separate and isolate compounds for analysis - the two companies have been collaborating since September 2007 to combine Thar's strengths in SFC expertise and Water's mass spectrometry expertise.
Meanwhile, Waters reported fourth quarter sales of $418 million - a 4 per cent drop in sales compared to the same period last year - due to a 'tougher economic climate'. Despite being hampered by the global downturn in the fourth quarter, the company's sales for the year grew 7 per cent to $1.58 billion.
Twinkling in the gloom
While the majority of laboratory and instrument suppliers have been adversely affected by the global downturn, two life science companies have managed to side step the recession: Thermo Fisher Scientific and Illumina.
Thermo Fisher Scientific reported record results during the fourth quarter, with revenues increasing 1 per cent to $2.65 billion and operating profits up 13 per cent to $322.5 million. For the full year, revenues reached $10.5 billion and operating profits $1.2 billion.
'We are pleased to report very solid financial results for both the fourth quarter and the full year in spite of the economic headwinds that continue to put pressure on capital spending in some of our end markets,' said Marijn Dekkers, Thermo Fisher Scientific's chief executive.
'Our performance is largely the result of our favourable product mix, with two-thirds of our revenues coming from recurring sales of consumables and services that tend to hold up better in an uncertain environment.'
Illumina's results were perhaps even more impressive, with fourth quarter revenues increasing 43 per cent to $160 million and operating profits reaching $36 million - a turnaround from the loss of $32 million the company made during the fourth quarter of 2007. For the year, Illumina's revenues increased 63 per cent to $573 million with operating profits reaching $80 million - compared to a loss of $301 million in 2007.
IN BRIEF
Proctor and Gamble to exit pharmaceuticals
Consumer goods group Proctor and Gamble has hired Goldman Sachs to help identify buyers for its pharmaceuticals business unit, which has sales of around $2 billion a year.
Astellas bids for CV Therapeutics
Japanese drug-maker Astellas Pharma has made a $1 billion hostile takeover bid for its American partner, CV Therapeutics, after a 'friendly' takeover approach was given the cold shoulder in November 2008.
Teva and Lonza to tap biosimilar market
Israeli generics giant Teva, and Swiss-based Lonza, are teaming up to take advantage of the number of biological drugs soon to come off patent, and are planning to form a joint venture to make generic versions of biological drugs.
Eli Lilly settles Zyprexa probe
Eli Lilly has agreed to pay $1.45 billion to settle the US Department of Justice's investigation into the company's US marketing and promotional practices for the antipsychotic medication Zyprexa (olanzapine). Lilly pleaded guilty to one 'misdemeanor violation of the Food, Drug, and Cosmetic Act'. The company has also reluctantly agreed to settle civil allegations even though the company has said it does not agree with them.
US polyethylene prices hiked
US polyethylene (PE) producers have increased the price of plastic for the third time this year - the 18 cent total increase for the quarter almost doubling the price. The rises come on the back of US producers taking more than 20 per cent of their production capacity offline.
Ineos on track to meet bank covenants
Ineos, the world's third largest chemical company, has said it is on track to meet the debt to earnings ratio covenants on the loans that it renegotiated in December 2008 after the slump in demand for petrochemicals. The company finished 2008 owing the banks €7.5 billion (?6.7 billion).
EU carbon prices hit record low
Falling industrial output has caused many companies to sell their surplus carbon credits, causing the price of the permits to drop to a record low of €10.8 per tonne in early February. With companies receiving their allocations for 2009 this month, traders fear that prices will fall further still.
DuPont tests Kevlar patents
US chemical maker DuPont is suing South Korea's Kolon industries, accusing it of stealing trade secrets about its high-strength Kevlar aramid fibre technology. 'We are pursuing all available legal remedies regarding this issue, including damages and injunctive relief, to prevent further misappropriation of DuPont proprietary information,' said the company's senior vice president Thomas Sanger.
DSM Special Products sale 'will not be completed'
Dutch chemical company DSM has said that the sale of its DSM Special Products unit to US-based Arsenal Capital Partners will not complete, after the European Commission imposed conditions (details of which were not disclosed) which DSM claims meant the sale was no longer feasible.
AkzoNobel to paint McLaren
Dutch chemicals giant AkzoNobel is to supply custom designed paint for the Vodafone McLaren Mercedes Formula 1 racing car, the MP4-24. The new paint has halved the time needed to cure bodyparts after painting.
BASF and Monsanto join forces
BASF has joined forces with Monsanto to develop the next generation of dicamba-based weed control products for use with herbicide-resistant crops. Full details of the joint licensing agreement for these pesticides, aimed at herbicide resistant crops, have not been disclosed.