Chemical whiteners that can harm the respiratory system are to be banned in China
By Hepeng Jia/Beijing, China
After strong public pressure, China will ban the use of wheat flour whiteners in May. Although analysts say the ban will not affect other food additives in the short term, the policy may hamper research and development (R&D) in the field.
Whiteners to be banned include benzoyl peroxide and calcium peroxide, which whiten flour through oxidation. When ingested in large amounts, the chemicals are harmful to the respiratory system and can cause sensitisation.
On 1 March, the Chinese Ministry of Health, together with six other ministries, released a notice to withdraw food additive licenses for benzoyl peroxide and calcium peroxide and ban their production and application as food additives. 'The debate on four whiteners has lasted for more than 10 years. Although at the current maximum level there is no clear evidence to prove their harm, the government takes a low-risk principle to ban its uses,' says Dong Jinshi, director of the Beijing Kaifa Environment Protection Technology Centre.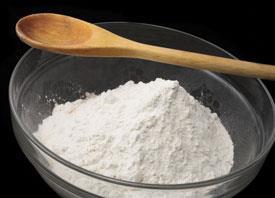 In China, the legal level of benzoyl peroxide or calcium peroxide as additives is no more than 60mg/kg, which is much lower than international levels - for example in Canada the legal level is 150mg/kg. But despite the low maximum level in China, the rule is often broken by flour manufacturers because it doesn't whiten the flour effectively. 'Actually, the additives are seriously abused. Chinese producers and consumers like the white colour too much,' says Yu Jianping, a manager of Shanghai Yiyuan Company, a leading food additive developer.
In December 2010, 90 per cent of the Chinese public opposed the use of additives, in a nationwide poll on flour whiteners. 'We will stop adopting any unnecessary food additives,' Health Minister Chen Zhu told a press conference, held during the ongoing plenary meeting of China's parliament, the National People's Congress.
Chinese media outlets have widely interpreted the ban of the whiteners as a signal to abolish more additives. 'The ban is more like a move to appease the public,' Yu tells Chemistry World. 'Chinese manufacturers have pursued the appearance, the low costs, the long preservation and the early maturity of food too much, which are impossible without food additives.'
'The research into food additives will be halted because developers will worry about the government's reluctance to approve new additives,' says Dong. Although food additive levels are being abused, Dong still suggested that any ban should be made cautiously and with more evidence. When there is no clear evidence, the best option is to highlight the use of controversial additives in food and let consumers make their own choices, he says.