UK Environment Agency patrols out in force to stop pollution caused by the illegal burning of waste under the guise of Guy Fawkes
The UK Environment Agency has issued a warning this week to unscrupulous companies and individuals planning to use bonfire night as a cover to burn waste materials.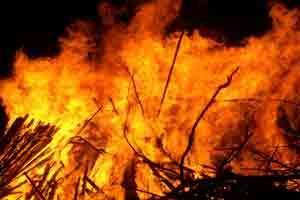 Agency officers and police are on high alert to respond to any cases of the fiery festivities being used as an opportunity to burn waste such as plastics and building materials. A previous bonfire night saw a skip-hire company being fined ?20,000 for illegally burning materials including metal, plastics and polystyrene. A resulting pall of black smoke was reported to be billowing across the M4 motorway in the South West of England.
A spokesperson for the agency told Chemistry World that officers were stationed all over the country and that bonfires would be monitored.
'Burning wastes such as plastics and demolition waste is against the law and those who disregard the rules are not only harming our environment but risk a hefty fine and damage to their reputation,' said Martin Brocklehurst, head of waste strategy at the Environment Agency.
According to research by the environmental charity the National Society for Clean Air (NCSA), around 14 per cent of Britain's annual emissions of dioxins can be attributed to bonfire night. The society has measured an associated surge in levels of particulate matter, carbon dioxide and sulphur compounds in the atmosphere. The NCSA joined the Environment Agency in calling for bonfire organisers to check their bonfires for 'unsuitable material' in order to minimise pollution. 'Don't use November 5th as an excuse to torch the old sofa,' said a spokesperson for the NCSA.
Victoria Gill
November 2005 saw the 400th anniversary of the gunpowder plot. Each year we celebrate the fact that the plot was foiled but it now seems unlikely that the gunpowder would have igni...
References
Stuart Harrad and Liz Laurie, J. Environ. Monit., 2005, 7, 722, DOI: 10.1039/b503983e