Silver hexacyanocobaltate gets shorter and fatter than any other material on heating
A super-stretchy crystal could help to develop improved coatings for satellites facing the extreme temperature variations of space, according to UK scientists.
Andrew Goodwin from the University of Cambridge and colleagues from the universities of Cambridge, Oxford, Durham and the Rutherford Appleton Laboratory, investigated the behaviour of silver(I) hexacyanocobaltate(III), Ag3[Co(CN)6], across a range of temperatures using neutron scattering and x-ray diffraction.
The team found that when they heated the crystals, they expanded massively in one direction, while shrinking in the other. The effect was much greater than that observed in other crystalline materials.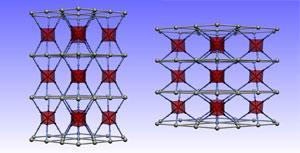 The key to the behaviour lies in the lattice geometry, the lengths of the bonds coupling the cobalt ions within the crystal and weak interactions between silver ions, Goodwin told Chemistry World. 'Within the crystal there are transition metal centres connected by long, flexible linkages and the metal centres can move relatively easily within this structural framework.'
Sandwiched between layers of cobalt ions within the crystal structure is a layer of silver ions within the same plane. These ions are weakly bound together due to a phenomenon called the argentophilic effect - a loose, non-covalent interaction resulting from peculiarities of the silver ion's electron cloud.
'Ordinarily this association between the silver ions would be so weak that it would not affect the properties of a material,' Goodwin said. 'But because the bonds between the cobalt centres are so long and flexible, when the material is heated the silver ions move apart, which flexes the lattice.' This causes the crystal to extend laterally and collapse vertically.
Goodwin says they have found other closely related materials that show similar properties. 'These appear to be quite general properties that should be easy to tailor,' he added.
Such compounds could be used to coat optical instruments on satellites, which are subjected to extreme hot and cold.
Commenting on the work, Edmund Cussen, a materials chemist at the University of Strathclyde, UK, told Chemistry World: 'The magnitude of the effect means that relatively small quantities of such materials could be combined with functional materials with conventional thermal properties in order to give components that undergo zero thermal expansion.'
Simon Hadlington
References
et al., Science319, 794 (DOI: 10.1126/science.1151442)