Scientists protect alginate lyase so that it can act on mucus in the gut
Stabilising a mucus attacking enzyme with cross-links could allow it to be delivered orally to fight infections in cystic fibrosis patients.
Pseudomonas aeruginosa is one of the commonest opportunistic pathogens in cystic fibrosis. The bacterium produces alginate, a polysaccharide which causes significant mucus build-up in the lungs and intestine. In addition to affecting patients' quality of life, this also significantly obstructs the delivery of antibiotics, requiring increased dosages which can lead to antibiotic resistance and an increased chance of side-effects.
Guillermo Castro at the National University of La Plata in Argentina, and his team, investigate the delivery of drugs with significant administrative problems. They have turned their attention to the delivery of alginate lyase, an enzyme that degrades alginate and breaks-down mucus. 'Our idea is to "dissolve" the mucus produced. The enzyme action facilitates antibacterial contact with the bacteria surface, and reduces the amount of antibiotic administered,' explains Castro.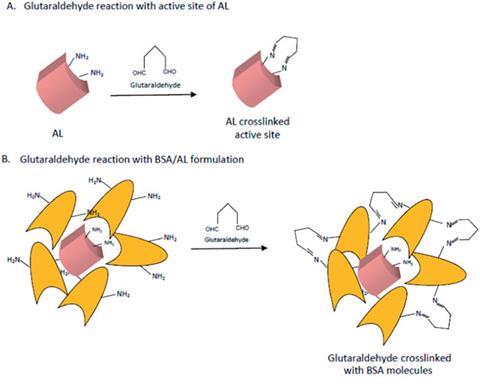 However, as with most enzymes, alginate lyase is very sensitive to environmental factors such as salt, temperature and pH changes. These are significant barriers to administration, particularly oral administration. To address this problem the team have used a cross-linking enzyme aggregation (CLEA) approach where the alginate lyase was precipitated out of solution and cross-linked with glutaraldehyde. Through a systematic study, the team found that the inclusion of bovine serum albumin (BSA) and low methoxylated pectin boosted the activity of the immobilised enzyme, reducing the viscosity of an alginate solution by 25%, while leaving the alginate lyase CLEA stable enough for oral administration.
Rok Borštnar who researches designs for new drugs at the National Institute of Chemistry in Slovenia, says that the findings are significant. 'Alginate lyase CLEA not only showed potential for the treatment of cystic fibrosis by oral delivery but also a potential and attractive biocatalyst for broader industrial purposes.'
The team will now investigate their approach for in vivo systems and look forward to working with cystic fibrosis and pharmaceutical institutions to bring their approach to the market.