Caltech's chemistry librarian chats to Chemistry World about how librarians can support researchers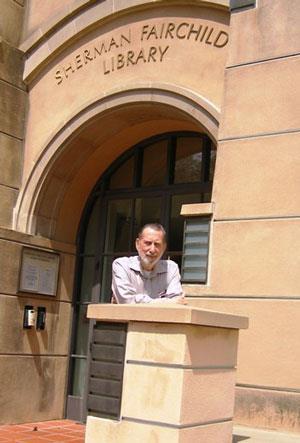 Dana Roth joined the library at the California Institute of Technology (Caltech), US, in 1965 and has worked in a variety of science and engineering library positions. This August he was made a fellow of the Royal Society of Chemistry in recognition of his contributions to chemistry education.
How did you become a chemistry librarian?
I really need to credit my wife, Eileen, who was working at a local public library, while I was in the chemistry PhD program at Caltech. I had always had very wide interests (science, history, politics …) and slowly began to realise that my interest in chemistry was not intense enough for a successful scientific career. After talking about this with various librarians, including Eileen's boss, I left the PhD program and took a masters in chemistry, and then went back to UCLA, where I had received my undergraduate chemistry degree, and got a master's in library service. I then was very fortunate to be hired full time in the Caltech chemistry library in 1965, and have been with the institute ever since.
What does your job involve on a day-to-day basis?
Since the late 1980s, with the advent of campus-wide access to online databases, it focused first on offering hour-long sessions on SciSearch/Web of Science and Beilstein CrossFire, and later on chemical compound data searching, chemical structure searching, chemistry information resources, crystallographic databases, life sciences information resources, patents, physical property data searching, Reaxys–Beilstein/Gmelin and SciFinder. I offered these classes on a regular basis during the school year, in addition to answering reference questions; selecting appropriate new books and evaluating journal subscriptions; regularly emailing the faculty and others about newly available materials, both purchased and deferred; and distributing a chemistry library newsletter.
What do you enjoy the most about your role?
I have always enjoyed the personal interaction with faculty, students and other members of the campus community. Keeping up with the current research efforts at Caltech and maintaining a level of expertise in searching the various chemistry-related databases has also been extremely interesting and satisfying.
How can researchers and students work with and make the most of their subject librarians?
Perhaps the most important advice is to regard the subject librarian as a member of your research group. If you keep them abreast of what you are working on, they should have suggestions of additional information resources and can also alert you to new publications of interest. It is also important to immediately notify library staff of access problems. At Caltech, we pride ourselves on very rapid response to problems and questions, but sometimes we don't know something is broken until someone tells us, then we get it fixed as quickly as possible.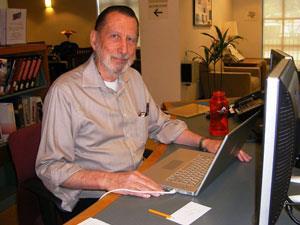 Which websites and technologies have had the greatest impact on how chemists search for information? Which ones could you not do without?
In 1988, Caltech initiated an in-house version of ISI's SciSearch database, combined with its existing document delivery service to form TOC/DOC (tables of contents/document delivery). Later, with the addition of back-file tapes, TOC/DOC literally 'changed the way science is done at Caltech'.1
Online journals followed, and as did access to Beilstein Crossfire, followed a few years later by SciFinder. Web of Science is still heavily used across the campus, even with the ubiquity of Google and Google Scholar. Given the enormous overlap in database coverage, I feel that SciFinder's comprehensiveness makes it the essential database.
What are the challenges that librarians currently face?
I am very fortunate to be essentially retired at this time, as the current demands on subject librarians seem to be a quantum level above those of 20 years ago. There are so many changes, new products, new requests, new services (for example data management, technology support, ethics education, etc) but seemingly no additional funding.
You have been a librarian for the last 48 years. How has the job evolved in that time and how do you see it evolving over the next 48 years?
In the main, the job has evolved from a service that primarily responded to the needs of library users … to being a service that primarily reaches out to researchers and students. Given that the library, as a physical space, is no longer the heart of the university, this strongly suggests that subject librarians must reach out and interact with students and researchers in their physical and electronic space. This reaching out should be an evolving process that includes making presentations at research group meetings, providing brief descriptions of appropriate databases in specific classes and meeting with new faculty members upon their arrival.